Metro
Nigerians should communicate to police in pidgin to avoid 'kasala' – PCRRU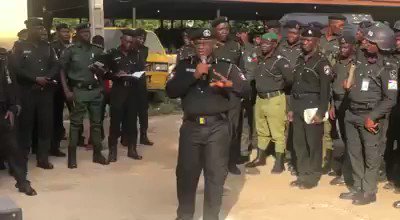 The head of the public complaint rapid response unit (PCRRU), Abayomi Shogunle has said that it is better for Nigerians to speak with the police force in Pidgin for effective communication.
In light of the recent killings of civilians around the country lately, Tunji Disu, commander of the Rapid Response Squad decided to address his men to discuss the issue. His speech was filmed by one of the people in attendance and in the video, he said:
"Guess what I'm here for this morning. I'm here to discuss the issue of police killings going on in town. I'm sure nobody is happy about it here. I'm sure you feel ashamed to put on your uniform and move around town. I'm sure you feel bad about it. And don't forget that these arms that we are carrying around were purchased for us with the money gotten from members of the community."
As he continued in his speech, he decided to incorporate the pidgin language. He said:
"You know, they are paying us to protect the members of the public so make we no come carry that same gun to kill members of the public why we suppose to protect. They can never be happy with us. Very few of us would spoil the name of the police. For God's sake, why cary gun; cocked gun for where many people dey? Shebi, we no forget that thing why dey teach us for academy or for police college or na don forget? Dem talk say it is better to allow armed robber to escape than to kill innocent person."
He was hailed for this speech by Abayomi Shogunle, who tweeted the video and used the chief's use of pidgin to communicate with his men to advice Nigerians to use it as a tool to avoid trouble. He wrote:
Nice one 👍.
Lagos State will be calm if police chiefs in #Lagos do more of this.
Source: RRS Lagos
cc: @PoliceNG_CRU#YSGuide: For now, don't go and be speaking Queen's English with them on the road. For proper understanding talk to them in Pidgin, another way to avoid kasala. pic.twitter.com/9MgT7VNJn9

— Abayomi Shogunle (@YomiShogunle) April 17, 2019
This got the attention of many Nigerians who began to wonder if literates were hired to take on the job of law enforcement officers.
In response to Shogunle's tweet, @Akatsuki_Rising, a twitter user wrote:
"Oga, you're supposed to have common sense oooo, what kind of foolish tweet it this? English is an official language in Nigeria and you are here spewing rubbish!! The Nigeria Police Force should change their recruitment policy and employ men and women with high IQ.
Journalist, Lere Olayinka also responded to the tweet via twitter by writing:
"Simply put; Our policemen will kill you if you speak Oyinbo Grammatika to them, better speak pidgin if you don't want to die – Abayomi Shogunle. How did we get to this ridiculous level in this country?
Another twitter user, @intuitiveGM tweeted:
"Sir Abayomi, did you just confirm that the police we recruit and pay with our tax money do not understand English and would rather converse in pidgin? I mean, the Nigerian Police Force?"
In response to the outrage by social media, Shogunle tweeted a video of British Youtubers, Joel and Lia, teaching people how to speak with a Queen's English Accent. Along with the video, he wrote:
"Between Pidgin English and Queen's English."
IMPORTANT!:
Follow us on
Instagram @InfoGuideNigeria