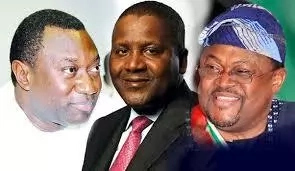 In 2018, Nigeria has recorded talented and wealthy individuals. These Persons have recorded immense success in their places of work, from different sectors in the Nigerian Economy.
They have contributed with their resources to aid in promoting the Country's Economic development. These Nigerian people ranked as the richest in 2023 are:
👉 Relocate to Canada Today!
Live, Study and Work in Canada.
No Payment is Required! Hurry Now click here to Apply >>
Immigrate to Canada
1. Aliko Dangote
This Nigerian is currently worth over $13 billion. He is declared the richest man in Nigeria, and Africa. He is also ranked the 67th richest Person in the World.
Mr Dangote was born into a privileged, but has not stopped in building up his Business Empire, using the family riches. His Journey to becoming wealthy started when he was a Trader, in 1977. His Trading business will soon build up into a big company called the Dangote Group.
Read Also: Top 10 Nigerian Richest Musicians And Their Net Worth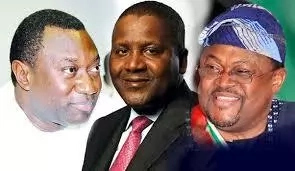 The Dangote Group has Refineries and Manufacturing Plants in Nigeria, and several parts of Africa.  He has aspiration to build one of the first private Oil Refineries that will stop Nigeria, from relying on Oil importation.
The Refineries, is solely for Crude Oil, Fertilizers, and Petrochemical Materials. The refineries project is worth over $9 billion, and is expected to be completed in 2019. The Group is also a major force in Sugar and Cement Manufacturing in Africa.
2. Mike Adenuga
This Nigerian was born 29th April, 1953. Mr Adenuga had his Primary and Secondary Education, in Nigeria. He further studied Bachelor Degree in Business Administration in North-western Oklahoma State University, in United States of America.
He further his Education for his Master's degree, at Pace University in New York, United States of America. He is ranked the second richest Person in Nigeria. This due to his investments in the Telecommunications giant, Globacom.
The Company is the second largest Telecommunications Services company, in Nigeria with offices, in African Countries like Ghana, CoteD'Ivoire, and Benin.
👉 Relocate to Canada Today!
Live, Study and Work in Canada.
No Payment is Required! Hurry Now click here to Apply >>
Immigrate to Canada
According to the World Economist Magazine, Forbes, listed that Mr Adenuga's net worth was valued at $6.7 billion. He is also seen as the third richest Person in Africa.
In 1990, Mr Adenuga had initially had a Company, Consolidated Oil, (Con Oil), which was an Oil Drilling services. The Company had received drilling license from Nigerian Government and had struck Oil, in 1991. The Company was the first indigenous Company to struck Oil in commercial quantities.
Aside from the Oil Company, Con Oil, Mr Adenuga soon ventured into the GSM Business, once it became a lucrative venture, in Nigeria. His Telecoms services company, Globacom was issued a conditional Licence in 1999. In 2003, the Company was issued a second Licence. The Company has since then, grown to be a full grown indigenous Company.
Read Also: Top 10 Nigeria's Richest Pastors And Their Net Worth
3. Femi Otedola
Another richest person in Nigeria is the son of former Governor of Lagos State. He is the Chairman of Forte Oil Plc. The Company is a major importer of fuel products.
He is also the founder of Zenon Petroleum and Gas Ltd. Mr Otedola's investments is not restricted to Oil but has interests in shipping, real estate, and finance.
According to the magazine, Forbes, Mr Otedola's net worth is over $5.9 billion.  This Nigerian had a successful family Business which is a Printing Company in the 1980s, before he ventured into the Oil and Gas Industry.
Mr Otedola has three daughters, who are successful in their own right. One of them is Florence Otedola also known as DJ Cuppy, is very popular in the Music Industry and a Music Producer.
Another one is Elizabeth Temi who is a stylish Blogger, and aspiring Designer. The man has real estate properties in London, Dubai and New York City.
He has done a lot of charitable contributions to the Nigerian economy. Through his Father's university, Micheal Otedola University, he set up scholarship scheme for Youths who needed to finance their Education.
He contributed money donation of N300million, for the completion towards the National in Ecumenical centre, which is Nigeria's primary place of worship in Abuja.
4. Folorunsho Alakija
This female Nigerian was a Fashion Designer to an Oil Tycoon. Ms Alakija is said to be worth $2.1 billion, making her the richest African Woman. Her Business Interests are Fashion, Oil, and Printing.
Her Company called Famfa Oil Limited was founded in 1993, is generating over $10 million daily in profit. She has interests in Real Estate, which is worth over $100 million.
She is the Brain Child of the Rose of Sharon Foundation.  This is a non-government Organization used to empower Widows and Orphans, through Scholarship and Grants.
She also has sponsored Nigerian Students, studying through the Agbami Medical and Engineering Scheme and the Folorunsho Alakija Scholarship Scheme.
5. Theophilus Danjuma
This Nigerian is a retired General, Billionaire and Philanthropist. His interests is in Oil and is currently the Chairman of South Atlantic Petroleum (SAPETRO).
Mr Danjuma came from a humble background with having a father as Farmer, and mother who was a Trader. Mr Danjuma studied at Ahmadu Bello Zaria and then went on to Nigerian College of Arts, Science and Technology.
He had studied Arts and later went to enrol in the Nigerian Army. Mr Danjuma soon rose from rookie position as Lieutenant to becoming a General.
He has played major roles in Nigeria's political history. He was involved in Nigeria's coup in July 1966. He also freed Jaja Wachuku from detention by Ojukwu government towards the end of the civil war.
He was the Chief of Army staff to General Obasanjo, when he was head of State. Mr Danjuma also prevented the Dimka Coup in 1976. He retired from the Army in 1979, to pursue other business interests.
Read Also: Top 15 Richest Footballers In Nigeria And Their Net Worth
6. Abdulsalam Rabiu
This Nigerian was born in Kano, in 1960. He is ranked one of the richest Person in Nigeria. This is due to his investments at BUA Group. According to Forbes, he is worth the sum of £3.7 billion. His father, Khalifah Isyaka Rabiu was a prominent Industrialist, in the 1970s and t1980s.
Mr Abdulsalam Rabiu attended the Capital University, Ohio, United States of America, in the 1980s before returning back to Nigeria. This was to oversee the family business.
He established the BUA group in 1988. The BUA Group has the second largest sugar refinery in Nigeria. The Company has grown to be worth the sum of $2.5 billion, with interests in manufacturing, infrastructure and agriculture.
Mr Abdulsalam's Company acquired the Nigerian Oil Mill Limited and have controlling stake in the Cement Company of Northern Nigeria.
Mr Rabiu is the chairman of the Nigerian Bank of Industry. He has contributed to Nigerian's development by engaging in charitable ventures.
This is through the BUA foundation. The Foundation has aided in the construction of Paediatric Ward at the Aminu Kano Teaching Hospital.
The Ward was also involved in the construction of the Centre for Islamic Studies at Bayero University Kano, Kano State, Nigeria.
7. Arthur Eze
He is seen as one of the wealthiest men in Africa. He is the founder and Chairman of Atlas Oranto Petroleum. The Company is known as reputable with offices in Nigeria, Liberia, Guinea and Gambia. The Company was founded in 1991. Mr Eze studied Chemical and Mechanical Engineering at the California University.
Read Also: Top 10 Nigerian Richest Musicians And Their Net Worth
8. Mr Cletus Ibeto
Mr Cletus Ibeto is the head of Ibeto Group. The Company is one of the largest conglomerate Company in Africa, with interests in automobile parts, Cement production, Energy Petrochemical and the Real Estate industry. The popular Ibeto Hotels is his business interests.
9. Mohammed Indimi
He is said to be the founder of Oriental Energy. He is deemed one of the richest man in Nigeria. The Company was founded in 1990. Mr Indimi is worth over $400 million.
10. Tony Elemelu:
He is deemed to be worth over $1.4 billion. Mr Tony is one of the richest men in Nigeria. He is an Economist, Entrepreneur, and Philanthropist. His investments include Heir Holdings, the United Bank for Africa, and the Trans corp.
He is the founder of Tony Elumelu Foundation, which has empowered many Entrepreneurs in Africa.  Tony Elemelu is an alumnus of Harvard Business School.
In the Banking Sector, he played a major role in the acquisition of Standard Trust Bank, and aiding it into becoming one of the top Banks, in Nigeria.
In 2005, he participated in the acquisition of the United Bank for Africa. He transformed the Bank from a Nigerian Bank to a Pan-African institution, with presence in 19 African Countries.
His interests include financial services, Energy, Real Estate, Hospitality, Agribusiness, and the Health care sectors, through his investment Company, Her Holdings.
He has serves as an advisor to the USAID Private Capital Group for Africa (PCGA) Partners forum. Mr Tony also serves as the co-chair of the Aspen Institute Dialogue Series on Global Food Security.
Read Also: Top 7 Prominent People from Ogbomoso Town, Oyo state
In addition, he is the chairman of the Ministerial Committee to establish World class hospitals, and Diagnostic centres across Nigeria. He also serves as a member of the Global Advisory Board of the United Nations Sustainability for all initiative (SE4ALL).
Key Words: Company, Investment, Richest, Nigeria, Business, Telecommunication, Real Estate, Energy, Hospitality, Agribusiness, Financial Services.
👇👇👇👇👇
Immigrate to Canada Via Job Offer!
Get latest Jobs in Canada for foreigners with visa sponsorship 2023 and how to apply. Don't miss this opportunity that can help you relocate to Canada with your family.
👇👇👇👇👇
👍Advertise your business on InfoGuideNigeria.com!
From just
N9,999 per month
, you can advertise your products and services to over
1,500,000 monthly
users on our website.
Click here to read more
.
======
🤑 Make Money now!
👉 Make money writing for us. Apply for
Freelance writing jobs in Nigeria
.
👉 Make Money as InfoGuideNigeria Advertising Agents,
read more here