Many women think exposing their body parts is part of fashion, probably because they saw their favourite celebrity dressing in such manner or their religion or church denomination does nothing about it, but here in this article I would be giving you four good reasons you should dress decently as a woman.
Some churches don't give the actual reasons why women should not dress half-naked, but here I would be giving you good reasons why you body parts need not to be exposed.
Indecent dressing as little as it may sound has caused broken homes, unwanted pregnancies, rape and even death for so many women.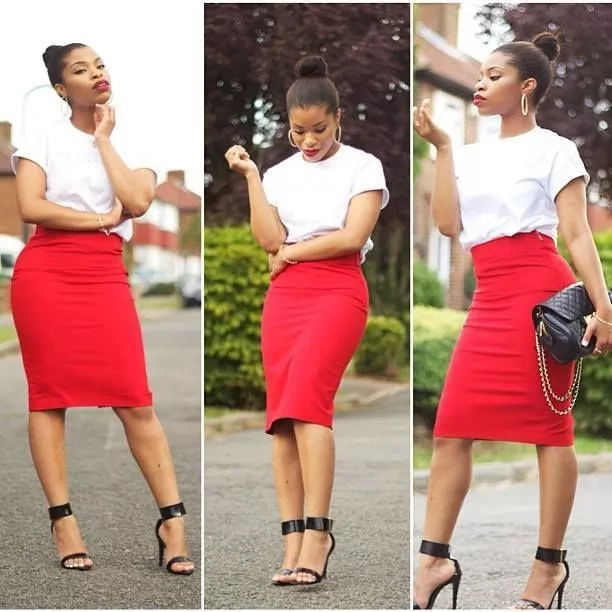 One funny thing is that, some women don't know how to dress, you reside in an area where touts live and you wear show back blouse and yoga pants by 7 pm and you are expecting them not to sexually harass you.
When you dress decently you are counted wise. People don't know the consequences of indecent dressing and that's why you see most ladies go to the market and pick up anything that fits their body.
Topics related to indecent dressing are hardly discussed and when people hear about indecent dressing they get angry because of its sensitivity and it applies to both gender, that's why in today's topic I will be stressing the need for women to dress modestly.
Here are four good reasons, I think women should dress decently:
1. Your Body Is The Temple Of God.
2. It Shows How Valuable You Are.
3. It Is Maturity.
4. It Is The Right Thing To Do.
1. Your Body Is The Temple Of God
One of the reasons why as a woman you are not supposed to dress indecently is because your body is the temple of God.
Why did I say so? When you expose your body for the opposite sex to see, they would become tempted and it can possibly lead them to sin.
Imagine if all women walked naked, it means men would always be tempted to defile women and it is not right.
If there is no reason for a woman to dress decently then she should dress decently because her body is the temple of God.
As a woman you were designed to be endowed and the endowment was meant for your husband and exposing it to people may do you more harm than good.
It is quite unfortunate to find out that most churches allow their females to dress in an indecent manner, but women should have it at the back of their minds that they are expected to dress decently because they were created to do so and it is a sign of respect to God to cover their sensitive body parts.
2. It Shows How Valuable You Are
Did you know decent dressing is associated with value? Why do you think porn stars are not celebrated? It is because what they are doing is wrong.
Exposing your body parts to millions of people is not right and can never be right, no matter how the western world tries to paint it.
A woman's value is measured by her outward appearance, anything that makes a man attracted to you is how composed you are.
Remember that first impression lasts long and you may not know how you would find your potential husband.
Are you exposing your body parts to find a good spouse? Then you are absolutely doing the wrong thing, because men of class won't find women of low class.
Did you know many women feel that when they expose their body parts they can easily get husbands? It is a false ideology, no man in his right senses would like to "marry" a woman that is loose and is a public property. So you should try as much as possible to give yourself more value by dressing decently.
3. It Is Maturity
Of course dressing decently is maturity. For you to prove how mature your mind is, you should dress decently as a woman.
Often times, ladies between the ages of 16-22 years dress almost naked, just to show off that they are already in puberty, they then begin to dress to show off and flaunt their body parts.
Many women dress like their favourite celebrities, not knowing that those ones dress to attract the audience for some time, but in the long run they don't last long in their career.
You have to differentiate yourself from that class of ladies, by dressing properly. Many ladies would be like "it is old fashion, happening ladies dress half naked", but when it comes to dressing decently there is nothing like old fashion.
There are many ways you can dress decently and be attractive. Everyone respects any lady that dresses properly and she is usually luckier than women who dress to expose their body parts.
A good reason for you to dress decently as a woman is because it shows your level of maturity.
4. It Is Right To Dress Decently
You should also dress decently because it is the right thing to do. No one would stress the need to dress decently if it is not morally right.
If you've noticed, many successful and high class women compose themselves and dress decently, you would hardly see a successful woman who exposes her body for men to see.
If decent dressing was wrong, then those successful women would not have being dressing well.Even potential rapists are conscious of ladies that dress decently, so they back off and give her the respect she deserves.
In most cases, when you hear of a case of rape, the next question that should be asked is, how did the lady dress? And with the appropriate answer you will know the cause of the incident.
You should be wise enough to know that there are benefits of dressing decently, this is because when you dress decently you would hardly be a victim of sexual harassment or rape.
I hope I have being able to enlighten you on the need for women to dress decently, take this guide very seriously, try to dress decently and also encourage other young females to dress decently by giving them some enlightenment on the need to dress decently.
🤑 Start making money from home today!
👉 Get correct FREE TIPS and Guides on how to make money from home today. Click here to start
.
👍Showcase your business here!
With over 1M unique users per month across all channels, we have a large audience for you to showcase your products and services. Simply get in touch via 👉 marketing@Infoguidenigeria.com.
🤑 Make Money now!
👉 Make money writing for us. Apply for Freelance writing jobs in Nigeria.
👉 Make Money as InfoGuideNigeria Advertising Agents, read more here
.
This post can be helpful to somebody else, please share it on Facebook, Whatsapp, Telegram and Twitter. There are buttons below for this (easy to use too)!
Copyright Warning!
Contents on this website may not be republished, reproduced, redistributed either in whole or in part without due permission or acknowledgment.
.
Proper acknowledgment includes, but not limited to (a) LINK BACK TO THE ARTICLE in the case of re-publication on online media, (b) Proper referencing in the case of usage in research, magazine, brochure, or academic purposes,.
.
All contents are protected by the Digital Millennium Copyright Act 1996 (DMCA).
.
We publish all contents with good intentions. If you own this content & believe your copyright was violated or infringed, please contact us at [infoguidenigeria@gmail.com] to file a complaint and we will take necessary actions immediately.