Pituitary Gland is the main gland located within the brain and is referred to as 'Master Endocrine Gland' as it releases a range of hormones that affect various bodily functions.
Pituitary Gland keeps hormone levels in check and regulates other glands of the endocrine system. Few examples of hormones produced by the Pituitary Gland are as follows: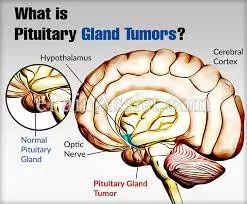 a. Adrenocorticotropic Hormone (ACTH): It stimulates adrenal glands to secrete cortisol hormone which is essential to regulate blood sugar levels and blood pressure.
b. Gonadotropins: This acts on ovaries or testes to stimulate production of eggs or sperm.
c. Growth Hormone: It influences individual's height, promotes bone and muscle building.
d. Prolactin: This hormone is responsible for production of milk after childbirth.
e. Thyroid Stimulating Hormone (TSH): This hormone controls the activity of thyroid gland which is responsible for regulating body's metabolism, growth, and energy.
f. Antidiuretic Hormone (ADH): It is also called Vasopressin and it regulates water balance in the body.
A pituitary tumor is simply a mass of cells that develop on gland. Majority of pituitary tumors do not extend outside the skull and remain confined to nearby brain tissues.
Pituitary Tumors are usually benign and pituitary cancers are rare. Pituitary gland is divided into two major parts, the anterior pituitary and the posterior pituitary. Two-thirds of tumors arise within front portion of the pituitary gland.
Main Signs & Symptoms of Pituitary Gland Tumors
Individuals with pituitary gland tumor may experience signs & symptoms as listed below:
a. Excessive Sweating
b. Severe Headaches
c. Nasal Drainage
d. Vision Problems
e. Changes in Menstrual Cycles in Women
f. Bone Weakening
g. Infertility ( inability to have children)
h. Emotional Illness
i. Inappropriate Production of Breast Milk
j. Acromegaly (enlargement of limbs) from Overproduction of Growth Hormone
k. Tiredness
l. Nervousness
m. Irritability
Diagnosis of Pituitary Gland Tumors
Following tests are generally used to diagnose a pituitary gland tumor:
a. Neurological Examination: This is an evaluation of the central nervous system of patient. It basically includes testing of sensory skills, reflexes, motor and balance and coordination & mental status.
b. Laboratory Tests: A blood test calculates the amount of various hormones. A urine sample, which requires the collection of urine during a particular time span for testing, may be required. This allows doctors to track production of certain hormones.
c. Magnetic Resonance Imaging (MRI): It uses magnetic fields to get detailed images of the body.
d. Computed Tomography Scan (CT): A CT scan takes x-rays of head's portion from different angles. A cross-sectional view of these images shows abnormalities within brain.
e. Lumbar Puncture (Spinal Tap): A thin needle is inserted in lower backside until it enters a space that holds spinal fluid. Spinal fluid is tested for substances that are uncommon for certain tumors.
f. Biopsy: Other examination tests can diagnose presence of cancer, but biopsy can make sure if diagnosis is for certain.
Medical Treatments of Pituitary Gland Tumors
Medications may help in controlling excessive secretion of hormones and sometimes can reduce certain Pituitary Tumors as well.
a. Prolactin Hormone-secreting pituitary tumors are generally treated with dopamine agonists which reduce production of prolactin hormone and reduce tumor size. They are usually so effective that surgery is not required.
b. Growth Hormone-secreting tumors can be treated with medications. These medications are typically recommended when surgery has been unsuccessful in treating excessive hormone production.
c. Pegvisomant restricts the effects of unnecessary growth hormone production.
d. Somatostatin analog drugs reduce growth hormone production and decrease tumor size.
Surgical Treatment of Pituitary Tumors
Pituitary Gland Tumor Surgery is performed to remove the tumor and is considered to be primary treatment for Pituitary Tumors. Effectiveness of pituit
ary gland tumor surgery depends upon the location, type, and size, and whether it has affected nearby tissues. Rest of pituitary gland may be injured during surgery. It can be treated by replacing absent hormones with medicines or other forms of hormone substitution.
Transsphenoidal Endoscopic Pituitary Gland Tumor Surgery
Pituitary gland tumor is extracted through nasal cavity using an endoscope-assisted method. Traditionally, this surgical approach was performed through an incision under lips.
No other part of the brain is touched in this surgery and there are lesser chances of neurological complications. It requires a shorter operating time and stay in hospital than traditional method.
If the size of tumor is small, healing rate after surgery is nearly about 80-90%.  If tumor is large in size or has affected nearby brain tissues, removing the tumor completely becomes difficult. In most cases, Pituitary Gland Tumor can be removed with high rate of success.
Radiation Therapy
This involves use of high powered energy rays to destroy tumor cells. Radiation therapy is suggested when pituitary tumors return after surgery and do not heal by medications. It may also be done if surgery is not possible.
Rehabilitation after Pituitary Gland Tumor Surgery
Patients recovering from a pituitary gland tumor surgery should follow guidelines for good health, such as maintaining a balanced diet, not smoking & maintaining healthy body weight.
Physical activity can help patients rebuild energy level. Doctors can help patients to create an exercise plan based upon the patient's fitness level.
Affordable Cost of Pituitary Gland Tumor Surgery in India
India offers top-notch quality and cost effective medical services in the entire world. This allows patients to regain power of their lives through opting for overseas healthcare session into India.
A broad range of procedures are offered at spotlessly neat hospitals. Doctors in India speak English and use latest state of art hi-technology.
All treatments are properly tailored and developed according to the needs of the traveling patient. India gives an opportunity to international patients to have high-class medical treatments which include pituitary gland tumor surgery at lower cost than those found in other healthcare tourism destinations such as Belgium, Germany and France.
Click here to see the latest
Study Abroad Scholarships and Guides
Click here to see the latest
Jobs opportunities in Nigeria
.
Click here to Join
Recharge and Get Paid
Click here to Read Latest School News in Nigeria
Copyright Warning!
We work really hard and put a lot of effort and resources into our content, providing our readers with plagiarism-free articles, original and high-quality texts. Contents on this website may not be copied, republished, reproduced, redistributed either in whole or in part without due permission or acknowledgement.
Proper acknowledgement include, but not limited to (a) Proper referencing in the case of usage in research, magazine, brochure, or academic purposes, (b)"FAIR USE" in the case of re-publication on online media. About possible consequences you can read here: What are the consequences of copyright infringement? In an effort to protect our intellectual properties, we may report your website to Google without prior notice and your website be removed from search engines and you may receive a strike. All contents are protected by the Digital Millennium Copyright Act 1996 (DMCA).