Politics
Effects Of Money Politics In Nigeria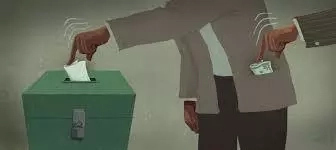 Here in this post, we are going to analyse the effects of money politics in Nigeria. We hope you enjoy reading this expository piece.
Money politics remained one of the controversial issues the world over nevertheless, money cannot buy election results always, weak candidates, for example, does not often win, even when these politicians outspend their fellow opponents.
However, Nigerian money politics has fundamentally corrupting effects in the system. The effects of money in politics are everywhere, the effects are also manifold, and the effects are subtle, though they are hard to pin down, nonetheless, quite a number of ways money politics is influencing the Nigerian political system can be actually laid out.
Most of these shreds of evidence are based on judgments, I mean, available evidence, that is of proof, which cannot be refuted.
But on certain major areas, the quantitative evidence is fairly conclusive. Political pundits, however, have tried to pin down on how monetary advantages really affect the chances of politicians winning elections in Nigeria.
The belief of the politicians is that huge amounts of money are in a sense, necessary if a political candidate must have a serious chance of winning elections.
In most cases, the inability to raising so much money during election usually leads to a political candidate losing elections, and even losing party nominations, and sometimes, the politician may decide to give up even before he gets started.
Hence the need that money is raised during election acts as a filter, with a view to make sure that they eliminate some other politicians, who may hold some different points of view, even though, such points of view represent the popular will of a majority of Nigerians. Having said that, what then are the possible effects of money politics in Nigeria.
What Are The Effects Of Money Politics?
There are some effects of money politics in Nigeria, and I have been able to pin down some of these effects in this article, below are some of them:
1. Exclusion Of Credible Candidates From Running For Political Offices
The quest for money in politics tends to filter out political candidate, who would have been the best elective office holder, having the interest of the people at heart, and representing the people creditably.
Most politicians in the country, who have opportunity and privilege of running for offices are self centred, whose aims include taking big advantage of a particular party they belonged in order to intimidate the other, working assiduously towards making sure that, election outcomes are actually decided within privileged few to their favour.
Political parties supposed to be dominated by ideologies that will serve the popular will of the people, but the so-called money bags, money givers, who are holding extreme views and who are willing to reject all but the candidates they can influence. This has contributed to the corrupt system.
2. Exclusion Of Economically Disadvantaged Political candidates
The quest for money in politics has actually filtered out candidates who are economically disadvantaged, who are not actually wealthy from aspiring and running for political offices.
Most of the political leaders who are in the positions of authority in the country are  candidates who have been able to raise big money during election, besides a good number of them came from economically successful business owners and entrepreneurs in the country and even some professionals who actually hold some kind of views on socioeconomic growth of the country.
As a result, some candidates whose financial muscles are nothing to write home about, and whose views are not widely acceptable to the money bags are showing the way out of politics, no wonder the Nigerian governance is poor.
3. Controlling And influencing Of Elective Public Office Holders By The Affluents
The need for money in politics has tilted political candidates' views and priorities and policy stands in favour of those affluent, who contributed and sponsored these politicians during an election.
During electioneering campaigns, one can actually observe that these politicians aspiring for political offices were indeed grubbing for money countless hours from these moneybags.
This scenario has actually changed candidates' priorities and the sense of their constituent needs. No what? Once they are elected into office, their allegiance will be to the wealthy, the affluents and not to their constituents and their needs.
This is unfortunate! Affluent supporters do get some kind of influence by going to vote,  they also work during campaigns, as well as, contact contesting officials.
Contributions for electioneering campaigns are not the only method affluent individuals involved in politics; they also involved actively in other ways, the will make sure they underscore their importance to political candidates.
4. Politicians  Are Turned Tradable Commodities
Money can actually affect the outcome of elections. For example, the money that is spent on media, and organizing political events, as well as, voter's turnout do tend to increase the total of votes, as a result of that significant edge to political candidates, who are favored by sponsors and money donors.
Money usually buys access to political officials. Because of their money, anytime these big money contributors want to contact these officials, they will always have their way.
It is their economic advantage that usually enables the affluents to gain access to these politicians. However, records have shown that, it is such advantages that normally boost the influence of these
monied individuals 
on politicians, and they most times have an influence on the policy topics and any idea the officeholders may consider.
5. Raising Money For Reelection Affects Politicians Priorities
This is another one. When a politician, who is in office is busy raising money for the purpose of his re-election, that will automatically affect his priorities and policy stands as a leader.
Take for instance, from the time he is elected into office, he will be looking ahead to his reelection bid, and the money for the reelection, and he must ensure that money is raised for his reelection.
Such distraction is bound to steal his time from undertaking his official duties as well as, slanting his attention away from his constituents.
Conclusion
Nigerian money politics has fundamentally corrupting effects in the system. The effects of money in politics are everywhere, the effects are also manifold, and the effects are subtle, though they are hard to pin down, nonetheless, quite a number of ways money politics is influencing the Nigerian political system have been discussed in this article.
Most of these pieces of evidence are based on judgments, I mean, available evidence, that are of proof, which cannot be refuted.
Click here to see the latest
Jobs opportunities in Nigeria
.
Click here to Join
Recharge and Get Paid
Click here to Read Latest School News in Nigeria
Copyright Warning!
We work really hard and put a lot of effort and resources into our content, providing our readers with plagiarism-free articles, original and high-quality texts. Contents on this website may not be copied, republished, reproduced, redistributed either in whole or in part without due permission or acknowledgement.
Proper acknowledgement include, but not limited to (a) Proper referencing in the case of usage in research, magazine, brochure, or academic purposes, (b)"FAIR USE" in the case of re-publication on online media. About possible consequences you can read here: What are the consequences of copyright infringement? In an effort to protect our intellectual properties, we may report your website to Google without prior notice and your website be removed from search engines and you may receive a strike. All contents are protected by the Digital Millennium Copyright Act 1996 (DMCA).