One of the most common staple food in Nigeria is Garri. There is hardly any household in Nigeria that does not consume garri on a weekly basis.
In the past, there was this myopic belief that those who consume garri were people who could not afford the basic necessities of life.
But in the recent times many people including the rich consume garri as ''eba'' or drink it as appetizer when soaked in water with milk, groundnut/kuli-kuli and sugar or honey. This is however a common recipe among children and youths.
Read Also: How to Start Garri Processing Business in Nigeria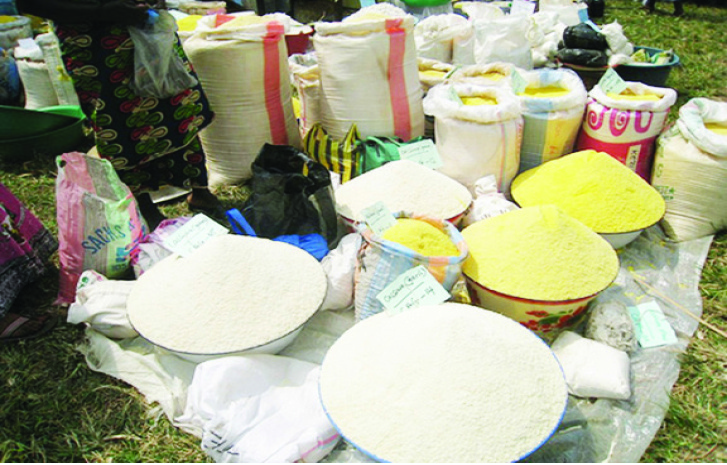 What is Garri?
Garri is a grain-like food substance produced from cassava tubers. It is a smooth yellowish, white granular flour sometimes with flavour which could be sour or somewhat fermented in nature.
Its high demand has made the business of production and sales very lucrative. Garri is one product that does not need advertisement because it can be sold just anywhere in Nigeria with a good profit incurred, it is indeed one of the best-selling food products in the Nigerian market.
A majority of the garri consumed in Nigeria are produced using local means, but for larger scale production, the modern processing technology can be encouraged, which saves time and energy.
Read Also: How to start rice farming in Nigeria
Reasons why you must start garri production business;
1. You don't need much labour in the beginning.
2. It is dynamic in nature.
3. It grows very fast and is less stressful.
4. Millions of naira can be acquired as the business grows over the years.
5. You can partner with other people to start the business.
6. It is one business that both the rich and the poor can embark on.
Things to put in place before starting any garri production business:
1. Get a good location for cassava farm planting; a farm layout with a good loamy soil and warm climate condition is good for cassava plantation.
2. Enhance the soil for cassava farming; increase the fertility of the soil if it is not well manured or locate areas with rich loamy soil,
3. Select the best cassava variety to plant.
4. Select healthy cassava stem cuttings; selecting the best stems for cassava farming is very important because they will eventually grow into rich cassava plants enabling you to sell faster and recover your investment early in the business.
Read Also: How to start Fast Food Business in Nigeria
5. Plant the cassava correctly; taking note of the land type, texture, time needed to plant the cassava for optimum yield, the species to be used and methods to employ is very important to enable good harvest and profit during processing.
6. Determine your cost of production; having a good idea of what the garri production entails is very important to enable you generate a good income and avoid being stranded along the line in production process.
A sample of production cost estimate which is subject to change is as thus;
Cost of land = 500,000 to N2m (Unless you already have a land).
Land clearing = 25,000 variably.
Cassava stem cutting = 50,000
Fertilizer = 35,000
Fermentation Tank cost = 320,000
Hydraulic press = 250,000
Hammer mill cost = 850,000
Other costs could include; Carriage bags, insecticides, labour fees, farm maintenance, etc.
7. Conduct a feasibility study; a lot of individuals set up a business without first conducting a feasibility study which is one of the reasons many businesses flop along the line, which eventually leads to great loss.
So to be on the safe side it is very important to first ask experts and veterans in cassava business about the production, advantages, disadvantages and the start-up cost etc. which will help avoid future losses in the business.
Equipment needed in garri production are:
1. Knives; for peeling the cassava.
2. Large basins; for washing the peeled cassava tubers.
3. Large frying pans; for frying the garri,
4. Frying spoons; for turning the garri.
5. Tripod and firewood; to produce fire for grinding.
Read Also: 6 Factors responsible for high cost of food items in Nigeria and recommendations
There are however modern machinery which can be used for the more efficient and less stressful production of garri and they include:
1. Cassava peeling machine; which can peel up to 2 tons cassava tubers per day.
2. Cassava grating machine; which grates up to 3 tons cassava tubers per day.
3. Hydraulic press; to drain out the excess liquid from the grated cassava.
4. Granulator; this machine further breaks down the grated cassava into tiny granules or mash.
5. Garri frying machine
6. Garri sieving machine
7. Packaging machine
Process used in the production of garri
1. Peeling; harvested cassava tubers are peeled.
2. Washing; the peeled cassava tubers are then washed to remove dirt.
3. Grating, Crushing or Grinding; the washed cassava tubers are reduced to tiny shreds or mash.
4. Processing or dewatering; the mash are put into a porous bag and weights are put on it to enable free passage of the water, which usually takes several days, but in the recent times a hydraulic press is used to compress the mash and drain out the water within few hours.
5. Sieving; the dry mash is sieved to fine granules.
6. Frying; the sieved fine granules is fried in a very large pan and turned with a frying spoon. Oil may or may not be added depending on consumers demand. Usually garri comes in two colours – white garri; garri fried without palm oil
yellow garri; garri fried with palm oil
7. Cooling; the fried garri is then allowed to cool to room temperature.
8. Packaging; the product is then bagged in different quantities and sold out to retailers.
How to source for the cassava tubers
For a larger and cheaper production it is advisable to get the cassava produce from farmers in village markets, or in most cases your personal farm land.
How to store the produced garri
When garri is not properly stored it can give room for fungi to develop in the product which can lead to deterioration. It is however safer to store garri in polythene bags, rice bags and plastic buckets.
This helps to prevent the ingress of moisture into the product. To enable a longer shelf life for the product, proper frying and drying of the garri with low moisture content should be encouraged.
How to market your garri
Garri is one product that sells without advertisement, but to stand out good marketing techniques should be adopted.
You can package your garri in customized bags with your company name and address on it. The most efficient way of marketing the garri is by looking for distributors to supply to whole sellers and retailers.
Locate stores and supermarket where food items are sold and make good offers of the product by selling your garri at reduced prices, this will help to build a good customer base for the business.
A good distribution network helps in the effective and efficient marketing of the product.
Read Also: How to Stop Food Waste in Nigeria
Conclusion
It is observed that there is no tedious process in garri production. With a good knowledge, the right equipment and personnel, But is however advisable to get first hand practical knowledge of garri production before embarking on the business. This can be achieved as mentioned earlier by going to factories and local producers for assistance.
You can start a small scale business for garri production to enable and observe your customer base before growing the business into a larger scale.
It is however also important to note that a good start-up capital is very fundamental for any successful business.
🤑 Start making money from home today!
👉 Get correct FREE TIPS and Guides on how to make money from home today. Click here to start
.
👍Showcase your business here!
With over 1M unique users per month across all channels, we have a large audience for you to showcase your products and services. Simply get in touch via 👉 marketing@Infoguidenigeria.com.
🤑 Make Money now!
👉 Make money writing for us. Apply for Freelance writing jobs in Nigeria.
👉 Make Money as InfoGuideNigeria Advertising Agents, read more here
.
This post can be helpful to somebody else, please share it on Facebook, Whatsapp, Telegram and Twitter. There are buttons below for this (easy to use too)!
Copyright Warning!
Contents on this website may not be republished, reproduced, redistributed either in whole or in part without due permission or acknowledgment.
.
Proper acknowledgment includes, but not limited to (a) LINK BACK TO THE ARTICLE in the case of re-publication on online media, (b) Proper referencing in the case of usage in research, magazine, brochure, or academic purposes,.
.
All contents are protected by the Digital Millennium Copyright Act 1996 (DMCA).
.
We publish all contents with good intentions. If you own this content & believe your copyright was violated or infringed, please contact us at [infoguidenigeria@gmail.com] to file a complaint and we will take necessary actions immediately.