Of the many available Entrepreneurship options in Nigeria today, generator repair business has is arguably one of the noblest and highly lucrative.
It has been rumored to be capable of generating at least N100, 000 monthly if done well. How can one go about this, and what is involved?
👉 Relocate to Canada Today!
Live, Study and Work in Canada.
No Payment is Required! Hurry Now click here to Apply >>
Immigrate to Canada
This article gives detailed answers to these and more. It is a conscious answer to the question, "How can I start generator repair business in Nigeria and make a nice living out of it?"
Read Also: Sumec Firman Generator ECO 8990ES 7.2kva Price in Nigeria, Features and Review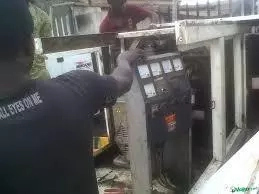 Is Generator Repair Business Profitable? Is there A Market for It?
Yes, generators repair business is highly profitable and there is a very large market for it in Nigeria. Given the ever-dilapidating, ever-dwindling nature of Nigeria's power supply, many have resorted to Electric power generators. But this is not without significant pains and gains. Generator repair business gains from the pain.
The simple explanation for the above is that electric power generators are not reliable – they break down incessantly. Thence, people who are specialists in repairing generating sets make a fortune off the situation.
The generator repair technician remains the small god in this domain. With this position, he calls the shot and makes as much profits as he wants.
Kind Of Generators Commonly Used (And Repaired) In Nigeria
Below are some of the generators commonly used in Nigeria. These are the kinds of generators you are bound to repair:
1. Elemax Generators
2. Elepaq Generators
3. FG Wilson 30 KVA Diesel Generators P33 Basic – White/Blue
4. Firman 0.9KvA SPG1200 (Manual) Generator
5. Firman 6KVA (Key Starter) FPG8800E2 Generator
6. Firman 9.6KVA Generator ECO10990ES Key Starter With Remote
7. Gateway Power 36 KVA Soundproof Diesel Generator GP36 – White/Silver
8. Honda 8KvA EM10000 Key-Starting Generator + Battery
9. Hyundai Ultra Silent HYD Diesel Generators
10. Lutian 3.5KVA Generator with Key Starter LT3600E
11. Lutian 3.5KVA Manual Starter Generator LT3600 – Black
12. Lutian 3.8KVA Generator With Key Starter LT3900 – Black
13. Lutian Diesel Generator – 5kva
14. Mikano Generators
15. Osychris 12KVA/ 10.0kw Key Start Generator DJQF12000E
16. Sumec 6.1 KVA Generator
17. Sumec Firman 3.2KVA Generator -ECO3990ES With Key Starter
18. Thermocool Big Boy Generator Remote with ATS 4400Rs 4.4KVA
19. Thermocool Igwe Generator Remote with ATS 8100RAS 6.0KVA
20. Thermocool Odogwu Max Generator 10000Rs 6.75KVA
21. Thermocool Oga Remote Generator with ATS 6900RAS 6.9KVA
22. Thermocool Optima Generators (TEC)
23. Tiger 0.7KvA TG1200 Manual Gasoline Generator
24. Tiger Generators brands
25. Etc.
Read Also: Buy Cheap Generators and Inverters here for your Business
Practical Steps To Starting Generator Repair Business In Nigeria
1. Get Generator Repair Skills First
Generator repair business is not for novices. You need to be skilled in the trade. You can acquire generator repair skills through apprenticeship or under a formal school setting.
A certification in auto mechanic, mechanical engineering and related fields from a reputable institution is required.
If you must go far in this business, your knowledge should outsmart that of a regular roadside technician.  You can get this knowledge and certification from a reputable Nigerian University, College or Polytechnic offering the course. You should Plant and Power as your specialty.
Where you do not have the capacity to get formal training, you may work under someone as an apprentice for some years.
During this time, you would have gained sufficient generator repair skills. Once you are done with your apprenticeship, still stick around for some time (at least six months) to gather more experience. This will greatly aid you as you set up your shop and start your enterprise later on.
2. Conduct A Thorough Market Research
What follows after skills acquisition and certification is a thorough market research. This will help you to know:
1. The level of need for generator repair services in your proposed business destination
2. The kinds of generators commonly being repaired.
3. Others who are doing a similar business and
4. Strategies to outshine or cohabitate with them
5. Etc.
Read Also: Buy Cheap Generators and Inverters here for your Business
3. Write Your Business Plan
Use the result of your market research to follow write a good generator repair business plan. It is not advisable to start any kind of business today without a concrete business plan.
The benefits of a generator repair business plan are many. Most importantly, it will help document what you need and how to grow/expand the business.
It is the documented roadmap which shows how the direction of your business growth in the short, and long-term respectively.
4. Register Your Business and Open a Corporate Account
You need to register your business with the corporate affairs commission of Nigeria (CAC). Then, you obtain your Tax Payer's ID.
You may or may not open a corporate account for this business – it is not all that important. Just register the business and get the necessary licenses and permits from the relevant authorities. That's what is important for a start.
5. Purchase the Required Working Tools
You need tools to undergo generator repairs. While you may already have some of these tools, you may consider buying new ones to supplement your stock.
Some of the generator repair tools which you must have are
1. A complete set of spanners,
2. Carburetor pressure gauge et al.
3. Choke cable bender,
4. Ignition system tester, and
5. Sets of Pliers,
6. Thread chasers for spark plugs,
N/B: instead of buying these single, you can simply get a complete generator repair kit which contains all the required tools.
Read Also: Top 18 Power Generating Companies in Nigeria
6. Pick A Good Location:
You need a good location for your generator repair business. This should have ample human and vehicular traffic for easy sighting by people, especially passersby.  So, rent a shop in an area where people and motorist move frequently.
Also, since yours is to fix people's generators when they get faulty, it would therefore be insensible to site this business in an area will near constant government power supply.
Of course, people in such areas would not have much need for generators. So, you might be wasting your time operating there.
7. Staffing
At first you may not really need staff. But along the line you will need to employ one or two to start with. As a newly started enterprise, your focus should be on getting clients.
No need for staff or for now, and if you must get someone, let it be an apprentice. You may thereafter consider getting a staff(s) when the business expands and you cannot do it all alone.
8. Advertising Strategies
Once your business is well positioned as mentioned in point 6 above, you are good to go. You really don't need to spend on advertising, except maybe to erect a signpost or a flex with your business name and job description.
Just focus on delivering high-quality services, the business will sell itself. In this business, the best advertising strategy is "word-of-mouth."
Read Also: How to Start Electrical Business in Nigeria
Summary and Conclusion:
Today, I discussed with you generator repair business in Nigeria and how to start. I made it clear that there is a market for the business in Nigeria, a huge market at that.
You can make a decent earning off generator repairs in Nigeria if you do it well. Tips on how to start, run and be successful in this business have been discussed. So, launch out with these tips and reach out for success today.
If you have questions, comments or need more guidance, kindly leave me a comment in the comments box below.
👉 Relocate to Canada Today!
Live, Study and Work in Canada. No Payment is Required! Hurry Now click here to Apply >> Immigrate to Canada
👇👇👇👇👇
Information is Power!
Don't miss any valuable information or opportunity that can change your life, business, and family positively and permanently.
👇👇👇👇👇
👍Advertise your business on InfoGuideNigeria.com!
From just N9,999 per month, you can advertise your products and services to over 1,500,000 monthly users on our website. Click here to read more.
Copyright Warning!
Contents on this website may not be republished, reproduced, or redistributed either in whole or in part without due permission or acknowledgment.
.
Proper acknowledgment includes, but not limited to (a) LINK BACK TO THE ARTICLE in the case of re-publication on online media, (b) Proper referencing in the case of usage in research, magazine, brochure, or academic purposes,.
.
All contents are protected by the Digital Millennium Copyright Act 1996 (DMCA).
.



The images, except where otherwise indicated, are taken directly from the web, if some images were inserted by mistake violating the copyright, please contact the administrator for immediate removal.
.
We publish all content with good intentions. If you own this content & believe your copyright was violated or infringed, please contact us  for immediate removal.
🤑 Start Making Money from home today!
👉 Get the correct
FREE FOOTBALL PREDICTION
TIPS
and
Guides
today.
Click here