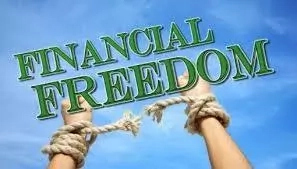 Some people feel that they are just good at collecting debt from people, maybe because they want to step up their game and use expensive things that their neighbors or colleagues use, all these are not necessary.
The truth is that, being a debtor cannot make you to be financially stable. Here in this post, I will teach you how to become financially stable in Nigeria.
It does not matter the state of the economy, it's just some level of determination and discipline, of course when it comes to handling money in Nigeria you have to be discipline.
I am going to be stating clearly how Nigerians can attain financial stability and run their lives in a way that is hassle free.
How To Become Financially Stable in Nigeria:
1. Write Down your Budget
Writing down your budget makes you to go half way in becoming financially stable, that's because on your budget you clearly state what you want to do with your income.
I recommend that people should write down a personal budget as it's a kind of finance plan that allocates future personal income towards expenses, savings and debt repayment.
Many Nigerians are fond of collecting their monthly salaries and lavishing it on things that are not necessary, some people may just collect theirs and end up in a beer parlor buying drinks for themselves and people they do not even know.
But with the aid of a budget, you would be able to allocate amounts for various uses, so that you don't end up spending more on what you don't need or spend less on what you should purchase in bulk. With a budget well written, you can be financially stable.
2. Don't Be A Debtor
Running into huge debt is one thing that makes many Nigerians financially unstable. Some Nigerians financially stable.
A typical example here is a situation where a Nigerian man would go to his friend, asking him to lend N100,000 assuring that after a month, he will pay back.
The friend innocently assists him with the N1000,000. Only for him to lavish the money on frivolities and after a while there would now be trouble and hatred among the two friends.
So debt should not be in your to-do list when talking about financial stability.
3. Limit What You Spend On Entertainment
You can actually save the N5,000 you wanted to use to buy a ticket for Wizkid's show and use it for a better thing.
Many Nigerians are into financial problems simply because they wanted to entertain themselves. Spending money on things that doesn't really matter would not help you financially.
You can find cheap ways of entertaining yourself rather than spending much, would it not be better to stream the event live on your device and you save the money you would have spent on transportation, the ticket and also snacks.
Limiting what you spend on entertainment is one way in which you can attain financial stability.
4. Live Below Standard
Living your life a little bit lower than how you used to live is one way to be saved from financial distress.
Some Nigerians are funny, in the sense that they want people to have the impression that they are "rich" meanwhile they are not.
If you change some of the behaviors that make you spend much money that makes you run into debt, it would help you to be financially stable.
5. Reduce Food Wastage
A lot Nigerians don't know how much they spend feeding in a month or let me not take it too far, in a week. If you sit down and calculate how much you spend on feeding, you would then realize how important it is to reduce food wastage.
Many Nigerians eat food and when they are filled what they do is to throw the left over away, which is not right.
Once you eat and you are satisfied, package the left over and have it for breakfast or lunch, you would realize how much you have saved from doing so.
6. Don't Rely On A Single Source Of Income
For you to be financially stable, you don't have to rely on a single source of income. People earning from multiple sources of income are proud of doing so, that is because if a source of income fails them, they can concentrate on others.
You could be a man earning up to N500, 000 monthly from an oil company in Nigeria, only for you to wake up one morning and get to your office, finding out that your sack letter is on your table, at that point what will you fallback to ? Would you turn into the biggest debtor in town?
You need to have your income arriving from various sources in order to be financially stable.
7. Learn To Save
The easiest way to have money is by saving the little you have, if not how would you be financially stable?
If you are good in managing the resources you have, then you can hardly fall into financial troubles.
Saving something reasonable in our bank account makes you feel rich, because you can easily solve any financial problem that comes your way.
8. Learn New And Economical Ways Of Doing Things
You can save a whooping sum of money, if you can actually find out new ways of doing things, that's because technology and innovation comes into play to help man achieve a lot using limited resources and time.
You can be financially stable if you can manage all you have, all it takes is discipline. When you discipline yourself not to acquire things you don't need, you can become financially stable.
9. Do Things Yourself
If you are a type of person that has to hire a carpenter before you put a nail on the wall, then you are sure of spending more than what you earn.
You can cut down cost of what you spend monthly, by doing a lot of things yourself and even charging people to do it for them.
If you are a woman, you can learn how to make snacks which would save you the cost of buying it for your children.
So with these tips, you should be able to trim down expenses that makes you live beyond your capacity. I hope I have being able to give you some tips on how you could become financially stable in Nigeria.
IMPORTANT!:
Follow us on
Instagram @InfoGuideNigeria
Click here to Read Latest School News in Nigeria
Copyright Warning!
We work really hard and put a lot of effort and resources into our content, providing our readers with plagiarism-free articles, original and high-quality texts. Contents on this website may not be copied, republished, reproduced, redistributed either in whole or in part without due permission or acknowledgement.
Proper acknowledgement include, but not limited to (a) Proper referencing in the case of usage in research, magazine, brochure, or academic purposes, (b)"FAIR USE" in the case of re-publication on online media. About possible consequences you can read here: What are the consequences of copyright infringement? In an effort to protect our intellectual properties, we may report your website to Google without prior notice and your website be removed from search engines and you may receive a strike. All contents are protected by the Digital Millennium Copyright Act 1996 (DMCA).