In this post, we present to you the basic recipe and steps to make Nigerian cake. After reading this guide, you can be a master cake maker.
Cake making is very lucrative especially in a country like Nigeria where occasions almost every day. With this knowledge, you can open a cake shop and be a boss on your own.
This recipe is for those of you looking to bake a wedding cake, a birthday cake, or one you can store in your refrigerator and munch on from time to time.
Read Also: How to Prepare Akara [Bean Balls or Bean Cakes]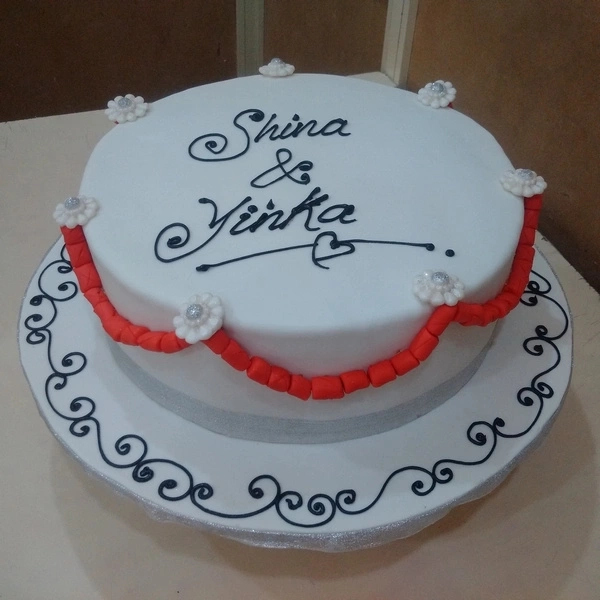 A cake pan with the size of 10 inch diameter and 2.5 inch deep is to be used because of the quantities of the ingredients listed below. When done, the cake will be of this size but with a dome.
make Nigerian cake
Ingredients make Nigerian cake
1. 4 cups (500g) of plain Flour
2. 12 Eggs
3. 4 sticks (500g)of baking Butter (not Margarine)
4. 400g (2 cups) Granulated Sugar
5. 3 teaspoons baking powder
6. 3 tablespoons vanilla extract (for a different flavor such as butterscotch, use them in place of the vanilla extract)
7. ½ cup brandy
Read Also: How To Make Nigerian Agege Bread
Tools needed to make Nigerian cake
1. An oven
2. Cake mixer
3. Kitchen scale
4. Sieve
5. Egg Mixer
6. Bowls
7. Spatulas
8. Cake pan of the size of the cake
If you want to add dry fruits, soak them in brandy for at least a week (a month for wedding cakes) before adding it to your cake. This is to prevent the cakes from going bad quickly or tasting funny.
The brandy is a preservative for the cake. The eggs in it can make it go bad before the event if you don't add brandy or other cake preservative to it.
But if you are making a cake that you will eat soon, then no need for the brandy. Remember not to add too much though.
Read Also: How To Make Nigerian Chin-Chin
Preparation and Steps to make Nigerian cake:
First, you put the butter and the granulated sugar into the mixer and start creaming. (P.S. Do not melt the butter, take it from the fridge a day before so it will be soft enough for creaming)
Use the highest setting on your mixer, begin the creaming of your butter and sugar. Creaming can take about an hour or thereabout.
A well-creamed mix should look whiter than the butter, softer (i.e. it should be able to drop from a spoon) and you can barely feel the granulated sugar when you taste the creamed butter and sugar.
Next, you rub the inside of your cake pan with butter. Then put some flour into the greased pan, making sure the flour touches every part before pouring it out to prevent the cake from sticking to the pan when done.
Break the eggs into a big bowl and mix them well till it is smooth.
Add the eggs to the creaming and mix well till you have a smooth fluffy blend. You can mix in a big bowl if your mixer is not big enough.
At this point, you can turn on your oven to 150°C degree. This enable it heat up while you continue mixing the cake.
Next you add the vanilla or any other flavors of your choice, the preservative (which is brandy in our case) and the soaked dry fruits.
Now you begin stirring with the spatula till everything is well combined. If you are baking a wedding cake, you should add browning in order make the cake dark in color.
Add the baking powder and the plain flour together. Pour them into the mix through a sifter (this is to avoid lumps of flour in the cake and ensure a smooth cake).
Make sure you stir the cake mix in one direction only because stirring in different directions may lead to air bubbles being trapped in your cake and consequently cause holes in your cake when done.
Once every ingredient is well mixed, pour the mixture into the greased cake pan.
For a multicolored cake, at this point you divide the mixture into the number of colors you desire and put them in separate bowls. Add the preferred colors to each bowl before pouring them into the pan one after the other.
Once the mixture is in the oan, gently lift and drop the cake pan several times to level out the cake mix as much as possible.
Transfer the cake to the already heated oven. Make sure you place it between the top and the bottom of the oven.
Read Also: How To Start Yam Flour production Business In Nigeria
Now, you have to leave it in the oven for at least 2 hours before opening at all. This is because, if you open the oven before the cake has risen fully, you will interrupt its rising process, thereby making the cake hard and unevenly done. Make sure the cake is no longer rising before opening the oven door.
After 2 hours, check the cake putting into the center. If the knife comes out with pieces of the cake mix, then the cake is not done but if it comes out clean and oily then the cake is done.
The second way to check is by looking at the sides of the cake pan. The cake must not be stuck to the pan
Once you are sure that the cake is done, take it out and let it cool for about 5 minutes before removing it from the pan.
Next, you can start decorating it after it cools.
This post can be helpful to somebody else, please share it on Facebook, Whatsapp, Telegram and Twitter. There are buttons below for this (easy to use too)!
Copyright Warning!
Contents on this website may not be republished, reproduced, redistributed either in whole or in part without due permission or acknowledgment.

.
Proper acknowledgment includes, but not limited to (a) LINK BACK TO THE ARTICLE in the case of re-publication on online media, (b) Proper referencing in the case of usage in research, magazine, brochure, or academic purposes,.

.
All contents are protected by the Digital Millennium Copyright Act 1996 (DMCA).

.
We publish all contents with good intentions. If you own this content & believe your copyright was violated or infringed, please contact us at [infoguidenigeria@gmail.com] to file a complaint and we will take necessary actions immediately.
🤑 Start making money from home today!
👉 Get correct FREE TIPS and Guides on how to make money from home today. Click here to start
.
👍Advertise your business here!
With over 1M unique users per month across all channels, we have a large audience for you to showcase your products and services. Simply get in touch via 👉 marketing@Infoguidenigeria.com.
🤑 Make Money now!
👉 Make money writing for us. Apply for Freelance writing jobs in Nigeria.
👉 Make Money as InfoGuideNigeria Advertising Agents, read more here
.