Fruit juice are very healthy are easy to make, they are not just restricted to Nigeria alone but definitely is relative to every other part of the world.
Fruit juice can taste differently depending on the combination of fruits used. Nigerian fruit juice are made with the common Nigerian fruits that can be seen around, and they include Orange, mango, pineapple, watermelon, pawpaw etc. fruit juice are commonly made at home and also can be made in Eateries with the use of an electric or manual blender.
They are made for children to take to school to be taken with snacks or after taking their lunch, they can be taken as appetizer or desert. Workers also prepare it to take with lunch during break hours at the office.
Read Also: How to Start Fruit Juice Business in Nigeria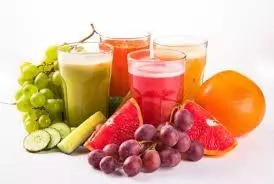 A simple fruit juice should be a combination of at least five different juice. Fruits are an amazing source of vitamins and minerals.
Fresh fruits are low in calories and fats, some of these fruits contain a high volume of water an example is Water melon as the name implies.
Fruit juice is majorly the extraction of juice from different fruits combined together. I will explain in details how this can be achieved using the common Nigerian fruits, and also I will go further in explaining the health benefits of taking the various fruits.
Materials for making fruit juice
Blender (electric or manual)
Kitchen knife
Jug
Water (iced cubes)
Ingredients for making fruit juice
Orange
Mango
Pawpaw
Pineapple
Watermelon
Read Also: Advantages Of Eating Fruits
Method of preparing the different fruits for extraction
Peel off the back from the orange and deseed the orange.
Peel the back off the mango and remove the seed in it.
Peel the pawpaw and deseed it as well.
Peel the pineapple and slice with a knife into smaller shapes (this is to make it easy for the blender to extract the juice, especially if you are using a portable blender in your kitchen).
Peel the watermelon and cut into small shapes.
Method of preparing the juice
Mix all the fruits; orange, mango, banana, water melon and pawpaw in a blender. Then blend till a smooth consistency is obtained.
Strain with a semi-fine strainer and pour into a clean jug.
Mix the juice properly and serve into a can or cup, depending on preference.
Add iced cubes into the juice and enjoy it chilled.
(You can make the glass cup look attractive and presentable by slicing a lemon into circular shape and fixing it into the tip of the cup).
Marketability
If peradventure you decide to make money from the business you can be sure of maximum profit because fruit juice is loved by virtually every body, as you can use any combination of fruits you desire, based on individual preference.  It doesn't require a huge start-up capital, with just 20,000 you can start up a fruit business.
Benefits of taking fruits
An abundance of various vitamins and mineral is found in fruits. The nutrients in fruits protects against heart diseases, stroke, cardiovascular diseases and age related symptoms. Fruits are essential for the overall wellbeing of man.
Read Also: How to Start Fruits Selling Business in Nigeria
Orange
Orange is one of the most popular and most commonly sold fruits, which can be found in almost every part of the world. It tastes delicious and juicy, and contains a high concentration of vitamin C as well as other nutrients.
Oranges are rich in potassium, an electrolyte mineral that controls the heart function. Orange can reduce the level of bad LDL cholesterol which accumulates in the blood vessels and arteries causing heart problems, cardiovascular issues, and hindering the healthy flow of blood and blood oxygen flow.
Oranges also help to prevent the mutation of cancerous cells in the body. Oranges are powerful antioxidants and also help to increase body's resistance against infectious agents.
They generally help to improve eye health, they help to prevent kidney diseases, they are beneficial for fighting diabetes, they prevent stomach ulcers, they are beneficial in pregnancy, they help to improve sperm quality, they help people to lose weight, they help to fight acne and black heads, they help to prevent hair loss and so many other benefits.
Mango
Mangoes help to prevent cancer, lower cholesterol level, they help to clear the skin, as they clear clogged pores and eliminate pimples.
They improve eye health because of the presence of vitamin A, which is excellent for eye sight. Mangoes help to maintain the alkali reserve of the body, mangoes are a great source of vitamin E which is great for sexual drive enhancement, they contain enzymes which helps to break down protein, as a result of the fibre contained in them which helps digestion and elimination. Mangoes help to boost the immune system.
The boost the immune system; this is as a result of the generous amount of vitamin A and C and 25 different carotenoids which work together to keep the immune system healthy and strong.
Pawpaw
Pawpaw is delicious and loaded with nutrients, they have powerful antioxidant effects, and they have anti-cancer properties because of the presence of lycopene in them.
The antioxidants present in pawpaw helps to improve heart health. Pawpaw are very high in carotenoids which helps to reduce inflammation.
Pawpaw has been shown to improve constipation and other symptoms of irritable bowel syndrome. Ulcers have been treat using the seeds and other parts of the plant.
The powerful antioxidant in pawpaw helps your skin to recover from sun damage and may defend against wrinkling.
Pineapple
Pineapples have been found to treat arthritis, they help boost immunity as a result of the presence of vitamin C, they help to speed up wound healing, and they help to prevent cancer because of the presence of vitamin A, beta-carotene, bromelain, flavonoids, and manganese.
Pineapples aid in digestion, they help to treat cough and cold, they improve bone health, they relieve asthma, controls diabetes, improves fertility, improves vision, improves the skin, they help to regulate blood pressure, they help to improve blood circulation, they help to dissolve kidney stones.
Read Also: 10 Tips To Prevent Business Failure In Nigeria
Water melon
Water melon helps to manage diabetes, fighting free radicals, support healthy heart, source of energy and water, it also helps to reduce the severity of asthma attacks and supports weight loss.
Water melon performs other functions like eradicating inflammation, reduce risk of developing periodontal disease, support digestion, and also helps improve eye sight.
Fruits generally are a good source of essential vitamins needed by the body, and so they are recommended to be taken alongside our diet on a daily basis.
To save you the stress of having to chew different fruits at a time, you could just blend them into a juice, and take chilled for optimum satisfaction.
Nigerian fruit juice is just a combination of the different fruits commonly found in the country. There is no big deal to preparing the Nigerian fruit juice, in fact different individuals have their different choices of the fruits they choose to blend into a juice, so u can try making your own fruit juice at home during your leisure hours.
.
👍Showcase your business here!
With over 1M unique users per month across all channels, we have a large audience for you to showcase your products and services. Simply get in touch via 👉 marketing@Infoguidenigeria.com.
🤑 Make Money now!
👉 Make money writing for us. Apply for Freelance writing jobs in Nigeria.
👉 Make Money as InfoGuideNigeria Advertising Agents, read more here
✍️ Be Our Guest Publisher!
Do you have a press release, breaking news,  or any other helpful information to share with our growing readers? If yes, send your article to 👉 infoguidepr@gmail.com.
We will be glad to publish it if the information is useful to our audience.
.
This post can be helpful to somebody else, please share it on Facebook, Whatsapp, Telegram and Twitter. There are buttons below for this (easy to use too)!
Copyright Warning!
Contents on this website may not be republished, reproduced, redistributed either in whole or in part without due permission or acknowledgment.
.
Proper acknowledgment includes, but not limited to (a) LINK BACK TO THE ARTICLE in the case of re-publication on online media, (b) Proper referencing in the case of usage in research, magazine, brochure, or academic purposes,.
.
All contents are protected by the Digital Millennium Copyright Act 1996 (DMCA).
.
We publish all contents with good intentions. If you own this content & believe your copyright was violated or infringed, please contact us at [infoguidenigeria@gmail.com] to file a complaint and we will take necessary actions immediately.