Do you have a platonic friend in mind you wish you could convert your relationship into a romantic date. Have you become best of friends and feel the stakes can't change.
The truth is your friend may differ in opinion. Here is the shocker! They may not realize, you even have a crush on them. Your platonic friend may feel as deeply passionate as you do and could secretly be wishing you to pop that 'would-you-go-out-with-me question'.
Do you want to be lucky person that would unlock all the romantic passion they have locked up in their 'heart locket', waiting for someone to explore.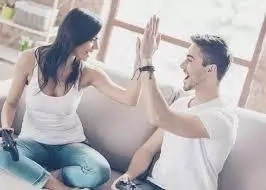 What is your situation? Probably you made a mistake asking for just platonic friendship and now regret that because you want more- a romantic date?
Or you have always wanted more from the beginning, but have been too naive to ask or lack the bravery. For some like me it was the scenario of friends since kids and as a young man I wanted her as a romantic date.
Like they say "no need to cry over spilled milk", because I assure you, the next few steps you are about to read have been proven to be the best in progressing platonic friendship into fun filled romantic dates.
Take the Bull by the Horn
Your platonic friend certainly is not a bull, and doesn't have a horn to take hold of, but that bold step you need to take to talk up that crush you have and clear your thoughts on how you feel is certainly an uneasy and very challenging step to take equated to taking the bull by the horn.
Don't be cowardly! Throw caution out the window and take courage to discuss what and how you feel. After all what have you got to loose?
There is a possibility that she may just grant your dream desire and accept your request and even if she doesn't, you will have succeeded in planting a seed that will germinate, if you keep watering it with your charming and affectionate care. The green lights will surely come up someday, but you have to be at alert to discern it and make your move fast.
If this move makes you uncomfortable then try this next one.
The Crawling Move
You cant do the direct approach move then try this. Although it's tempting to speed up and fast track your new relationship.
Instead of making that uncomfortable lightning speed, you may want to slow things down, take you time to get to know each other better. Go out for some fun-filled casual dates, go see a movie together, or decide to just hang out at a real nice place.
Doing things together at this point increases the emotions and gives you both the opportunity to understand each other a lot more better knowing each other likes, dislikes and needs. Satisfying those needs becomes a lot easier and that's when popping the question is easier because the answer to the question is a definite Yes.
If this move fits in but seem so simple, and you're already concluding it wont work. Check out the next move.
The Sage Move
This move is a very tricky and cunning move. From the name, it requires wisdom and cunning at the same time. I used this move and it worked for me! It may not work for you except you follow the right steps at the right time.
In this move, cunning is needed, because you take advantage of your friends emotions, but I must warm you its very risky.
In this move, you get very close as possible to your friend. You try to become her best friend that she cannot do without, and at this point is where the game plan is at apex.
The next step is to strike, make romantic advances at her when you are both lonely, or when you notice she is in need of emotional care.
You could cunningly start with mild smooching touches like hair strokes and caresses while you play as friends, but don't get carried away, because the main goal is to make the more advance move.
Be careful to only make this risky move when you notice she needs that extra touch, or when you discern she would welcome the resultant romance that would lead to your heart's desire-sex.
This is where the risk is, if you don't play wisely, you may loose your friend in the process, but if are a genius, then you will have progressed from a platonic friendship into a romantic relationship.
What to Note
People around you- your friends, family and we'll wishers will have different opinions and may advice differently, but bear in mind that its only you and your friend's view that counts.
Look at the view of others as an icing on a cake- when it's not there, it doesn't stop you from eating or enjoying the cake even though its needed to beautify the cake.
Define Your Feelings
You have a rush of feelings for a friend doesn't automatically mean that you are ready to get into a romantic relationship. That is totally unreal, because, there is always a reason why people become friends with each other.
Some friends are drawn to each other by mere attraction, while loneliness, companionship and happiness are some other reasons people choose friends, it mustn't be romantic.
On some level, you need to explore your attraction before you make a move from platonic to romantic. This will guide your decision and hint you on how to progress in your relationship, the right approach to adopt and the right moment to make the move.
Be Honest
Talk about what you both want from the relationship. Decide how frequently you both want sex, when you both want it, how you both want it, what protective measures to opt for, or if its just a casual date for a start and don't want to rush things through, or if you both want your emotions to play out naturally. Its important to clear all that before romance should begin so as to avoid hiccups.
Honesty is the key when progressing from platonic to romantic relationship. You both need to start up by agreeing to tell the truth to each other always in your new found relationship.
If you've been friends for a while, you may trust each other and know when the other person isn't being honest. That is to your advantage, but if you're new friends, just getting to know each other, you may both need more time to earn the trust of each other so as to prove that you trust each other.
Conclusively, changing platonic friends into romantic partners is truly possible and achievable. No matter what people may have told you or what you may have read, using these incredible steps outlined has worked for so many people.
If it worked for them, it can also work for you. Get off your high horse, come out from your shells and design your heart desire into a reality.
Information is Power!
Don't miss any valuable information or opportunity that can change your life, business, and family positively and permanently.
👇👇👇👇👇
For Latest updates on News, Jobs & Business Ideas, and Opportunities.
Copyright Warning!
Contents on this website may not be republished, reproduced, or redistributed either in whole or in part without due permission or acknowledgment.
.
Proper acknowledgment includes, but not limited to (a) LINK BACK TO THE ARTICLE in the case of re-publication on online media, (b) Proper referencing in the case of usage in research, magazine, brochure, or academic purposes,.
.
All contents are protected by the Digital Millennium Copyright Act 1996 (DMCA).
.
The images, except where otherwise indicated, are taken directly from the web, if some images were inserted by mistake violating the copyright, please contact the administrator for immediate removal.
.
We publish all content with good intentions. If you own this content & believe your copyright was violated or infringed, please contact us at [infoguidenigeria@gmail.com] for immediate removal.
🤑 Start Making Money from home today!
👉 Get the correct
FREE FOOTBALL PREDICTION
TIPS
and
Guides
today.
Click here
.
👍Advertise your business here!
With over 1M unique users per month across all channels, we have a large audience for you to showcase your products and services. Simply get in touch via 👉 marketing@Infoguidenigeria.com.
🤑 Make Money now!
👉 Make money writing for us. Apply for Freelance writing jobs in Nigeria.
👉 Make Money as InfoGuideNigeria Advertising Agents, read more here
.