One of the most profitable businesses in Nigeria is dog business. I know it might sound new to some people but actually dog breeding could bring in millions yearly with little capital.
A Rottweiler puppy goes for 90,000 Naira.
A Dobberman dog puppy goes for a little over 110,000 naira.
A pure breed boar bull male puppy as of recently is sold for 100,000 naira.
Imagine breeding hundreds of dogs that sell at this price, you could be racking in millions in a year. Now I am going to take you through the details on how to start up a dog breeding business.
Read Also: 5 Roles of Agriculture in Nigeria's Economy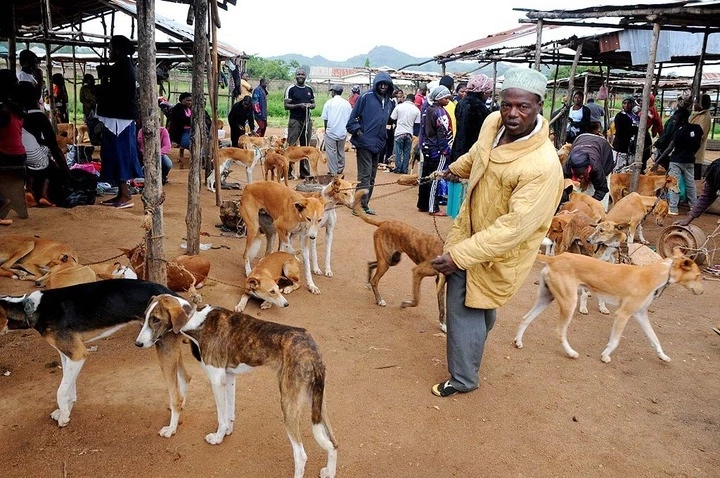 Dog Business in Nigeria – Photo Source: http://thenewsnigeria.com.ng
Hiring the Services of a Professional
Before you begin to invest money into the business, you want to know what breeds you should buy, most commonly sought for breeds in Nigeria and how to manage them.
If you are not a professional in the field of animal care or veterinary medicine I strongly advice you get someone who is experienced in the field, he or she will advise you on the dog breed that would be cheaper to manage and breed.
Get an experienced graduate in Veterinary medicine as a partner if you can because you will need one in the long run.
Read Also: How to start a Fishery Business in Nigeria
If you can't get a professional you can also use your smartphone to do research on the internet or watch youtube videos that will explain the behaviors of different breeds of dogs, this will give you a pretty good knowledge about dogs and how to train them or manage them.
Deciding on your Target Market

Ok, so now that you must have gotten a good idea on what kind of dog you want to breed, you now want to recognize who your target market will be.
There are dog breeders who sell to the police, some who sell to the military and some who just focus on selling to families as pets, while some breeders actually sell to all parties. Selling to the military requires breeding big dogs that grow to a reasonably large size like Rottweilers.
However, selling dog puppies to the military is very profiting as the dogs need little training since they usually train the animals themselves. Although sometimes you are required to train the dogs yourself depending on the urgency, which means you should have already trained dogs on standby which could be very costly.
Therefore I advise that you focus on selling to families, it is easier and the dogs are usually sold off as puppies so they don't have to stay to long under your care.
Start With an Easy Breed
After building a dog house and a quarantine section (this is in case of a disease outbreak. It is necessary to quarantine infected dogs to prevent further spreading of the disease) it could be a small structure that a simple woodsman/carpenter could fix. It needs to be airy but at the same time it should be rainproof to avoid the animals catching cold.
Read Also: How Profitable is Pig Farming in Nigeria
You need to start with an easy breed. The last thing you want is to start with a breed that is costly to manage or that you can't really sell off fast examples are:
1. Irish wolfhound
2. Rottweilers
3. Saluki
4. Tibetan mastiff
5. Chowchow
Instead you want to start with cheaper, simpler dog puppies like;
1. German shepherd
2. Dobberman
3. Collie
4. Bichon fries
5. Beagle
If you are interested in breeding guard dogs you should concentrate more on the German shepherd breed, Pitbulls, and Dobbermans. But if you are more interested in Pet breeds go for the Chihuahuas, Chowchow and collie.
Read Also: Cost of Starting a Fish Farm in Nigeria
Knowing Your Financial Limit
Dogs just like all other living things need certain things in order to grow well. You must purchase several equipment and Foods such as Dog leaches, and many other things as well. This could begin to take lots of money and could seriously frustrate you, so I advise that you make a budget according to your income flow.
Dog Breeding Seasons
After building the dog house and purchasing required equipment to train the dogs, you now have to purchase the female and male dog adults of the breeds you want, and have patience.
Once this dogs begin to bear offspring do not give the puppies names, I repeat do not name the puppies at all. Most families you sell too will like to do that honors, and changing a dog's name if they don't like it could be very difficult and frustrating. So again do not give the puppies names.
Read Also: Top 10 Fastest Growing Businesses in Nigeria Currently
Hire a Vet Doctor to Perform Checkups Weekly
Like I stated above, partner with a veterinary doctor as you will need it in the long run. A vet doctor is important to check the animals weekly and to make sure they are all in good health. Do not hire just any Veterinary doctor, hire someone who is experienced with Dogs.
Advertising Your Business
Now that you have puppies, you want to get word out for people to know about your business. First off create a website, if you don't have enough resources, stick to your social media accounts such as Instagram, Facebook, Tumblr and Snapchat.
We live in times when everybody has equal chances at getting their business to be known, unlike in the past when you had to approach radio stations and Newspaper Companies that collect huge money for just a few minutes or a small column.
Read Also: Problems and Prospects of Poultry Production in Nigeria
Although this could be equally very effective but in order to stick to a reasonable budget use your Social media instead, tell friends about your business by posting about it on Facebook, Instagram. In order to look professional create a logo and take neat and attractive pictures of your dogs.
Explain briefly about your business and why people should patronize you, if possible allow people to pay you twice or even trice for a puppy this is a strategy to gather customers, once a family buys a puppy they tell their friends about how good your services are and their friends also come to patronize you as well.
So now that you have a good idea of what the dog breeding business entails, you now understand that starting a dog breeding business isn't so difficult after all. And in the long run it becomes very profitable as well but be prepared for its downsides as well too as every business has its downsides.
Information is Power!
Don't miss any valuable information or opportunity that can change your life, business, and family positively and permanently.
👇👇👇👇👇
For Latest updates on News, Jobs & Business Ideas, and Opportunities.
Copyright Warning!
Contents on this website may not be republished, reproduced, or redistributed either in whole or in part without due permission or acknowledgment.
.
Proper acknowledgment includes, but not limited to (a) LINK BACK TO THE ARTICLE in the case of re-publication on online media, (b) Proper referencing in the case of usage in research, magazine, brochure, or academic purposes,.
.
All contents are protected by the Digital Millennium Copyright Act 1996 (DMCA).
.
The images, except where otherwise indicated, are taken directly from the web, if some images were inserted by mistake violating the copyright, please contact the administrator for immediate removal.
.
We publish all content with good intentions. If you own this content & believe your copyright was violated or infringed, please contact us at [infoguidenigeria@gmail.com] for immediate removal.
🤑 Start Making Money from home today!
👉 Get the correct
FREE FOOTBALL PREDICTION
TIPS
and
Guides
today.
Click here
.
👍Advertise your business here!
With over 1M unique users per month across all channels, we have a large audience for you to showcase your products and services. Simply get in touch via 👉 marketing@Infoguidenigeria.com.
🤑 Make Money now!
👉 Make money writing for us. Apply for Freelance writing jobs in Nigeria.
👉 Make Money as InfoGuideNigeria Advertising Agents, read more here
.