Society
Industry; A Scarce Social Infrastructure In Kwara State, Nigeria
One of the major perceived challenges facing Kwara State in Nigeria is the unavailability of adequate Social Infrastructures, for example, Industries.
It has presented itself to be a major threat to the standard living and welfare of the inhabitants of this State. In this text, the essential of industry as a Social infrastructure shall be considered, and how it can drive the standard of living of Kwara State dwellers to the highest level.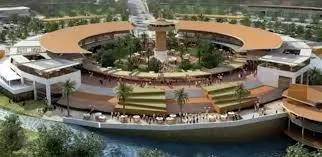 More so, the government of Kwara State shall be implored to look into this area and make a drastic change so that the intended change may turn to a reality and not a mere or infeasible imagination.
The word Social Infrastructure is a combination of two different words, It connotes the basic facilities, services and installations needed for the functioning of a community or society.
If the Society fails to function well it affects the lives of people in turn, and the Society is structured in a way that it is a web of connection, different structures and patterns come together to form the society, and as such when one part is affected by a problem, others too become problematic.
Social Infrastructure is a basic need in the society as it ensures and facilitates the continuity and functionality of a Social system.
According to the Wikipedia, "Infrastructure refers to the fundamental facilities and systems serving a country, city, or area, including the services and facilities necessary for its economy to function.
It typically characterizes technical structures such as roads, bridges, tunnels, water supply, sewers, electrical grids, telecommunications, and so forth, and can be defined as "the physical components of interrelated systems providing commodities and services essential to enable, sustain, or enhance societal living conditions"."
From the above, It is understandable that Social Infrastructure enables the economic part of the society to function well, Industry as a major determinant of economic progress is also a Social Infrastructure, thus, Industries are well needed in the society for it to function properly and effectively.
The industries in kwara State, Nigeria today are countable because of it scant state, and this presumes to be a major threat to the economy of the state which in turn poses hardship to the entire occupants of the State.
Industry serves a major role in progressing the economy of a any state, In this the Wikipedia noted that "Industry is the production of goods or related services within an economy.
The major source of revenue of a group or company is the indicator of its relevant industry. When a large group has multiple sources of revenue generation, it is considered to be working in different industries.
Manufacturing industry became a key sector of production and labour in European and North American countries during the Industrial Revolution, upsetting previous mercantile and feudal economies. This came through many successive rapid advances in technology, such as the production of steel and coal.
Following the Industrial Revolution, possibly a third of the world's economic output are derived that is from manufacturing industries.
Many developed countries and many developing/semi-developed countries (People's Republic of China, India etc.) depend significantly on manufacturing industry.
It has been aptly studied that the incomes generated from Industries is twice greater than that generated from Agriculture, some of the notable Industries in Kwara State as a whole are two, TUYIL Pharmaceutical Industry and KamWire Industry, and both has helped a lot in creating the enabling environment for all Kwarans, and on the other hand serve as a way of income generation by the State government through tax charges, and as such if the government can venture more on this, it will make the environment progressive by developing the economic sector via eliminating unemployment which is one of the paramount problems with the economy.
In addition to the above, Many occupants of Kwara State are unemployed as a result of lack of adequate Industries, they walk around the streets to look for livelihood, and this made some of them to device a criminal means of feeding themselves and catering for their needs, most resulted to trading which makes the streets of Kwara State occupied because everyone is in business, no industry to work with, and as such this has accounted for the problem of low sales and insolvency of some business.
It is in the purview of this the State government is implored to create more Industries as one of the basic social Infrastructures that instigate the utmost welfare of the people.
Not only industry is the social Infrastructure lacked in Kwara State but also bridges, Water supply, which go a long way in saving the lives of the people and keeping them socially, physically, mentally fit and healthy.
Ever since the creation of Kwara State, only one a bridge had been constructed in the State, this is very shameful, Many lives have been short because of the non availability of bridges in Kwara State.
In the process of crossing the high way people loose their lives because they are incapable of crossing very well, but had it been bridges have been constructed, people will go for it and the rate of lives lost will be minimal.
In fact, I can say categorically that there is no pedestrian bridge in Kwara State generally, the only bridge we have is that of the vehicles and motorcycles situated at the Post Office, this should not be as we have different major roads that are very dangerous to cross, but with the help of pedestrian bridge, crossing over those roads becomes easy.
More so, the problem of water supply in Kwara State is another major threat claiming lives, without doubt, Water is a basic necessity in life, without water man can never survive, Kwara State is one of the states that is not gifted with adequate rainfall and such there is scarcity of water, and this problem could only be solved if the government aims at the creation of boreholes, tap water that depend on the solar system, but all these are no where to be found in Kwara State.
Water is used for many life events, it is used for washing, cooking, bathing, to mention but a few, therefore, it is a basic necessity of life which needs to be facilitated for societal development.
In addition, the transport system is another major challenge in Kwara State particularly in the University of Ilorin and a host of other institutions, Students face problem and go through difficulties before getting a bus or cab,
Sometimes, these students stand for hours before getting a bus that will convey them into the school campus, this results to both health and psychological problems, even to some extent academic failure, because by the time there is no bus to convey you into the school before the commencement of the class, you in turn miss the class, and test might have been conducted, this results to failure of majority of the students in these institutions in kwara State.
It is only when the state government can also intervene by providing more transport means this problem could be resolved, the management of the school should not be left alone with the problem but rather the government should also help in enhancing the livelihood of the occupants of the State.
Conclusion
Conclusively, It is in line with all the aforementioned problems ranging from lack of adequate Industries, problem of water supply, inadequate transport system.
We hereby plead and appeal to the government of Kwara State to do something drastic so as to resolve these problematic issues and ensure a better Kwara State which is conducive for all, because Social Infrastructure goes a long way in fostering societal development and human progress.
Information is Power!
Don't miss any valuable information or opportunity that can change your life, business, and family positively and permanently.
👇👇👇👇👇
For Latest updates on News, Jobs & Business Ideas, and Opportunities.
Copyright Warning!
Contents on this website may not be republished, reproduced, or redistributed either in whole or in part without due permission or acknowledgment.
.
Proper acknowledgment includes, but not limited to (a) LINK BACK TO THE ARTICLE in the case of re-publication on online media, (b) Proper referencing in the case of usage in research, magazine, brochure, or academic purposes,.
.
All contents are protected by the Digital Millennium Copyright Act 1996 (DMCA).
.
The images, except where otherwise indicated, are taken directly from the web, if some images were inserted by mistake violating the copyright, please contact the administrator for immediate removal.
.
We publish all content with good intentions. If you own this content & believe your copyright was violated or infringed, please contact us at [infoguidenigeria@gmail.com] for immediate removal.
🤑 Start Making Money from home today!
👉 Get the correct
FREE FOOTBALL PREDICTION
TIPS
and
Guides
today.
Click here
.
👍Advertise your business here!
With over 1M unique users per month across all channels, we have a large audience for you to showcase your products and services. Simply get in touch via 👉 marketing@Infoguidenigeria.com.
🤑 Make Money now!
👉 Make money writing for us. Apply for Freelance writing jobs in Nigeria.
👉 Make Money as InfoGuideNigeria Advertising Agents, read more here
.