Freedom has been defined by the Oxford Dictionary as the right to be able to do anything or say anything without anyone stopping you.
It is the innate and inalienable desire of every human being to demand his or her freedom. Imagine if you were boxed up in a room against your will or compelled to do things that you would not want to do; in these circumstances I don't think you would have considered yourself a free person.
It is for this purpose that the fundamental human rights have been enshrined in various Constitution of countries all over the world.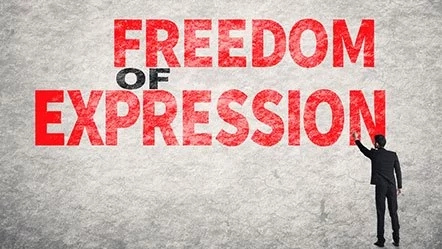 This provision is relevant in every active society especially in a modern dispensation where traits like autocracy and slavery have been done with.
Freedom of expression is one of those essential human rights that have been protected by the Constitution and universally recognized.
To this extent, it is found in the Universal declaration of Human Rights, various conventions of Human Rights and even the African Charter on Human Rights.
It is worthy of note that these fundamental human rights and the right to freedom of expression are not absolute. For this purpose, there are exceptions made to the effect that these Rights are not exploited and abused by individuals.
Section 39 of the Nigerian Constitution 1999 as amended lays the groundwork for the protection of the freedom of expression and it states thus:
1. Every person shall be entitled to freedom of expression, including freedom to hold opinions and to receive and impart ideas and information without interference;
2.  Without prejudice to the generality of subsection 1 of this section, every person shall be entitled to own, establish and operate any medium for the dissemination of information, ideas and opinions provided that no person, other than the government of the federation or a state, or any other person or body authorized by the President on fulfillment of a condition laid down by an act of National Assembly, shall own, establish or operate a television or wireless broadcasting station for any purpose whatsoever.
The essence of this provision of the law was to ensure that every individual possess the right to hold an opinion and be able to share his or her opinions with a loved one, a friend or even a stranger.
The freedom to receive ideas and informational is also an aspect of the freedom of expression and the press. The freedom of expression is not an absolute one but one that has to be qualified.
As much as the Constitution of Nigeria has provided for the freedom of expression, it has also provided limitations for these rights.
Section 45(1) of the Constitution provides the following as limits to the fundamental human rights:
a. In the interest of defence, public order, public safety, public health or
b. For the purpose of protecting the rights and freedom of other persons.
In Nigeria, there are four major laws that restrict the freedom of expression are: The law of defamation, The law of sedition, The law relating to treason and treasonable felony and the Official Secret Act. The purpose of these laws shall be explained below:
1. The Law of Sedition
Sedition refers to overt conduct, such as speech and organization , that tends toward insurrection against the established order.
Sedition often includes subversion of a constitution and incitement of discontent (or resistance) to lawful authority. A seditious publication has the propensity to bring into hatred, contempt or cause dissatisfaction against the person of the President, Governor or Government of the Federation.
Under the criminal code, sedition is punishable to a fine or two years and three years for a subsequent offence and in the Penal code, the sentences are longer.
2.  The Law relating to treason and treasonable felony
According to section 37(1) of the Criminal Code Act, "treason" occurs when someone actually wages a war, or conspires with any person to wage a war, against the country "in order intimidate or overawe the president or the governor of a state," and it is punishable by death.
"Treasonable felony," on the other hand, Section 41 of the Criminal Code tells us, is an "intention" to commit treason. Treasonable felony connotes the various processes and means by which a person intends to overthrow a government other than the laid down Constitutional means.
3. The Official Secret Act
This legislation was made solely to protect civil servants from divulging official facts and figures.
Under this Act, it is an offence for any civil servant to give out government information, it is also an offence for anyone to receive or reproduce such information.
This act is clearly designed to prevent complete attainment of accountability and transparency in the country. The Freedom of Information is almost curtailing the effects of this Act though.
4. The Law of Defamation
This is probably the commonest restriction to the freedom of expression provision. The Supreme Court in the case of Benue Printing and Publishing Corp. Vs Gwagwada defined defamation as any imputation which may tend to lower the plaintiff in estimation of right thinking members in the society generally, cut him off from the society or expose him to hatred, contempt or ridicule.
Defamation could be considered as a crime or as a tortuous wrong. Any individual who brings an action for defamation in a civil area must be able to establish the following before he can claim remedies: (1) that the words complained of are defamatory, (2) that the words referred to the plaintiff and (3) that the words were published.
If you intend to sue for defamation in a criminal court, you must ensure that the particular of the offence which you intend to sue for must align with the provisions in Section 373of the Criminal code.
According to Section 375 of the Criminal code, defamation is a misdemeanor and anyone that publishes any defamatory statements knowing it to be false is liable to imprisonment for two years.
The aforementioned provisions of the Law shouldn't be taken likely by members of the public and therefore we should tread caution when communicating with our friends and loved ones and ensure that they do not fall into any of the categories above that are not protected by the Constitution.
Click here to see the latest
Study Abroad Scholarships and Guides
Click here to see the latest
Jobs opportunities in Nigeria
.
Click here to Join
Recharge and Get Paid
Click here to Read Latest School News in Nigeria
Copyright Warning!
We work really hard and put a lot of effort and resources into our content, providing our readers with plagiarism-free articles, original and high-quality texts. Contents on this website may not be copied, republished, reproduced, redistributed either in whole or in part without due permission or acknowledgement.
Proper acknowledgement include, but not limited to (a) Proper referencing in the case of usage in research, magazine, brochure, or academic purposes, (b)"FAIR USE" in the case of re-publication on online media. About possible consequences you can read here: What are the consequences of copyright infringement? In an effort to protect our intellectual properties, we may report your website to Google without prior notice and your website be removed from search engines and you may receive a strike. All contents are protected by the Digital Millennium Copyright Act 1996 (DMCA).