Uncategorized
How to Make Chin Chin in Nigeria for Home Use and Business
Chin Chin is a crunchy deep-fried snack that originated from Nigeria. It is perfect light refreshment for you and your guests. The Nigerian Chin Chin can last longer if stored in an airtight container.
Chin Chin is one of the easiest Nigerian snacks to prepare as it requires no baking. My chin chin is one of the best I have ever tasted, my guests showers me with praises when they have a bite of it
👉 Relocate to Canada Today!
Live, Study and Work in Canada.
No Payment is Required! Hurry Now click here to Apply >>
Immigrate to Canada
I get a lot of questions why some chin chin are soft while some are crunchy and I am delighted to share with you the tips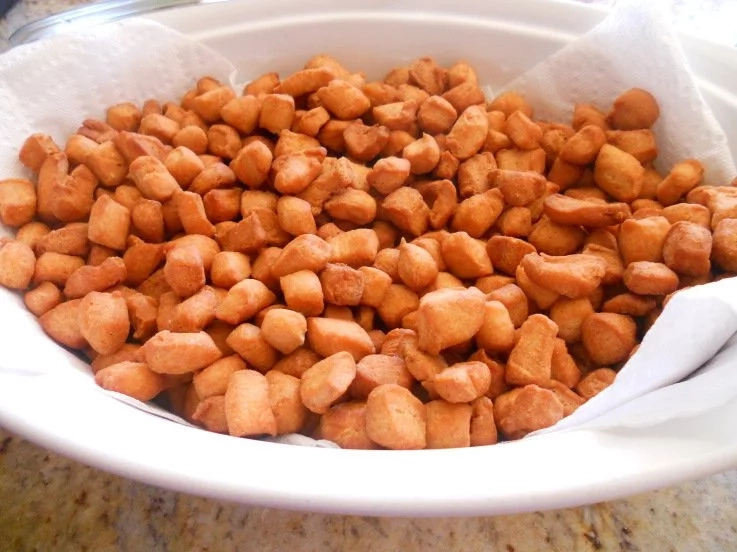 Ingredients for a Soft Chin Chin
To make some soft Nigerian Chin Chin, you will need the following ingredients.
1kg plain flour (all purpose flour)
150ml evaporated milk (Peak Milk) or 150g powdered milk
275g granulated sugar
250g margarine
2 medium nutmegs or 2 teaspoons ground nutmeg
Tasteless and odourless vegetable oil (for frying)
Ingredients for a Crunchy Chin Chin
If you really want a crunchy Chin Chin, use the following quantities of ingredients
1kg plain flour (all purpose flour)
75ml evaporated milk (Peak Milk) / 75g powdered milk
200g granulated sugar
125g margarine
2 medium nutmegs | 2 teaspoons ground nutmeg
Vegetable Oil (tasteless and odourless)
Directions to Make Chin Chin in Nigeria

Get a bowl and turn in the milk and sugar, mix then leave to soak. If you are using the powdered milk, mix with 150ml of water for a soft chin chin and 75ml of water for a crunchy chin chin then mix and leave to soak. The best to get sugar dissolve is to grind it in a dry mill before trying to mix it with other ingredients
Get another bowl and mix the grinded nutmeg and flour then scoop in the margarine and rub it into the flour until it is completely mixed with the flour, leaving no traces of lumps
Now add the sugar/milk mix to the margarine/flour mix and mix thoroughly using your hand until you get a smooth dough
Place the dough on a flat surface and begin to knead gently with a dough roller
When the dough is flat, cut into small sizes
Then deep fry in a hot vegetable oil, constantly stirring the chin chin until a golden brown colour is achieved
Remove the chin chin into a flat tray and allow to dry and cool down
When chin chin has cooled down completely, store in a dry, tight container. Serve with chilled drinks
Do you wish to go into the chin chin business; the rest of this article is for you.
Don't Miss: How to Start Chin-Chin Production and Marketing Business in Nigeria
Feasibility Studies for Chin-Chin Business
Before going into this business, you must first of all carry out a feasibility study using the under-listed headings:
Capital: An important factor to consider before venturing into a chin chin business in Nigeria. The business is not capital intensive but you should have a clearly defined source of capital. if you planning on taking loan, you must come up with a repayment plan.
Market: Your business should be close to a market you can easily source the raw materials for making chin chin such as floor, nutmeg, sugar, vegetable oil, etc.
Customers: Negotiate with owners of stores, supermarkets, hotels, eateries, kiosks, shops, schools, companies, and other business owners who may likely be good key distributors and/or marketers of your intending product. If you can afford to transfer them to far distances, that will be great. You should have plans on how to cover both short and far distances.
Investment Capital for Chin-Chin Business 
To produce and sell chin-chin in Nigeria, you must first of all think of how to source capital to start the business.
👉 Relocate to Canada Today!
Live, Study and Work in Canada.
No Payment is Required! Hurry Now click here to Apply >>
Immigrate to Canada
Chin-chin business can either be large or small scale but it all depends on your. But it may surprise you that with about thirty thousand naira (N30, 000) you can start your small scale chin-chin business, but in this case you won't go for machines like cutter which is relatively expensive.
You can invest N10, 000 in buying all the ingredients required for frying the chin-chin and make between N15, 000 to N17, 000.
If you don't have a large start up capital to rent a shop, you can start from the house then when the business starts to boom, you expand
Packaging, Storage and Pricing of Chin-Chin
Chin-chin packaged in a clean transparent polythene sheets and containers seems to be more cost because the producer considers the cost of buying the containers. They are sold between N100 to N500 while the ones packaged in polythene sheets go between N10 to N200. Store your chin-chin in a cool dry environment to retain its freshness. Packaging, storage and price are keys in chin-chin business in Nigeria
Machines and Equipment Needed for Chin-Chin Business 
As a starter, you may not need a machine for processing, but when the demand is high it is advisable you acquire a cutter and a dough roller. Cutter is used for chopping the dough into the size of your choice and dough roller is used for kneading the dough before chopping them to sizes of choice. Chin-chin business doesn't necessarily require huge equipment and machines.
Distribution and Marketing Strategies for Chin-Chin
Your neatly packaged chin-chin can be distributed an by vehicles to supermarkets, companies, eateries, kiosks, hotels, schools, shops, and events that may require special supply like birthdays.
It can also rent a shop and produce chin-chin alongside other snacks to diversify your business. Ensure you take contact of your customers to always call after making a supply to find out when they are about to run out of stock and restock them.
Read More: How to Produce and Sell Chin-Chin in Nigeria
There are ways to keep people in the business so there may also be a need to sell to trustworthy customers on credit. This is a way to win customer loyalty.
Hope you find this very educative, follow us for more interesting articles
📢

We are hiring writers!
Article Writing Jobs
- We are hiring good freelance writers -
Click here to apply
👇👇👇👇👇
Immigrate to Canada Via Job Offer!
Get latest Jobs in Canada for foreigners with visa sponsorship 2023 and how to apply. Don't miss this opportunity that can help you relocate to Canada with your family.
👇👇👇👇👇