Nigerian egg soup has been prepared for many years and has become popular in many homes, because it is usually eaten alongside plantain, yam, rice, potatoes, bread, the popular Nigerian indomie and so on.
It is also prepared in many eateries and stakeouts. It has a lot of similarities to the egg omelette but the egg soup has much more tomatoes sliced or blended into the egg.
The common ingredients are the tomatoes, pepper, onions, curry powder, thyme and seasonings, in a few cases a little spinach is added which will totally depend on individual preferences.
Read Also: How To Make Nigerian Egusi Soup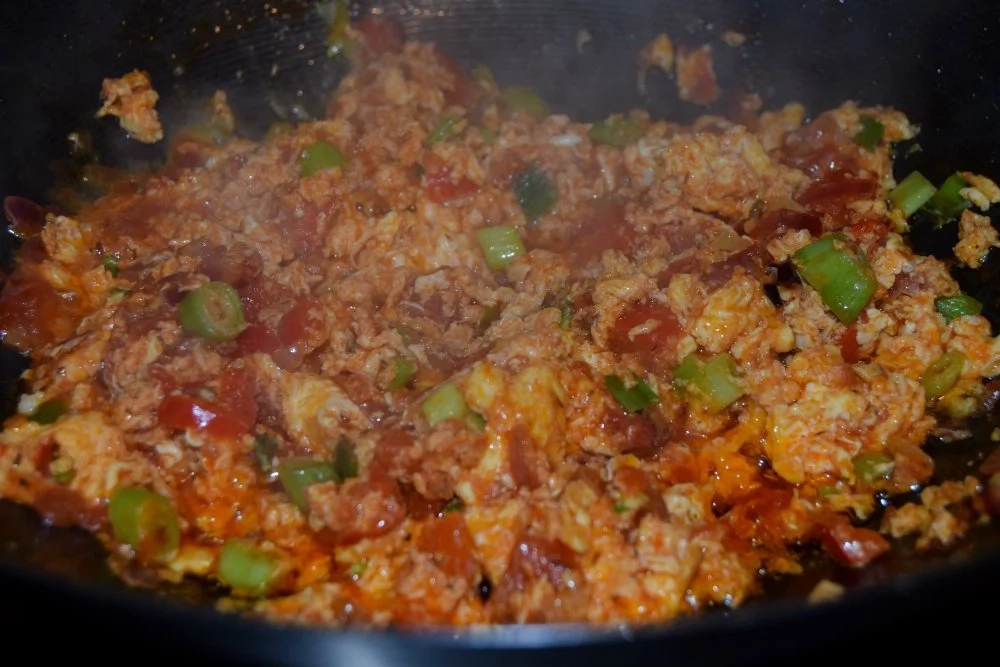 Egg soup are easy to prepare and allow a lot of room for creativity. Some people go as far as adding sliced cabbage to their egg soup, and it still comes out well in the end.
Nigerians love egg soup so much because it perfectly complements the common breakfast meals prepared in homes. I am going to explain how to prepare the egg soup in the Nigerian way and will further tell you about the health benefits of the major egg soup ingredients.
Utensils needed for the egg soup
a. Frying pan/ pot
b. Frying spoon
Ingredients for Nigerian egg soup
a. Eggs
b. Vegetable oil
c. Tomatoes
d. Red Pepper
e. Spring Onions
f. Seasoning cubes (know /star/doyi)
g. Salt to taste
h. Curry powder and Thyme
Read Also: 18 Steps to cook ogbono soup with Ingredients
Method of preparation of the egg soup ingredients
1. Slice or chop the onions into a bowl and set aside
2. Crack the eggs, and pour its content into a bowl, beat the eggs properly and add a pinch of salt.
3. Wash the tomatoes with water and remove the excessive liquid and seeds from the tomatoes, then slice the tomatoes into another clean bowl
4. If using fresh red pepper, carefully cut each pepper into halves to allow the seeds wash off while washing the pepper, then grate or slice the pepper.
Method for cooking the egg stew
1. Pour the vegetable oil in a deep frying pan or pot on moderate heat.
2. Add the onions and stir for 3 minutes. I prefer to fry my onions first to release the flavour into the oil.
3. Add the grated pepper and stir for 3 to 4 minutes. It is important to stir the onions and pepper at intervals to avoid them sticking to the pan.
4. Add the tomatoes, stir for few minutes then cover the pan, and allow it to cook for 5 to 7 minutes.
5. Add the curry, thyme, salt to taste and seasoning cubes (the spices added should be in accordance to the quantity of the egg sauce).
6. Continue stirring till the sauce is almost done and has separated from the oil in the pan.
7. Gradually pour the egg and spread it through the stew until the egg covers the whole stew. Remember not to stir, but allow the egg to cake in the pan, this is so the eggs can form lumps in the soup.
8. Few minutes after the egg has been poured into the frying pan and has caked, use a spoon to mix the egg and the stew properly.
Your egg soup is ready to be served with bread, plantain, potatoes, yam or rice, alongside tea or soft drink.
Note:
a. It is preferable to add the seasoning cubes and salt lastly to the egg soup as they tend to make the egg stew stick to the pan as soon as they are added to the soup.
b. As soon as the seasonings are added make sure to continue stirring until the egg soup is ready.
Read Also: How to Cook Afang Soup 'Ukazi'; Recipes, Methods and Procedure
Health benefits of eating Nigerian egg soup
Eggs
Eggs are a very good source of inexpensive, high quality protein. The egg white contains more than half of the protein content, eggs contains vitamins B2 and cholesterol.
Egg white are a rich source of selenium, vitamin B6, B12 and minerals such as zinc, iron and copper. Eggs are high in lutein and zeaxanthin which are good for macular degeneration and cataracts. Eggs are incredibly filling. They are a high protein food, and protein is by far the most satisfying macro nutrients.
Red pepper
The vegetables in the egg soup example the red bell peppers are rich in vitamins and antioxidants, especially vitamin C and various carotenoids. So eating pepper may have improved eye health and reduced risk of several chronic diseases.
Vitamin B6 in form of pyridoxine is the most common type of vitamin found in red bell pepper and they are important for the formation of red blood cells.
Vitamin k1 is important for blood clotting and bone health. Potassium is also present which improves heart health. Folate also known as folic acid is important during pregnancy. Vitamin E is important for health nerves and muscles. Vitamin A is also essential for eye health.
Tomatoes
Tomatoes are a major dietary source of antioxidant lycopene, which helps reduce the risk of heart diseases and cancer, they are also a great source of vitamin C, folate and vitamin K.
The health benefits of tomatoes includes good eye sight, good stomach health, and a reduced blood pressure. They provide relief from diabetes, skin problems, and urinary tract infections, they improve digestion, protect the kidneys, detoxify the body, stimulate blood circulation, reduced cholesterol levels, balance fluids in the body, prevent premature aging and reduces inflammation.
Read Also: How to Cook Edikang Ikong Soup – A Mouth- Watering Delicacy
Onions
onions helps to prevent cancer, detoxify the body, supporting hair growth, aids in digestion, aids antioxidant production, helps in reducing sugar level in the body, helps to relieve pain, it also helps to slow down aging process, it helps to relieve cough and cold symptoms, it helps to support healthy bones, and also helps to boost the body immunity.
Summary
Nigerian egg soup is a balanced diet and has a lot of nutritional benefits for the health which was earlier explained. S
o when next you are about contemplating on eating the delicacy, there should be no worries on its potential health benefits. It's also easy to prepare and does not involve too much kitchen equipment.
This post can be helpful to somebody else, please share it on Facebook, Whatsapp, Telegram and Twitter. There are buttons below for this (easy to use too)!
Copyright Warning!
Contents on this website may not be republished, reproduced, redistributed either in whole or in part without due permission or acknowledgment.

.
Proper acknowledgment includes, but not limited to (a) LINK BACK TO THE ARTICLE in the case of re-publication on online media, (b) Proper referencing in the case of usage in research, magazine, brochure, or academic purposes,.

.
All contents are protected by the Digital Millennium Copyright Act 1996 (DMCA).

.
We publish all contents with good intentions. If you own this content & believe your copyright was violated or infringed, please contact us at [infoguidenigeria@gmail.com] to file a complaint and we will take necessary actions immediately.
🤑 Start making money from home today!
👉 Get correct FREE TIPS and Guides on how to make money from home today. Click here to start
.
👍Advertise your business here!
With over 1M unique users per month across all channels, we have a large audience for you to showcase your products and services. Simply get in touch via 👉 marketing@Infoguidenigeria.com.
🤑 Make Money now!
👉 Make money writing for us. Apply for Freelance writing jobs in Nigeria.
👉 Make Money as InfoGuideNigeria Advertising Agents, read more here
.