Efo riro is a popular Yoruba soup that is made from a lot of vegetables and an assorted array of meats. It is very popular to the Yoruba tribe and therefore is more common in the western parts of Nigeria.
It is however enjoyed by nearly any one from this country. It is easy to prepare and packed with vitamins and proteins.
👉 Relocate to Canada Today!
Live, Study and Work in Canada.
No Payment is Required! Hurry Now click here to Apply >>
Immigrate to Canada
Efo riro is very nutritious, packed with vitamins from all those vegetable to keep you healthy, improve your immune system and helps you detoxify.
Read Also: 20 Most Popular Foods in Nigeria That Will Make You Beg For More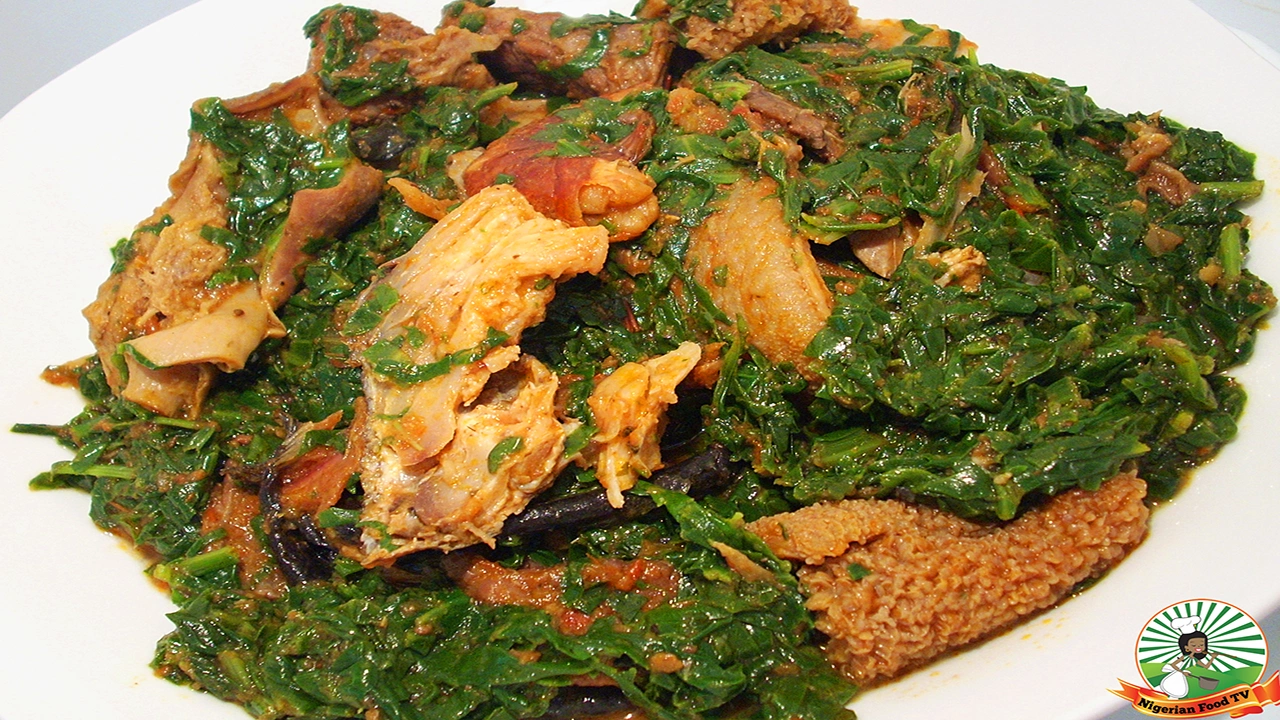 It also contains proteins from the meat and healthy omega 3 oils from the stock fish and the palm oil. It is an amazing choice for the fit fam because it contains nearly everything and you can enjoy it with minimal swallow if you are looking to cut down on carbohydrates or you can opt for wheat which is a healthier choice.
Efo riro can be served or eaten alongside any swallow be it eba, pounded yam, tuwo, fufu, basically every swallow goes well with efo riro.
It can also be served with white rice or with boiled yam so if you are not really a big fan of swallow you can still enjoy the delicious efo riro soup.
The first time I ever had efo riro was a couple of years ago, sometime in 2016, a friend of mine, Sekinat, she believed that I had not lived since I had never tried efo riro.
She taught me this recipe and I have become a great efo lover ever since. I am going to be sharing my dear friend's recipe with you guys and I hope you enjoy it and love it as much as I do.
Read Also: How to Cook Edikang Ikong Soup – A Mouth- Watering Delicacy
👉 Relocate to Canada Today!
Live, Study and Work in Canada.
No Payment is Required! Hurry Now click here to Apply >>
Immigrate to Canada
One day, about a year later, efo riro was used to regain my honour as a kitchen queen. I had a few friends over at my house and I do not know how but the food thing came up.
A lot was said about igbo girls not knowing how to make much outside our very popular egusi [you can search the site for the recipe for egusi soup].
I felt insulted seeing as I am Igbo and both my parents are Igbo and I have spent a great deal of my life in the eastern part of Nigeria.
Actually, I turned out to be the most igbo person in the room that day and it fell on me to defend the honour of my igbo sisters (Igbo girl power!!).
Well I offered to make them efo riro and put my money where my mouth is (if that is even the right phrase). The odds were in my favour that day and I made the very best efo riro that most of them had ever tasted and yes including the one Yoruba person had to doff her cap for me.
The point is efo riro saves lives, it saves the reputation of entire tribes so everyone should know how to make efo riro, hahahaha.
To top it all its very easy to make and rarely goes wrong, unless you add too much water which can be easily avoided right from boiling your meat.
Total cooking time for efo riro is about 30 minutes and because you just use one vegetable you do not spend all the time chopping chopping and chopping.
Efo in Yoruba literally translates as vegetable, so efo riro is quiet plainly just vegetable soup. There are two vegetables used to prepare efo riro.
We have the efo soko and then the efo tete. The efo soko has a dark juice that has to be washed off before cooking while the efo tete is the ''green amarnth'' or spinach. Both come together to make the awesome efo riro soup.
Read Also: How To Make Nigerian Egusi Soup
Ingredients to make Nigerian efo riro [ four servings]
a. 1 kg beef
b. Shaki (cow tripe)
c. Ponmo
d. Smoked fish
e. Dry fish
f. Stock fish
g. 20 cl palm oil
h. 500g Efo soko
i. 5 tatashe pepper
j. 2 tablespoons of ground crayfish
k. 2 red onions
l. 2 small stock cubes
m. 2 tablespoons locust beans (iru)
n. Salt
o. Habanero or scotch bonnet peppers
Read Also: 18 Steps to cook ogbono soup with Ingredients
Steps to make Nigerian efo riro
1. First wash all the meat and fish components thoroughly, especially the shaki and the ponmo, to get rid of whatever sand or remains that might be in there. It can be awful to chew little bits of sand in the soup so wash and wash thoroughly.
2. Boil the shaki and ponmo in little water and leave to cook for a few minutes. This might take a while because these beef parts just like to be cooked and cooked.
3. Season the shaki and ponmo lightly with salt and stock cubes.
4. While it is cooking, wash the efo soko leaves and remove the excess dark juice. Chop and set aside
5. Wash the stock fish thoroughly, soak in warm water and set aside.
6. Wash the dried fish and set aside along with the smoked fish.
7. Return to the ponmo and check if they are now tender. The shaki should be curled in if it's ready to be eaten.
8. Wash the beef and pop it in the pot to cook alongside the ponmo and the shaki. Add the stock fish to the mix and boil for about five minutes.
9. Add the dried fish and smoked fish, allow to simmer for 2 minutes and then remove from heat and set aside.
10. Take a separate dry pot, set on medium heat and add the palm oil.
11. When the palm oil is warm add crayfish, the ground tatashe peppers, onions and scotch bonnet peppers.
12. Allow to cook for a few minutes and stir continuously.
13. After about 3 minutes, add the locust beans and stir.
14. Pour the meat along with its stock into the boiling palm oil. Please ensure that you add as little water as possible while boiling the meat. Just allow them to cook mostly in their own stock so you have very little rich stock.
15. Bring this comb to boil.
Read Also: How to Cook Afang Soup 'Ukazi'; Recipes, Methods and Procedure
16. Once the soup is simmering, add the already washed vegetables, stir and allow to simmer for a minute then remove from heat.
17. Serve efo riro hot alongside your favourite swallow or with rice and enjoy.
Cheers!!
📢

We are hiring writers!
Article Writing Jobs
- We are hiring good freelance writers -
Click here to apply
👇👇👇👇👇
Immigrate to Canada Via Job Offer!
Get latest Jobs in Canada for foreigners with visa sponsorship 2023 and how to apply. Don't miss this opportunity that can help you relocate to Canada with your family.
👇👇👇👇👇