Personalities
The Oba of Benin Kingdom; Biography, Education, Investments and Ideologies
Seat of the Oba of Benin
Oba of Benin is the title of the traditional ruler of the Benin people and head of the Eweka Dynasty of the historic Benin Empire centered on Benin City in Nigeria.
The title was created by Oranmiyan being the first Oba, after the Ogiso title. Oranmiyan's son, Eweka I historically became the second Oba around 1180 to 1300 although it is not known precisely.
Since then, the Oba of Benin was the Emperror or Head of State of the Benin Empire until the British arrived in 1897 when they embarked on an expedition during which they removed and exiled Ovonramwen the then Oba in order to establish the British Colony of Nigeria.
Read Also: Coronation Ceremonies of the Oba of Benin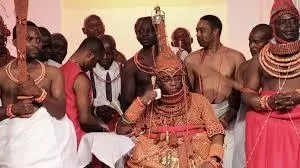 The expedition was partly to avenge the defeat of the British invasion Force by the Bini people when the force violated Benin territory in 1896.
The invasive force comprised both Nigerian soldiers and British officers and is still remembered as a sad day by the Benin people today.
The Benin Royal Art, a very sacred art was stolen and sold by the British in the name of covering for the cost of the expedition. Ovonramwen died in exile but his son, grand son and great grandson have maintained their title and status as traditional rulers in Benin to this day.
Below is the ancestral lineage of the Obas of Benin from the start, although dates of their reigns may not be accurate.
Pre-Imperial Obas of Benin (pre-1180 – 1440]
Oromiyan
1. Eweka I (1180–1246)
2. Uwuakhuahen (1246–1250)
3. Henmihen (1250–1260)
4. Ewedo (1260–1274)
5. Oguola (1274–1287)
6. Edoni (1287–1292)
7. Udagbedo (1292–1329)
8. Ohen (1329–1366)
9. Egbeka (1366–1397)
10. Orobiru (1397–1434)
11. Uwaifiokun (1434–1440)
Read Also: History of the Benin People in Nigeria and the Stories Behind it
Obas (1440–1897)
1. EwuareI (1440–1473)
2. Ezoti (1473–1474)
3. Olua (1475–1480)
4. Ozolua(1480–1504)
5. Esigie(1504–1547)
6. Orhogbua (1547–1580)
7. Ehengbuda (1580–1602)
8. Ohuan (1602–1656)
9. Ohenzae (1656–1661)
10. Akenzae (1661–1669)
11. Akengboi (1669–1675)
12. Akenkpaye (1675–1684)
13. Akengbedo (1684–1689)
14. Ore-Oghene (1689–1701)
15. Ewuakpe (1701–1712)
16. Ozuere (1712–1713)
17. Akenzua I (1713–1740)
18. Eresoyen (1740–1750)
19. Akengbuda (1750–1804)
20. Obanosa (1804–1816)
21. Ogbebo (1816)
22. Osemwende (1816–1848)
23. Adolo (1848–1888)
24. Ovonramwen Nogbaisi(1888–1914) (exiled to Calabar by the British in 1897)
Read Also: Top 10 Popular Markets in Benin City, Edo State Nigeria
Post-Imperial Obas (1914–Present)
1. Eweka II(1914–1933)
2. Akenzua II(1933–1978)
3. Erediauwa(1979–2016)
4. Ewuare II(2016–)
Biography 0f Ewuare II, the 40th Oba of Benin
His Royal Majesty, Omo N'Oba N'Edo, Uku Akpolokpolo, Ewuare II, is the current traditional ruler of the Edo people and the head of the historic Eweka Dynasty of the great Benin Empire.
Oba Ewuare II of Benin Kingdom was born on a predicted date 20th October 1953 to the then Prince Solomon Igbinoghodua Akenzua who later became His Royal Majesty Omo N'Oba Erediauwa, Oba of Benin.
N'Oba Ewuare II served as Nigeria's Ambassador to Angola, Sweden and Italy. He was coronated as Oba of Benin Kingdom on his 63rd birthday October 20th 2016 and has since then worked closely with the Governor of Edo State Obaseki Godwin.
He is married to three wives- Princess Iroghama (Obazuaye N'erie), Princess Iyayiota (Obazuwa N'erie) and Princess Ikpakpa (ohe N'erie).
Education
Omo N'Oba Ewuare II was educated in Nigeria, United Kingdom and United States of America. He went to St Patrick's Primary School Asata, Enugu State after which He started his secondary education in the mid 60's at Edo College from 1965 to 1967 and finished at Emmaculate Conception College from 1968 to 1970.
He then went on to study for a degree in Economics in the university of after obtaining his A-Level Certificate from South Thames College, both in the United Kingdom.
Omo N'Oba Ewuare II was faced with many challenges in the course of his studies in the United Kingdom. First, he lost his mother who is described as his closest family member just before his final exams.
He travelled back to Nigeria to attend the funeral and went back to the UK to sit for his exams. During the exams, his maternal grandmother who had been his source of comfort after his mother's death, probably due to the shock of her daughter's death.
He went ahead and completed his exams and graduated before returning to Nigeria. To undertake the mandatory national youth service at the Nigerian Institute of International Affairs (NIIA) in Lagos, of which he is now a member.
He then proceeded for a master degree in Public Administration from Rutgers University Graduate School, New Jersey in the United States of America after which he worked as an intern at the United Nations Headquarters in New York, United States of America.
He also enrolled for a PhD in International Administration but could not complete his thesis because of family commitments.
Read Also: Traditional Marriage Rites According To Benin Native Law and Custom
Investments
At the completion of his national youth service, Omo N'Oba Ewuare II decided to go into business establishing s is a seasoned businessman with investments in petroleum, agro-allied and construction industries. He also founded South Point Royal School in Benin and his non-governmental organization Benin Dynasty Trust.
Ideologies
Ewuare II believes in justice for the people of Benin Kingdom in all matters. He demonstrated this first by prohibiting the activities which were illegal and a menace to the society.
He also banned the panel system which had been used as a means of extortion and denial of justice and fairness in the palace for so long.
His Foundation which is meant to empower youths and help to eradicated poverty also points to his determination to improve the livelihood of the Edo people.
The foundation recently trained fifty youths in various skills such as soap making, baby oil making, hair oil making etc. as a step towards empowering the youths to be independent.
His love for human rights also manifested itself when he spoke concerning human traffickers and cursed them and the native doctors that administer oaths of secrecy on the victims of this evil acts.
This shows that the Oba is interested in protecting the people and keeping them safe from all forms of activities that violate human rights.
He believes that youth should be empowered to live self-sustaining lives to improve the country's overall economic growth.
His foundation focuses on this aspect of youths, women empowerment and agriculture development. No wonder he invested in the agricultural sector.
Read Also: The Igue Festival of Benin Kingdom, Nigeria
Conclusion
Ewuare II is obviously accepted by many apparently because of his efforts to improve their lives. He is described as a promising king for the Benin people and has already started working to restore hope and honour to the kingdom and state at large.
The Benin people certainly look forward to receiving more from him and he seems likely to deliver. In summary, he is definitely a good king with the people's interest at heart.
Click here to see the latest
Study Abroad Scholarships and Guides
Click here to see the latest
Jobs opportunities in Nigeria
.
Click here to Join
Recharge and Get Paid
Click here to Read Latest School News in Nigeria
Copyright Warning!
We work really hard and put a lot of effort and resources into our content, providing our readers with plagiarism-free articles, original and high-quality texts. Contents on this website may not be copied, republished, reproduced, redistributed either in whole or in part without due permission or acknowledgement.
Proper acknowledgement include, but not limited to (a) Proper referencing in the case of usage in research, magazine, brochure, or academic purposes, (b)"FAIR USE" in the case of re-publication on online media. About possible consequences you can read here: What are the consequences of copyright infringement? In an effort to protect our intellectual properties, we may report your website to Google without prior notice and your website be removed from search engines and you may receive a strike. All contents are protected by the Digital Millennium Copyright Act 1996 (DMCA).