Lifestyle
16 Steps To Plan A Successful White Wedding
Are you planning to get married? Learn of the necessary steps you should take to plan a smooth wedding ceremony.
A year, six months, a month, a week and few days pass by, and time keeps ticking until you reach one of the most anticipated days of your life _ your wedding day. However, what sets that day apart as being a memorable, smooth and blissful event is what happens many days and months before then. In other words, a great wedding day is not born out of the moon, but out of careful planning, consultations, and preparations. Starting from when? Several months ahead. Why so?
👉 Relocate to Canada Today!
Live, Study and Work in Canada.
No Payment is Required! Hurry Now click here to Apply >>
Immigrate to Canada
Just imagine keeping all the preparations until a few days or weeks less than a month.  What you would expect is nothing more than  a clumsy and disorganised running of events, tension, misunderstandings, blood rising, forgetfulness, unanticipated scenarios, insufficient funds  and moreover a loss in spirit of the day. These are the least expected happenings that you would wish not to experience when that day comes. Now the question is: how would you avoid those dramas? And how would you get on the preparations?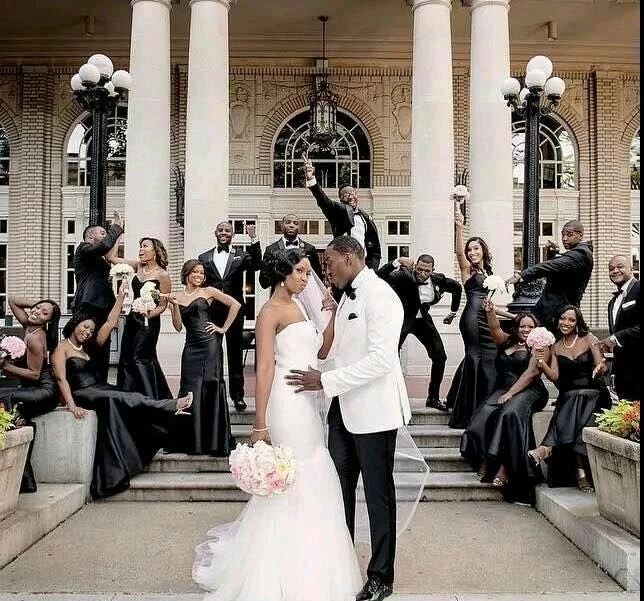 In this article, you are going to read of the steps that would help you plan for a successful and smooth white wedding ceremony. Here they are below.
Don't Miss: 146+ Things You Need for Wedding Ceremony
1. Be Mentally Prepared as a couple
Being mentally prepared goes beyond being mind set months before the wedding. It also involves having the right perspective of the wedding day. It is common to hear of couples experience anxiety or stress while preparing for their wedding months before then. However, to avoid unnecessary anxiety, it is helpful to always keep in mind the proper view of your wedding plans and day balanced. Wise couples would appreciate that what truly counts most is not the wedding day but the days after the wedding as a married couple. Having this mental attitude not only minimises the tension you would feel in planning and preparing but it would also help in drawing a reasonable and realistic budget that leaves you with reserves to continue your married life together.
Apart from willingness to be open-minded and flexible as a couple, willingness and determination to look out for each other's personal interest as a couple is essential in mental preparedness. It would help each party not to be overly demanding and self-centred, but to accept each other's limitations, to compromise and respect each other when obstacles arise during preparation.
Consultation with experienced, elderly and matured couples who have been successful in this regards can help you avoid mistakes. Most essentially and above all in being mentally prepared as a couple is  requesting in prayer for wisdom, humility, strength and success from the Originator of marriage _ The Almighty God.
2. Fix a date and an alternate date in mind
Fixing the date for your wedding ceremony keeps your plans and preparations directed and focused. While having a date in mind, it often helps to give room for flexibility or unexpected changes. Of course the chosen dates should be one that would favour your invitees.
👉 Relocate to Canada Today!
Live, Study and Work in Canada.
No Payment is Required! Hurry Now click here to Apply >>
Immigrate to Canada
3. Have a Book or folder to keep your wedding plans
To stay organised as a couple, it is necessary to have a book or folder to keep information involving planning and preparation. You would definitely need a calendar after fixing a date in mind. Organising your thoughts, ideas, budgets, timeline, list of things to do, contacts, vendors and clippings all stored up in a book or folder can help you in quick referencing, in avoiding forgetfulness and evaluating the extent of your preparedness for the day in mind.
4. Find out marriage requirements
Marriage requirements differ by locality, customs or denominations. So before hand, you should know what is required from both the groom and bride.
You may inquire whether you need any proof of divorce if you were previously married, what obligations must be fulfilled before the wedding takes place, or what is required to get a marriage license and how to go about it. These are some of the points you would consider when determining the figures of your budget.
5. Draw a reasonable and realising Budget
Remember what happens after the eating, dancing, and merriment on your wedding day is your own load to bear as a couple. Therefore, it is pertinent to set a realistic budget that you can afford and that would neither leave you in debts nor consume all your financial reserves to survive on as a couple in the days after the wedding.
Read More: Five Places to Cut Back on Wedding Costs
Additionally, you would have to step outside and find out the current cost of items and services you would need for the ceremony in other to arrive at a realistic budget rather than assuming the cost.
If your desire to impress your guest overshadows your limited and realistic resources, it would be difficult to scale down on your budget and that would  lead to more financial burdens that if care is not taken would  impact negatively on your relationship as a couple.
Though friends and family would always want to offer their financial support, it is safer not to expect so you wouldn't be disappointed.
6. Choose your colour or theme
While preparing have a colour or theme in mind. Look and browse for pics and samples that best represent your ideas. Also remember, there is more grace and beauty in keeping things simple and decent.
7. Prepare a program for the events
Preparing for the wedding programme is one of the elements that give your planning and preparations a direction. This would also guide you in listing items and services you need for each part.
Read Also: 9 things to Consider when Planning a Wedding
8. Schedule a timeline of list of things to do, buy and hire
Having both a timeline of list of things to do and a set date to accomplish them helps reduce stress and misunderstandings that comes with planning. This is important whether or not you hire a wedding planner. However, you must accept that you can't handle everything by yourself. At this stage you would have to do some consultation, then delegate or assign some responsibilities to close family and friends to assist you with. Do not fail to include those details on your timeline and follow up accordingly rather than leaving the important aspects of preparation to the last moment.
9. List and consult with those who would take part at your wedding
While having in mind the list of all those who would be taking part at your wedding, it would be polite to consult with them beforehand. They would be pleased and willing to be a part of the success for the upcoming event.  Make your list as detail as possible to include even your Officiant, bakery service, wedding trains, coordinators for logistics, who assists in shopping and scouting for locations, services and item, professional decorators, printing services, caterers and so forth.
10. List your Guest
Because a greater part of your expenses lies in the wedding reception, as a couple you would need to have a limited number of guests you could reasonably cater for and this is greatly influenced by the number of invitations you plan to send out. Indeed, this is a tricky part because you may please some while disappointing others. And again you may not know the actual number likely to be present even if you placed a call to confirm.
As far as Nigerian wedding is concerned, always expect wedding gate-crashers. If you send out 50 invitations expect about 50 more. If you send out 100, expect about 50 to 100 more. The point is to always keep a range rather than a fixed number in mind. Sometimes, some people place restriction on only those who got invitations to attend and stress it out on the wedding invitation from the beginning. That means you wouldn't have to invite your friend, or family member, or your friend's friend or entourage to the wedding if you were invited.
I personally could not attend a wedding of a friend even though a family member of mine was invited because he placed such restrictions. But I had no qualms about it and still regard him as my brother and relate as usual.  The fact is you can't feed a nation talk less of your own village with limited resources. The point was clear.
However, you could jump the hurdles of 'bad belly' from those you did not invite by extending favours or inexpensive gifts such as a pen or acknowledgement to such ones. These are some of the aspects you would possibly consider in listing your guests and planning your wedding.
Discover: Awon Mass Wedding Festival in Shao, Kwara State, Nigeria
11. Anticipate your needs and the needs of all those present at the event
It is wise and considerate to anticipate your personal needs and the needs of all those taking part in the events including your guest. This would guide you on items on services to include, timing of events, planning for safety and emergencies, food options, security, transport, standard of hygiene in handling food and places of convenience such as the toilet facility, availability of water, sound system, how gifts and souvenirs would be received and dispensed and so forth. In as much as you anticipate a good work from all those who assist you free of charge, it would also be great that you acknowledgement not merely with a word of mouth but with tangible actions or deeds. Remember they too have made sacrifices to make your day successful.
12. Follow up strictly on your deadlines
It is necessary to follow up strictly on the deadlines provided on your timeline. This would prevent you from the clumsiness, tension and disappointments that arise when most things are left to be done only at the last moment.  Therefore, ensure you do the following at the appropriate time. Search out venue and facilities for ceremony and reception, take the measurements and shopping of clothes needed for the parents, groom,  bride wedding train, communicate with and have  identifying tags for ushers or attendants, shop for wedding items and souvenirs, consult photographers, DJ and videographers, select acceptable and favourite music to played on that day, catering and bakery service, perform necessary clean ups and decorations on facilities,  print and send out invitations, print programs for the event, packing of the brides belongings to her new home and so forth.
13. Obtain your Marriage Licence
Your marriage license is very essential before the day of your ceremony. Note that what authenticates your marriage as legal and acknowledged by the laws of the land is not the wedding ceremony but that vital document – your marriage license. It is one of the first and necessary steps to begin a married life before God and man. With it, you do not only protect yourselves and your future children, but you accord yourselves and your future children the privileges and dignity that they rightly deserve in their community and beyond.
14. Rehearse for each part of the programme
Rehearsing for each part of the programme has several benefits. It confirms the availability of all those to take part in the wedding and their preparedness for the events. With a rehearsal, you can minimise and foresee unexpected scenarios and plan how to avoid them. You could also prefect on timing of events to keep them briefly. Moreover you reduce tension if you carefully rehearse your parts.
15. Have enough rest
Chill before your day comes to reduce anxiety and stress. You wouldn't want your body to be all worked up and tensed. Having enough rest sets the right mood and spirit for the upcoming event. So ensure to have a handful of rest the night before the event.
16. Stay positive and look beyond the Wedding day
A happy and positive mind set is essential in overcoming the upsets and disappointments that may likely occur on that day. It would be odd to see either of the couple wear a heavy and angry outlook, screaming and yelling when things go wrong. So always be ready not only for the event but to forgive any mishaps by the fault of others. Mistakes are inherent among imperfect beings like you both.
With a year to few months of careful planning and preparedness, you can be sure of a memorable and smooth ceremony. Congratulate yourselves for a job well done, and look forward to starting the wonderful days ahead on a good note.
Do you have wedding day experiences or observation to share? Feel free to express them on this post.
📢

We are hiring writers!
Article Writing Jobs
- We are hiring good freelance writers -
Click here to apply
👇👇👇👇👇
Immigrate to Canada Via Job Offer!
Get latest Jobs in Canada for foreigners with visa sponsorship 2023 and how to apply. Don't miss this opportunity that can help you relocate to Canada with your family.
👇👇👇👇👇