Health & Beauty
10 Problems of Healthcare in Nigeria and Possible Solutions
Right from time immemorial, healthcare has been an indispensable requirement for the continuity of mankind and maintenance of integrity in families, states and the nation as a whole.
This indispensable requirement, just like man, has undergone series of evolutions in order for it to get to where we now find it.
About two thousand years ago, healthcare delivery system wasn't as great and reliable as compared to what we have now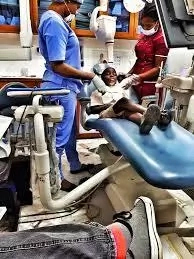 Cure and causes of diseases were governed by several superstitions and myths linked to several gods as exemplified by the ancient Greeks.
The ancient Greece as we all know was a world full of gods, with notable ones like Zeus, Apollo, and Asclepius.
These gods had an influence over people's lives which makes it less a surprise, why ill people often linked their illnesses to the gods. Epilepsy, for example, was known simply as sacred disease in ancient Greece.
In search for a cure. The Greeks also turned to the gods, either in an effort to appease the god who caused their illness or to the god of healing, Asclepius, whom they hoped would cure them.
There was a metamorphosis from this superstitious beliefs to a more developed body of medical knowledge in the time of Hippocrates. Hippocrates introduced the "Hippocratic oath" which doctors still take today, all over the world.
We can't say the same to the modern day healthcare delivery systems. The health sector all over the world has observed some level, if not a high level of medical advancement.
Technology has now been integrated into healthcare delivery, many deathly diseases can now be cured or managed, and many idiopathic diseases researched, and medically defined with known causes and prophylactic measures.
Life can now be supported with a life machine, urine can now be excreted from the body through dialysis, defibrillators can now be used to aid the restoration of heartbeats and multifunctional radiology that can tell you the percentage of your cells which are cancer-free now available.
These medical resources are not enjoyed by all countries, the developed are more exposed to these sophisticated medical paraphernalia while the underdeveloped have to travel to these countries to get their health conditions sorted out.
Nigeria, though has also undergone good improvements in healthcare deliveries, is still lacking in certain aspects. The Nigerian healthcare delivery system is faced with problems which are caused by her own citizens employed to run them and also by governments who have failed to play their part well.
In the remaining part of this article, we will be discussing the problems of healthcare in Nigeria and their possible solutions.
Problems Associated With Healthcare in Nigeria
1. Poor Infrastructure
If you've ever been to a public healthcare centre or a teaching hospital, you would realize just how grievous they look. The buildings in most government owned hospitals are very poor, some don't have adequate power and water supply which are both essential requirements particularly, for the hospitalized patients.
2. Poor Attitude to Work by Healthcare Practitioners
It's not a new thing that most doctors just run to their offices early in the morning, enter their names into the time book and then hit the road to their various privately owned clinics or personal matters.
The patients now have to wait for their arrival, after running around the various units in the hospital to set the prerequisites in place. This is unfair to the patients in all respect.
The workers at the primary healthcare centers are the worst, to me, it feels like you only get to see them when it's time to share mosquito nets and others.
They barely open their workplace in time and yet, these are the sets of people who will be willing to embark on indefinite strike just so they can get what they want, and at the expense of innocent people's lives.
3. Lack of Funds
The hospital needs funds in order to run properly, generators have to be powered in order to supplement our unreliable power supply, tanks have to be filled with water to help hospitalized patients wash clothes and take showers.
Also, the environment must be clean, doctors won't do the cleaning, and thus, the hospital has to employ cleaners themselves.
4. Delay/Failure to Pay Salaries by Government
When governments fail or delay to pay salaries, we don't need a fortuneteller to hint us the outcome; for sure, there will be threats of strike and if the governments don't spring into action, they proceed with it.
The whole burden and pains now fall on the patients, deaths will be recorded, and a possibly corrected condition will turn fatal and terminal.
Everyone in the health sector matters, even the labourers who clean the surroundings matter too, because they only place which is not supposed to be dirty, is the hospital.
5. Lack of Medication
Healthcare delivery in Nigeria is faced with the issue of lack of medication, one thing is to be diagnosed but it's a different thing entirely, to get the appropriate medication to free yourself of any illness.
Government should stock the hospital's pharmacy with appropriate drugs always.
6. Corruption
This is a truth we all have to accept. The rate of corruption in the health sector is getting alarming. Doctors and nurses get underpaid and exploited by management in whatever way they can.
Funds released by governments are halved and shared between the higher ups while the minions exploit the patients for theirs. As if that was not enough, I was shocked to hear that a certain healthcare center inside a university here in Nigeria issued out fake diagnosis on HIV/AIDS, just so that the government will increase the supply of anti-retroviral drugs which they would sell out for fringe gains.
Not only is that action wrong but inhumane and extremely heinous. The psychological effect such diagnostic result give patients is not something any human can use for exploitation. You can see the level of corruption in our healthcare system right?
7. Ill-Mannered Nature of Nurses and Doctors

The most vulnerable person is a sick person. They are people who should be handled with understanding, care, sympathy and love irrespective of their tribe, social class, background or financial state.
This is something I have experienced myself, most doctors and nurses are very ill-mannered. They just say whatever they want and do whatever they want like a kind of king of the jungle.
8. Lack of Medical Equipment/Facilities
The public health centers or hospitals are not well equipped. The crucial equipment's are either not available or not functioning. This situation is common in the rural areas. This will cause the transfer of patients to the limited well equipped ones which in turn, will increase the population there and also overwork the doctors and nurses available.
9. Lack of Proper Training
Comparing the training our doctors receive in Nigerian universities is like comparing a Lamborghini car with a 504 peugeout car. They are incomparable considering their level of training.
The laboratories in medical schools are underequipped and students rely more on theory than practicals. Whereas in well-furnished universities, students simulate surgeries with computers and also learn how to apply high technologies to medical practice.
10. Lack of Integrated and Effective Heating, Ventilation and Air Conditioning (HVAC) System
This is something that will limit the rate at which patients are predisposed to infections from the hospital. HVAC is a major challenge in Nigerian hospitals.
Very often, the air around the hospital environment is very contaminated and odious. It has the capability of infecting otherwise healthy people with new diseases, due to microbial and fungal growth within the circulating air.
This HVAC system will help solve this problem or minimize risk/damages.
Possible Solutions
Dilapidated buildings should be renovated and maintained, medical equipment and medications should be supplied always.
Monitoring teams should be formed and made to enforce punctuality and steadiness at workplace
Governments should supply adequate funds to the hospitals. Doctors and others should be paid on time to avoid cases of strike.
Medical practitioners should try their best to show empathy towards their patients.
Doctors should be properly trained before being allowed to go into practice. Laboratories in schools should be stocked and seminars/overseas programs organized for them.
🤑 Start making money from home today!
👉 Get correct FREE TIPS and Guides on how to make money from home today. Click here to start
.
👍Showcase your business here!
With over 1M unique users per month across all channels, we have a large audience for you to showcase your products and services. Simply get in touch via 👉 marketing@Infoguidenigeria.com.
🤑 Make Money now!
👉 Make money writing for us. Apply for Freelance writing jobs in Nigeria.
👉 Make Money as InfoGuideNigeria Advertising Agents, read more here
.
This post can be helpful to somebody else, please share it on Facebook, Whatsapp, Telegram and Twitter. There are buttons below for this (easy to use too)!
Copyright Warning!
Contents on this website may not be republished, reproduced, redistributed either in whole or in part without due permission or acknowledgment.
.
Proper acknowledgment includes, but not limited to (a) LINK BACK TO THE ARTICLE in the case of re-publication on online media, (b) Proper referencing in the case of usage in research, magazine, brochure, or academic purposes,.
.
All contents are protected by the Digital Millennium Copyright Act 1996 (DMCA).
.
We publish all contents with good intentions. If you own this content & believe your copyright was violated or infringed, please contact us at [infoguidenigeria@gmail.com] to file a complaint and we will take necessary actions immediately.