Education
Problems and Prospects of Primary Education in Nigeria
Primary education is the aspect of the basic education offered to every child of school age say, between the ages 4 to 11. It is the foundation of education, where children are prepared for post primary education and tertiary education.
At this level of education pupils is taught the basic skills of learning, and it is at this level of education that pupils are expected to acquire the literacy that will prepare them for the next level of education.
👉 Relocate to Canada Today!
Live, Study and Work in Canada.
No Payment is Required! Hurry Now click here to Apply >>
Immigrate to Canada
At the primary school education level, there are requirements, such that will help fast-tracked the goal of primary education. The education system is expected to work in collaboration with the parents and guardians, possibly with the communities with a view to meet the overall objective of basic education in Nigeria.
Read Also: 5 Tips to Improve Nigerian Education
In recognition of the important of primary education in Nigeria, there was a need for the system to be fortified with the necessary facilities to help facilitates the goal of primary education in Nigeria. In meeting this objective, institutions were established to oversee the operations and functions of primary education in Nigeria.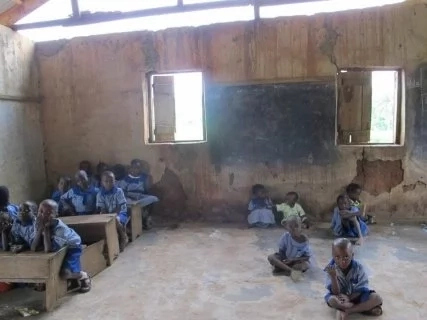 Establishment of National Primary Education Commission
NPEC was established by the government to undertake some salient duties with a view to ensure that primary education in Nigeria operate smoothly.
The body was to guide against the collapse of the primary education in Nigeria, as well as work with a view to maintain high standard in the system. Its primary obligation was to develop the primary education system in its entire ramification.
Establishment of State Education Board
This body was also established to oversee the operation of the primary education at the state level. Some of its functions were to recruit teachers, train teachers, promotes teachers who met the job criteria set up by the authority.
The body was to set up supervision unit to monitor teachers' activities, and to post teachers to locations, where their services were needed.
👉 Relocate to Canada Today!
Live, Study and Work in Canada.
No Payment is Required! Hurry Now click here to Apply >>
Immigrate to Canada
Read Also: Problems and Prospects of Teacher's Education in Nigeria
Establishment of Local Government Education Authority
The body was set up to take up the management of primary education at the local government level. The Local Government Education Authority was to administer the same duties as in the case of the state education board.
Problems of Primary Education in Nigeria:
1. Lack of experienced and adequate teachers
Increase in children's enrollment in primary schools in Nigeria has posed great deal of challenge to primary education in Nigeria, as the ratio of teachers to pupils is about 1 : 40, thereby disallowing effective learning environment, as well as the efficiency of primary school teachers.
2. Lack of proper management of primary schools:
There have been cases of poor management of primary schools in Nigeria, as a result of funds embezzlement by some public officials, in whose offices, education funds were allocated to.
So apart from irregularities in the payment of teachers' salaries, diversion of education funds to other programs of government was one of the problems.
Read Also: Ways to Improve Girl Child Education in Nigeria
3. Lack of teachers training:
Teachers are not well prepared to meet the challenge of primary school education in Nigeria, as institutions responsible for teachers' training lacks the basic learning facilities.
In situations such as College of Education, faculty of education in some Universities are lacking in adequate infrastructure for the training of teachers. Taking other disciplines for example, like in Law and Medicine, students in these disciplines are allowed to undergo strenuous learning practice in order to prepare them adequately for their professional practices, but in the case of student teachers' preparation, the reverse in the case.
This account for the level of in-experienced teachers in Nigerian primary schools.
4. Lack of proper inspection routine to primary schools by relevant authorities:
Primary education in Nigeria has been politicized in such a way that it affected the proper running of the school system, and this challenge has brought about lack of adequate funds for the operation of the system, lack of qualified personnel to see to the smooth operations of primary education in Nigeria, lack of vehicles for inspection tours, and other routine of the primary education, as well as lack of equipment.
5. Lack of appropriate implementation of primary education policy:
The National Policy on Education has clearly spelt out the objectives of primary education in Nigeria, and these policy, apart from being laudable has received commendations from the stakeholders but yet, the implementation of this policy by the relevant authorities has never meet the expectation of the Nigerian government.
Read Also: Challenges Facing Education in Nigeria
Prospects of Primary Education in Nigeria
1. Access to basic education by children of school age:
Children of school age in Nigeria have been given access to basic education. This is evident in the adoption and the launching of the universal basic education by the federal government, where education is made free and compulsory to all children of school age.
The increase in children enrollment has demonstrated the level to which Nigerians have appreciated the policy, and as well point to the future of Nigerian child in terms of education.
2. Quality impartation of Knowledge:
The education policy, as embraced by all the states in Nigeria, received support from state government as instructional materials were provided to schools for quality impartation of knowledge to primary school pupils.
3. Rigorous enlightenment on the important of primary education:
There have been rigorous enlightenment programs by the government of the day, where parents, guardians, members of the public have been sensitized on the important of primary education hence, parents and guardians were mandated to ensure that their wards are encouraged to be at school during school hours, as defaulters were prosecuted by the government.
Read Also: Problems and Prospects of Universal Basic Education in Nigeria
This development has led to the setting up of the monitoring team by the government for complete compliance to the education policy. Any child got on the streets during school hours was arrested, and their parents indicted.
4. Decrease in child labour:
By the virtue of this education policy, child labour is drastically reduced, even as the future of Nigerian children is considered to be colourful. The hope is that, they will be at equal footing with their counterpart anywhere in the world in terms of education.
Conclusion and suggestion
The efficient management of primary education in Nigeria is everybody business; therefore, every hand must be on deck. There must be adequate school blocks, instructional materials, teaching aids, libraries, recreational facilities and school medical centers among other things for the sector to be successful.
👇👇👇👇👇
Immigrate to Canada Via Job Offer!
Get latest Jobs in Canada for foreigners with visa sponsorship 2023 and how to apply. Don't miss this opportunity that can help you relocate to Canada with your family.
👇👇👇👇👇