The World Health Organization (WHO) defines health as "a state of complete physical, mental and social well-being and not merely the absence of disease or infirmity."
According to the WHO (1978) health care is rooted in contemporary conceptualizations of health as a book psycho-social phenomenon and not simply the absence of disease.
👉 Relocate to Canada Today!
Live, Study and Work in Canada.
No Payment is Required! Hurry Now click here to Apply >>
Immigrate to Canada
Public Health Care refers to both processes and beliefs about the way in which health care is structured. It encompasses primary care, disease prevention, and community development within a holistic framework, with the aim of providing essential community focused health care (Shoultz & Hatcher, 1997).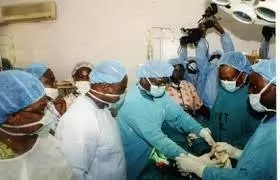 Public Health Care in any country is no small issue because of the great demand for these services met with unreliable supply and the beleaguering low accessibility to health services, especially in a nation like Nigeria.
Poor implementation of policies, socioeconomic, cultural, and political challenges are inherent and increase the difficulties associated with accessibility and availability.
Also, there are issues of affordability, sustainability, and durability of health care facilities and services.
Random fact: Nigeria has an average life expectancy of 44 years.
Nigeria still has one of the poorest child health and maternal indices in the world which is quite paradoxical because in September 1990, a Milestone was marked in Nigeria after the declaration of Safe Motherhood Initiative at the time.
The initiative was praised by many countries and observers because of the perceived benefits that would accrue not to only the country but also to the rest of the world by the reduction in mortality which was expected to follow the initiative.
Yet, over 20 years later, things do not seem to have moved even close to what was expected. Other reforms have been raised due to concerns on the quality and financing of health care delivery especially in the public sector.
Some of these programmes include Public Private Partnerships (PPP) reforms at the Federal Ministry of Health. However, the non validation and non implementation of this policy might have led to loss of interest in the partnership.
The maternal mortality ratio is the most commonly used indicator of maternal death. It measures a woman's risk of dying from a given pregnancy. According to the World Bank (2000), it is expressed as the number of maternal deaths per 100,000 live births.
Health Financing Mechanisms In Nigeria
The National Health Insurance Scheme NHSS was established in 2005 by Decree 35 of 1999 of the Federal Government of Nigeria and had the primary aim of improving health care financing by reducing the health care cost borne by individuals.
Health care financing schemes used in Nigeria are usially user fees and social health insurance schemes. The problem however, is that the informal sector is usually left out.
Some donor agencies like the World Health Organization, UNICEF, USAID etc, have played important roles in financing some health projects in Nigeria.
The bulk of the Nigerian fund set aside for health is got from taxes, insurance schemes and donor agencies.
In Nigeria many challenges are faced in public health service rendering. These challenges are even faced right from the scene of incidents such as accidents.
Dr Badejo Olawage, a Surgeon at the National Hospital in Abuja says that one major problem has to do with the actions of well meaning but ignorant bystanders in crisis situations.
According to him "these people sometimes cause more damage to the patients when they attempt to administer first aid.
Outside those in medical schools, the average Nigerian is not knowledgeable about basic first aid practices. This leads us to the Challenges and Prospects of Public Health Care in Nigeria.
Challenges And Prospects Of Public Health Care In Nigeria:
1. Lack Of Proper Public Education On Health And Safety
As explained above, the average Nigerian is not knowledgeable about basic first aid practices. This therefore makes if difficult for bystanders to provide help to accident victims. The ones that do about it the wrong way and end up causing more serious problems to the victims.
However, health and safety education in Nigeria is rapidly growing in recent time. One example is the orientation of NYSC members at their camps concerning first aid and first aid tips.
These people in turn join community development groups and some of them undertake sensitization programmes and teach community people and secondary school students about these things. Also, HIV awareness and orientation has increased immensely throughout the country.
2. Lack Of Basic Health Amenities In Rural Areas
The lack of basic health facilities in rural areas is a major problem as the majority of people living there do not have access to health facilities.
This has caused wide spread migration issues because residents of rural areas move to urban areas because of the better health facilities.
The mass migration has created a mirage which has led the government to situate even more infrastructures in the urban areas to cater for the needs of the new population in urban centres whuich has again resulted in a large inequality with regard to situating health care facilities, thus abandoning a vast majority to live in these rural places with little or no medical presence.
3. Lackadaisical Attitude Towards Health Care
The government has over the years shown poor attitude towards health care. It is no news that top politicians and government officials travel outside the country to get their medical treatment.
This alone shows the lack of faith of the Nigerian leaders in the health care they are providing and also proves the importance of health and health care facilities.
The government, instead, spends more time and money on things that the people can 'see', such as roads. They play
on the ignorance of people by constructing roads and 'counting' the number of roads constructed as achievements. They act with the objective of being 're-elected', forgetting that people will equally appreciate an improvement in health care provision.
4. Bureaucracy
The health sector in Nigeria is deeply fragmented, with only a small fraction of the healthcare coming from a unified and organized centre.
Private hospitals provide at least 70% of the healthcare in the country with the rest coming from the three levels of government and even community funded health institutions.
Most African countries, Nigeria included coordinate their health care service delivery in an heirarchy. The vertical line goes from sm
all peripheral units to larger clinics and a referral chain, and this is expected to work, albeit theoretically. In reality, this hardly ever works as the people behave in different patterns from how they are expected to behave. This causes a huge friction in public health service rendering.
5. One-sided Insurance Schemes
Health insurance schemes usually benefit mainly people in the formal sector including Civil Servants, and those in the organized private sector with a vast majority of the people in the informal sector like farmers, traders, hunters, and other self employed and unemployed people left out.
6. Corruption
There is hardly a problem in Nigeria that does not have corruption as one of its contributing factors. Corruption has eaten deep in the roots of the government and economy. Monies meant for health purposes are usually misappropriated.
7. Migration Of Health Professionals To Other Countries
Day after day, we hear of the excellent results of Nigerian health students and professionals abroad. These well qualified individuals usually leave the shores of the country in search of greener pastures which are not readily available in Nigeria.
8. Strike Actions By Medical Professionals
The incessant strike actions by doctors, nurses and other health professionals cause serious friction in service delivery. During the course of these strikes, deaths increase and sicknesses become worse.
9. Nepotism And Tribalism
The appointment of chief officers in health institutions is really not based on qualification these days, but on who you know and who knows you.
10. High Operational Costs
The operational costs of clinics are are high due to the bad state of basic amenities such as power supply. The hospitals thus have to spend more on fuel, and the patients pay for this.
11. High Financial Cost
The cost of procuring technologically advanced machines and equipment that are needed in a modern hospital is high. The lump sum expenditure usually scares governments away from investing at once in health facilities.
Other Challenges And Problems Include:
a. Recession
b. Poverty
c. Obselete Infrastructure
d. Poor Supply Chain of Drugs and other needs
e. Poor remuneration and motivation
f. Illiteracy
g. Poor Management
h. Unsustainable health care financing
Prospects And Conclusion
The health sector of any economy forms the backbone of its growth and development. Many countries are striving to keep pace with health care delivery because the sustainability and viability of any nation's economic and social growth depends on the health care sector.
The inherent challenges to the proper working of this mechanism are quite strong, however they can be reduced gradually, as can be seen already. There is greater awareness and improved technology at cheaper rates.
To make the situation better managed, tighter control of available funds and operations should be used to enhance the quality of services.
Health policies should be in line with the ever changing environment, as the only thing constant in life is change. Fighting corruption should equally boost health care service rendering quality.
An integrated health care system that would be able to serve the vast majority of people in both rural and urban areas should be made. Health care should be made accessible.
👉 Relocate to Canada Today!
Live, Study and Work in Canada. No Payment is Required! Hurry Now click here to Apply >> Immigrate to Canada
👇👇👇👇👇
Information is Power!
Don't miss any valuable information or opportunity that can change your life, business, and family positively and permanently.
👇👇👇👇👇
👍Advertise your business on InfoGuideNigeria.com!
From just N9,999 per month, you can advertise your products and services to over 1,500,000 monthly users on our website. Click here to read more.
Copyright Warning!
Contents on this website may not be republished, reproduced, or redistributed either in whole or in part without due permission or acknowledgment.
.
Proper acknowledgment includes, but not limited to (a) LINK BACK TO THE ARTICLE in the case of re-publication on online media, (b) Proper referencing in the case of usage in research, magazine, brochure, or academic purposes,.
.
All contents are protected by the Digital Millennium Copyright Act 1996 (DMCA).
.



The images, except where otherwise indicated, are taken directly from the web, if some images were inserted by mistake violating the copyright, please contact the administrator for immediate removal.
.
We publish all content with good intentions. If you own this content & believe your copyright was violated or infringed, please contact us  for immediate removal.
🤑 Start Making Money from home today!
👉 Get the correct
FREE FOOTBALL PREDICTION
TIPS
and
Guides
today.
Click here