Agriculture
How To Start Agricultural Machinery Business in Nigeria
The importance of mechanization in the Nigerian agricultural sector cannot be overemphasized. With an estimated over 30 million hectares of land being cultivated per farming season in Nigeria, not much returns on investment have been made over the years.
How can Nigeria cultivate the estimated 78.5 million hectares of land which is needed to feed the nation? It is by mechanized farming. That is the use of modem farming tools, equipment and implements.
👉 Relocate to Canada Today!
Live, Study and Work in Canada.
No Payment is Required! Hurry Now click here to Apply >>
Immigrate to Canada
It is upon this backdrop that the need to start agricultural machinery business is advocated.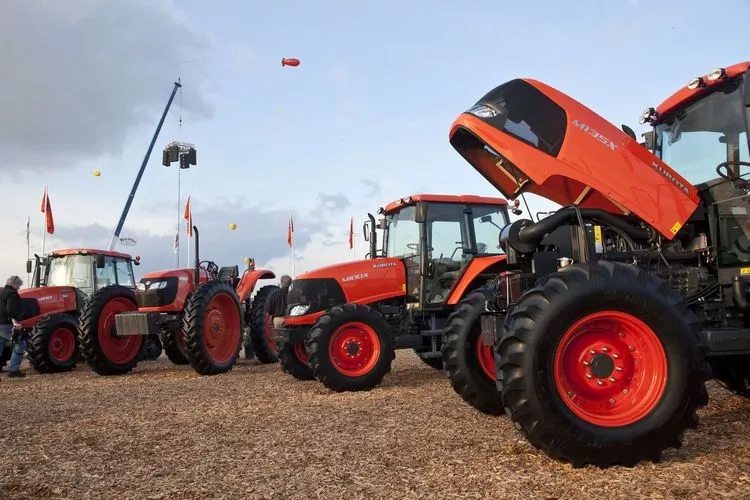 It is high time Nigerian farmers utilized basic mechanized processes in their farming practices. This includes the procurement of tractors, processing and packaging machinery for the various agro-processes.
You may not be able to manufacture agricultural machinery. But you can buy and sell them. Alternatively, you can go into agricultural equipment leasing business. it is a good investment opportunity.
This is so, considering the ever-increasing need to boost productivity in the agricultural sector and encourage more patronage. As such, mechanization of agriculture is a must.
This is because no meaningful result will be fetched without the use of modern farm machines and agricultural inputs.
How Profitable is Agricultural Machinery Business in Nigeria
The agricultural machinery business in Nigeria is an ever-growing business sector. It is expected to grow yearly at an exponential level.
As far as agriculture exists, and the need for mechanization is there, the business will never diminish. Of course, more farmers want to adopt mechanization in their farming processes every year. So, the potential is high, and the opportunities are much.
👉 Relocate to Canada Today!
Live, Study and Work in Canada.
No Payment is Required! Hurry Now click here to Apply >>
Immigrate to Canada
Farms, food and agro-processing companies and food vendors will always need machines to produce and preserve their products. Thus, there will always be a market for both basic and High-tech machinery for agricultural advancement in the country.
Basic Agricultural Machinery in Nigeria
Agricultural chemicals machines for spraying such chemicals as fertilizers, herbicides and pesticides
Farm animals watering and cleaning systems
Feed milling machinery
Fish farming implements
Fish feeds and fish medicines dispensers.
Food processing and storage systems
Incubators
Irrigation systems implement and machines
New and used agricultural tractors (55-75hp);
Poultry feeding implements
Poultry housing equipment
Poultry/farm animals' drugs dispensers
Functional Classification Of Agricultural Machinery
Planting equipment: used for applying fertilizers and for planting of crops
Harvesters: used for the harvesting of crops. This includes tractors, hand tools, forklifts and harvesters.
Cleaning Implements: for cleaning of farm machines, tools and equipment
Diagnostics tools: used to carry out periodic checks & services on farm machinery and equipment
How To Buy Your Agricultural Machinery For Sale
The demand for quality used farm machinery like tractors and hay combines are on a worldwide scale. You can generate hundreds of thousands of Naira selling these machines to farmers in Nigeria, weekly.
Sometimes, you need to get your farm machines abroad and sell them to farmers in Nigeria. This becomes necessary when you cannot source them locally within.
You may have to connect internationally to run this business. This will help you to market the farm equipment and machinery. Also, it will assist in getting the tools and machines at much-discounted rates.
Finance For Startup
The needed capital to start and run farm machinery business is a function of many variables.  This includes but not limited to initial advertising budget and your business location.
However, your overall operating expenses is another key factor. On the average, however, it has been estimated that an initial investment of about N5,000,000 is needed, at least to set the business in motion.
To reduce initial startup expenditures, you can operate this business initially from your farm or home and from there, you sell or lease to local farmers.
Staffing
If you are looking forward to employing staffs for this business, then get someone who is motivated to work and with a minimum 5 years' experience.
Risks And How To Avoid Them
Unpredictable Transportation Logistics
In the course of transporting your goods from the store or warehouse to the buyer, anything can happen. As such, your success in this business is dependent on the safeness and timeliness of arrival at the destination.
It is your responsibility and that of the courier or freight company to ensure the safety of arrival. This Unpredictable transportation logistics is one top risk factor involved in this business.
Proper organization and affiliation with a good freight services company are highly recommended.
Poor Or Abridged Knowledge Of The Nigerian Agricultural Machinery Industry
Lack of exposure to the workings of the Nigeran agricultural machinery regulation and requirements can greatly hamper your business. As such, thoroughly research the Nigerian market before you start this business.
Also, hire experts who have a sound understanding of the demand and supply outlook for agricultural machinery business in Nigeria. Of course, selling what people do not have demand for is likely to tie your money down.
Sustainability Tips for Agricultural Machinery Business in Nigeria
There is a need to build and maintain functional relationships and alliances with dealers of farm equipment and other third parties in the industry. Inasmuch as you need to network on the international level, try to also look inside.
Try to source some of these tools and machinery locally too. It will greatly reduce your expenses. Additionally, it helps to grow the local economy.
The agricultural machinery business is for people who have a passion for agriculture and business in general.
To succeed, you need to be well organized to handle logistics. When it comes to machinery business, you must be willing to thoroughly comply with relevant market and governmental regulations
With these qualities in place, success is sure in the Nigerian agricultural machinery business.
Associations To Join
All Farmers Association of Nigeria (AFAN)
Conclusion
Agricultural machinery business revolves around selling and leasing of agricultural machinery. You store the farming equipment and machinery in your business mall and made them available for rent by farmers.
Because of the limited financial resources of many Nigerian farmers, the popular choice is to rent agricultural machines. As such, a large bulk of your work will revolve around leasing of these machines. But you will be making sales from time to time, depending on your location.
The market for agricultural equipment sales and hiring is there. Good returns on investment (ROI) is anticipated. You may, however, focus on the popular and much sought-after aspect of this business for higher ROI.
Get more agro-businesses here
📢

We are hiring writers!
Article Writing Jobs
- We are hiring good freelance writers -
Click here to apply