Uncategorized
20 Best Tourist Attractions in Nigeria and Their Locations
Are you a tourist interesting in sightseeing in Nigeria? If yes, see the 20 best tourist attractions in Nigeria and their locations. Visit these tourist sites and you will be glad you did.
Nigeria, the country with the highest population in Africa, is one of the untapped tourist nations in the world, known for her long stretches of exotic beaches, and lush mountains, and well preserved tradition / culture as well as, enchanting tourist attractions.
👉 Relocate to Canada Today!
Live, Study and Work in Canada.
No Payment is Required! Hurry Now click here to Apply >>
Immigrate to Canada
You can see from those spiritual shines of the forebears to the old cities in the northern part of the country, and from the Niger Delta rivers to the ancient kingdoms in Yoruba land, including the Igbo's exotic environments as well as, many other simply pure and stunning sceneries; Nigeria is a country that leaves her visitors with stunning suspense and exotic excitement, when it comes to tourist attractions.
Read Also: Tourism in Nigeria – Overview, Issues, Potential, and Challenges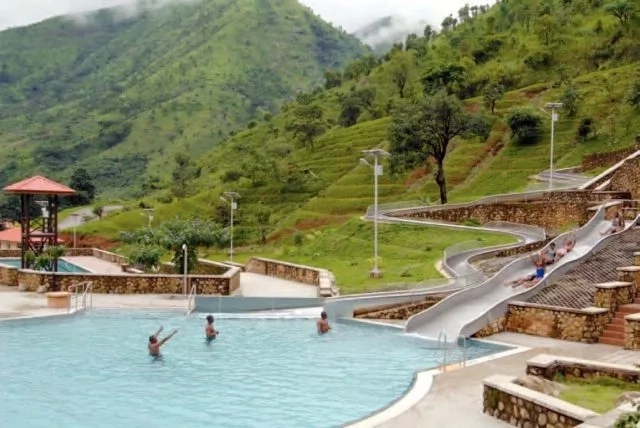 20 Nigeria's Best Attractions
Below are 20 best attractions in Nigeria;
1. Ibeno Beach
This is a blissful tourist destination for tourists, and the beach stretches over 245km. Here is the sand bank in Ibeno, which lies this exotic Beach, a little haven is Ibeno beach for leisure seekers.
The Ibeno Beach is characterized with roaring waves, and spots for sunbathing, and unpolluted foliage there at the mangrove forest, and cool wind coming from the ocean water, as well as a lush surrounding, all of these give Ibeno Beach an unimaginable allure for every tourist who visit the beach. It is located in Akwa Ibom State.
2. Obudu Cattle Ranch
This is located in Cross River State above the sea level. The Obudu Mountain Resort is here and it sit on the Oshie Ridge, which is the famous Sankwala Mountains.
The ranch is characterized with temperate climate, and breathtaking views, and idyllic tranquility, as well as, beautiful scenery. This features have has made Obudu Cattle Ranch a  famous tourists' site for tourists.
Read Also: Notable Tourist Attraction Centers In Ilorin
3. Ngwo Pine Forest
Ngwo Pine is one of the unique forest dynasties. The forest is in Ngwo Pine, and is attracted by tourists. It is a forest romantically biult by nature, it has sharp twists, which are desirable by adventure seekers.
👉 Relocate to Canada Today!
Live, Study and Work in Canada.
No Payment is Required! Hurry Now click here to Apply >>
Immigrate to Canada
The tourist center is built with beautifully set pine trees, including gently flowing stream for tourists and lovers, as well as, the loud splashing of the waters found inside a dark cleft and a cave, which actually blown oviditior's imagination. Located in Enugu State
4. Awhum-Waterfalls
Awhum-Waterfalls is made up of various immaculate lakes, and waterfall as well as,  a monastery. Its beautiful scenery is as a result of the waterfalls, where the water actually cascades over its top, whereby forming a stream. Awhum, which is close to the Awhum Monastery, is a religious tourist site, and is located in Enugu State.
5. The Arochukwu Long Juju Slave Route
This is a sacred altar that has six foot gully which lead people to the temple and also the waterfall in Arochukwu Long Juju Slave route. Tourists usually explore the alter (shrine) called, Ibn Ukpabi as well as, the cult momument that are found in Kamula. It is located in Abia state.
6. Giant Foot of Ukhuse Oke
At the sacred grove, meet prehistory and the modern, and this is between a village named Ukhuse-oke and Ukhuseosi.
This is where this distinct footprints of a prehistoric giant lies, and they are embedded eternally on flat granite rocks, located in Edo state.
Read Also: Problems And Prospects Of Tourism Development In Nigeria
7. The Port Harcourt Tourist Beach
Port Harcourt Tourist Beach is built on an artificial sand beach. This is a leisure center which is along Kolabi Creek in River state.
8. The Gashaki-Gumpti National Park
This park is located around the Chappal Wadi and Mountain and Chappal Hands and the Mountain of Wind, in Taraba state, and it offers a fascinating insight with regards to how life was during medieval times in Nigeria.
9. The Alok Ikom Monoliths
This is where you find 300 carved stones, which actually stand upright in a circle form. These stones faced each other, and are in groups with stunning images and with texts inscribed on it. Located in Cross River State.
10. The Isaac Boro Garden Park
This is a tourist site where games are played and it is a trade fairs and live entertainment center. Major Isaac Boro tomb, a soldier who was killed during Nigerian Civil War lies in this park.
11. Tinapa Free Zone And Resort
Tinapa Free Zone and Resort has a magnificent scenario. its exotic ambience usually mesmerizes tourists who visit there. It is 860,000 sq ft. Located in Cross River State.
12. The Osun-Osogbo Grove
This Grove has sacred shrines, and sanctuaries, and sculptures, as well as, art works created in the honour of a certain goddess of fertility. Located in Osun state.
Read Also: 10 Ways to Improve Tourism in Nigeria
13. Emotan Statue
Emotan Statue is majestically erected, and it is  clad in her fine traditional wrapper, as well as, with a headgear, and is said to be associated with tthe Benin Kingdom royalty. Located in Edo State.
14. Royal Palace Of Oba Of Benin
This was listed by UNESCO as a heritage site, which is located near the Oba's Square. A huge collection of sculptural pieces are found here. Location in Benin, Edo State
15. The Sukur Cultural Landscape
The Sukur cultural landscape is housed by Madageli, in Adamawa state. The landscape is made up of traditional cemeteries and also ritual terraced areas. One of the UNESCO World Heritage Sites.
16. The Queen Amina's Wall
This is Zazzau city found in Zaria, and here was where a well-fortified walls was built by Queen Amina of Zaria to protect the ancient city. In the modern city of Zaria is this majestic wall still standing. Location in Zaria, Kaduna State
17. The Surame Cultural Landscape
This is where you find wonders of human creativity, and ingenuity, including civilization. This is what makes Surame cultural landscape unique. Location in Surame, Sokoto State
18. The Oban Hills
Korup National Park found in Cameroon is one park that shares the same border with the Nigeria's Oban Hills, located in Cross River State. It is known for  wildlife and some certain plants
19. The Oke-Idanre Hill
Here is known for its spectacular valleys, and these valeys actually interspersed with both inselbelgs and high plain almost at the sea level. Known as one of the UNESCO World Heritage Sites, found in Ondo state.
Read Also: 10 Roles of Tourism in Economic Development in Nigeria
20. The Ogbunike Caves
This is one of the tourist attractions, considered an ideal tourist destination. The cave has historical and at the same time spiritual significance, and is one of the UNESCO Heritage Sites. Location in Ogbunike, Anambra State
Conclusion
Nigeria is a country that leaves her visitors with stunning suspense and exotic excitement, when it comes to tourist attractions.
👇👇👇👇👇
Immigrate to Canada Via Job Offer!
Get latest Jobs in Canada for foreigners with visa sponsorship 2023 and how to apply. Don't miss this opportunity that can help you relocate to Canada with your family.
👇👇👇👇👇