Economy
10 Causes Of Underdevelopment In Nigeria
Development is one of the dividends of good governance in any country. This development can cut across different sectors of the society which includes politics, education, industry, banking and finance, infrastructure and so on.
Development is a multidimensional influence of advancement in the society, a product of different factors coming into play. The 21st century has witnessed an increased velocity in speed of development across the globe.
👉 Relocate to Canada Today!
Live, Study and Work in Canada.
No Payment is Required! Hurry Now click here to Apply >>
Immigrate to Canada
With the constant advancement in science and technology, synergy between countries and trade exchange, third world countries are experiencing developmental phases of modernization.
Read Also: 7 Problems Of Nigerian National Development Industry And The Possible Solutions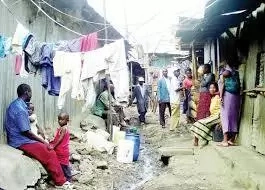 However, the pace at which this development spread across a particular region, continent or country could be slow. This suggests underdeveloped.
By this, it does not mean literally undevelopment which implies an absence of development, but implies an inadequacy in the level of development.
Underdevelopment is a visible feature in Africa which is rated as the poorest continent in the world. Underdevelopment is an economic term used to refer to a level of inadequacy or insufficiency in development.
As earlier mentioned, this means there is an amount of development which however is not enough or proportionate to the average expectancy.
A case study of Nigeria will butress the concept of underdevelopment in respect to the expectancy of a sovereign entity with 58 years of independence from colonial leadership.
So the terms "development and underdevelopment" are subjective to any entity or thing relatively. Today, the term "developing countries" is preferably used than "underdeveloped" by the United Nations.
The former suggests a transitory developmental stage or process than the later which suggests a fixed state of underdevelopment.
By and large, underdevelopment is a  reality and one of the problems confronting the contemporary world of globalization.
If globalization has brought about a network of developmental influence among league of nations under the platforms such as African Union (AU), United Nations (UN) and other international organizations, why then is underdevelopment still a challenge mainly associated with Africa? What could be the likely causes of underdevelopment generally?
Read Also: 10 Effects of Unemployment on Nigeria's Economic Development
Causes of Underdevelopment
1. Poor Economy
One problem that confronts development is the problem of poverty. Africa's economy is rated as the poorest in the world.
This is a clear major cause of stunted growth and improvement in science and technology, trade and commerce and so on.
When there is deflation in the economy it affects production, manufacturing and investment. Foreign investors too will be scared to pump money into the economy. Both foreign and indigenous production can be grounded.
Nigeria battles with underdeveloment because of poverty and economic fluctuations. Some  countries like China, Malaysia, Indonesia and so on, who are currently advancing rapidly in development were able to find a way of booming the economy.
Once the economy of any country flourishes, it will speed up development. One secret of some of these countries that were once regarded poor was that they discovered their "economic treasure".
This treasure is usually an untapped natural resource or resources they started exploring. This exploration in the exportation and other forms of processing of these resources did not only boom their economy but invariably developed their countries in infrastructure and other wise. So the challenge is the tight economy which hampers development.
2. Low Revenue Generation
As a follow-up cause to poor economy is the problem of low internally generated revenue. The rate of revenue flow determines development.
Revenue could either be internally generated or from federal government, while at the national level it can be internally or through foreign exchange. When the flow of revenue is low, it can affect development.
At the state level, if the government depends largely on the revenue from federal government, it may not be enough to meet up with the expenditure and development in the different sectors.
Every government strives to boost its internally generated revenue. Lagos state has a good record in revenue generation.
A prototype which other states have copied and has been effective. When the revenue is insufficient, amenities like health care centers, road network, housing scheme etc will be lacking.
Read Also: 10 Causes of Underdevelopment in Nigeria
3. Security Challenges
Another cause of underdeveloment is insecurity. Problems associated with insecurity has been combating the development of Nigeria and Africa as a whole.
Investment thrives in a secured environment. This problems such as terrorism, kidnapping, cyber crime, financial fruad etc. scare investors away from a region.
During the insurgency in Niger Delta region by the militants, some companies folded due to vandalization, some expatriates fled for fear of being abducted and some equipments belonging to some of these foreign companies were destroyed by these militants. The development that would have come to that region and to Nigeria as a nation was lost to the restiveness.
4. Civil Unrest
Furthermore on the issue of security challenge is also civil unrest as another cause of underdevelopment. In the middle east countries like Afghanistan, Iran, Iraq and Israel, development is constantly being frustrated.
This is obviously seen as a result of civil unrest for political reasons and otherwise. The Eastern part of Nigeria is yet to fully recover from the aftereffects of the civil war that happened in 1967.
The war affected the economy of the east due to barricade of food supply and other products from the North. Many years later, a comparison of development in East against that of the North and West points clear to the impact of the war on the economy.
Such civil unrest always result in destruction of property, business establishment, restricted transactions in trade, restricted movement of goods and people.
At the end, government spends money that would have been channeled to development into rehabilitation of destroyed infrastructure. It takes business in such areas time to normalize and investment and investors are momentarily discouraged.
5. Bad Leadership
The problem with underdevelopment in some regions is bad leadership. It takes a good leadership to be visionary and innovative.
This is one problem that has befallen Nigeria since 1960, the problem of leadership. The leaders both at federal and state level, have failed to have vision and the will to execute it.
One of the challenging issue asociatied with leadership in Nigeria's government is the problem of godfatherism. Oftentimes leaders are negatively influenced by their godfathers who stirr them away from their initial bearing and agenda. Such negative influence affects leadership which is very instrumental to development.
Also most times appointments in government are not made based on credibility but connection and as compensation.
The lack of capable leaders is also worsened by election malpractice which usually inject the wrong candidates into the system. In such a case, the leaders cannot drive the nation forward.
After two tenures, nothing maybe shown for it. If our leadership has been efficient since independence, by now Nigeria would have been a force to reckon with in terms of development.
6. Embezzlement of Public Fund
Development is constantly hindered when funds meant for projects are embezzled. This corrupt practice has eaten deep into the society.
From time to time, cases of money laundry and other financial crimes appear on national dailies. Money for road construction and other projects are constantly  diverted to personal accounts.
Some major federal highways are death traps today because the representatives under whose constituencies these roads are, fail to utilize the revenue for it.
Also sometimes even when these funds are utilized, its only a little percentage that is used. This attitude results in poor or undevelopment of different sectors.
Read Also: Problems of Nigeria Development Plan and Possible Solutions
7. Unfavorable Government Policies
Some government policies can be unfavorable to development. Some of these policies may be made with a healthy motive but inversely affect the economy.
Strict regulations on importation, tax rate and placing of embargoes can affect investment in an area. This in turn can discourage the rate of development in an area.
Potential investors and indigenous business men can be scared from venturing into specific production due to strict economic regulations.
8. Political Instability
Frequent change of government can hamper the pace of development. This is because each government comes with a new agenda and vision for the economy, sometimes abandoning the plan by the previous predecessor.
The four year tenure duration in Nigeria and most countries may not be enough to achieve a long term goal. Lack of continuity by government administrations leads to abandoned projects littered everywhere.
This can frustrate development. Also over the years, incidences of coup and impeachment of leaders in some countries have affected the development of the region.
When such happens, a new administration sets in afresh with a new plan and agenda. In addition to these, leadership crisis within the government is a big distraction from development. Time is being spent on peace talks rather than developmental strategies.
9. Lack of Steady Power Supply
Problem of electricity is unique with underdevelopment in Nigeria. Most businesses needs electric supply to operate.
The shortage of this basic  amenity affects production in such areas of businesses. Most people that rely on use of generators get frustrated with the cost of purchasing fuel and diesel for their production.
The effect of this on the economy is the discouragement of small scall businesses and indigenous entrepreneurship.
Electricity is a major component to productivity in industries and companies. Because of the fluctuating supply of this, production is limited.
This production boosts the economy, generates revenue for government through taxes, alleviate unemployment and poverty. This in turn encourages development.
10. Lack of Diversification of Economy
Concentrating in one sphere of the economy can retard economic growth. Over the years, during the era of oil boom in Nigeria, the economy experienced tremendous growth.
However, with event of time, more countries have tapped into crude oil and mineral resources. Today, crude oil has little value in the foreign market.
Diversification of the economy into other sectors remains a sure way of sustaining a viable economy. Areas like agriculture has received a great attention both from government and private sectors.
Mechanized agriculture has become another source of revenue for most countries. Failure to diversify will affect the economy in the long run which will affect the pace of development.
Read Also: 10 Problems of Youth Development in Nigeria and Possible Solutions
11. High Level of Illiteracy
The easier way to develop a nation is by educating the people. Education remains the bedrock for sustainable development.
Illiteracy can affect development because the people lack the exposure to relate with the outside world in terms of trade and business partnership. Region with higher rate of education are more advanced than places where illiteracy thrives.
As of 1957, Western Nigeria had more educated people than the East. The effect of this can be seen in the level of investment and development they have.
In conclusion, efforts to end underdevelopment in Africa is a long term goal which if the causes are addressed can be a reality.
👉 Relocate to Canada Today!
Live, Study and Work in Canada. No Payment is Required! Hurry Now click here to Apply >> Immigrate to Canada
👇👇👇👇👇
Information is Power!
Don't miss any valuable information or opportunity that can change your life, business, and family positively and permanently.
👇👇👇👇👇
👍Advertise your business on InfoGuideNigeria.com!
From just N9,999 per month, you can advertise your products and services to over 1,500,000 monthly users on our website. Click here to read more.
Copyright Warning!
Contents on this website may not be republished, reproduced, or redistributed either in whole or in part without due permission or acknowledgment.
.
Proper acknowledgment includes, but not limited to (a) LINK BACK TO THE ARTICLE in the case of re-publication on online media, (b) Proper referencing in the case of usage in research, magazine, brochure, or academic purposes,.
.
All contents are protected by the Digital Millennium Copyright Act 1996 (DMCA).
.



The images, except where otherwise indicated, are taken directly from the web, if some images were inserted by mistake violating the copyright, please contact the administrator for immediate removal.
.
We publish all content with good intentions. If you own this content & believe your copyright was violated or infringed, please contact us  for immediate removal.
🤑 Start Making Money from home today!
👉 Get the correct
FREE FOOTBALL PREDICTION
TIPS
and
Guides
today.
Click here