Environment
8 Functions of Emirs in the Northern Nigeria
Here in this article, we are going to give you 8 functions of Emir in Northen Nigeria. The Emirs hold so much power over their subjects and influence the way they live their lives.
Being an Emir, his duties are often multiple. This ranged from maintaining social norms of his people, ensuring that basic social amenities are provided for his subjects, as well as, create political awareness among all his subjects.
An Emir must make himself accessible and open to every member of his domain particularly, those whose rights are being trampled on by some other members of his community.
Read Also: Boundary Conflict In Yakurr And Abi Communities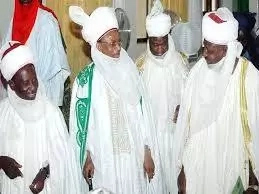 More so, in a situation, where there is complaints from any member of his community about, say theft incident, or in a situation, where there is quarrels among his subjects, maybe over farm land.
It is the responsibility of the Emir to summon his Elders in his community, and with serious effort see to it that, the issue is settle and the conflicting parties call to order.
However, since the aim of putting up this article was to examine the functions of Emirs in the Northern Nigeria, without much ado, I will do just that.
Read Also: 7 Roles of Traditional Rulers in Achieving Stable Democracy in Nigeria
Emirs Functions As Traditional Fathers:
The title, Emirs, come with many functions, and in this article, I am going to do justice for just that, and at the end of this article, one will come to understand most of the functions of the Emirs in the Northern part of Nigeria. Below are some of the functions of Emirs outlined.
1. Emirs Manage Disputes Among Their Subjects
One of the major functions of the Emirs in the northern Nigeria, just like traditional fathers in other part of the country has been to make sure that peace and order are maintained within their domains.
In the event of misunderstanding between members of his community, an Emir is expected to settle the problem. He will not only settled their disputes, but must settled them amicably without fear or favour. Therefore, one function of an Emir in the northern Nigeria is to settle disputes among his subjects.
2. Enlightenes Subjects On The Importance Of Carrying Out Their Civil Responsibilities
It is expected of every member of every community within the Nigerian federation to carry out his or her civil responsibility as a responsible indigene of such community.
Going by this expectation from members of every community in Nigeria, it is therefore, incumbent on the part of the Emirs in the northern Nigeria to see to it that their subjects are being educated and enlightened on the need and importance of bearing to their individual civil responsibility in their individual community.
Read Also: 12 Functions of Traditional Rulers in Nigeria Community Development
3. Maintains Law And Order Within Their Domains
This is another function of the Emirs in the northern Nigeria. They have to see to it that, law and order within their domains are kept and maintained.
It is the function of the Emirs to discourage their subjects from talking laws into their hands. They must be impartial in such a way that, any time complaints are 4. brought to their tables, they would be out-spoken enough, and as well, settle such complaints without partiality or favouritism.
4. Ensures His Subjects' Adherence To Their Northern Cultural Heritage
Every community and every society has its culture and norms that defines the people's life style, their cuisine, dressing, language etc.
Emirs, being the custodians of the culture of individual domain in the northern Nigeria are expected to ensure that their subjects are comply and adhere to the norms and culture of their individual community.
It would be a grave risk for the people's culture to slip away as a result of the modern civilization without giving it, the due consideration. This is very important!
5. Supervision Of Chieftaincy Matters
Every matter or issue that has to do with chieftaincy is supervised by the Emirs, since they are the royal or traditional fathers in the northern Nigeria.
Therefore, anything that has to do with the conferment of traditional tittles, is preside over, and handle by the Emirs. It is the function of the Emirs in the northern Nigeria to award deserving members of their domains, who have singled out themselves through their outstanding contributing to the development and betterment of their community with chieftaincy tittles.
Read Also: 5 Functions of Magistrates Court in Nigeria
6. Enlightens And Encourags Their Subjects On The Importance Of Paying Taxes
Internal revenue generation is one of the avenues by which the government generate resources for the purpose of providing the people with the basic social amenities, such that will helped in boasting the living standard of the members of the society.
This resources generating by the government normally come in form of tax money, and this money are paid by the members of the public.
However, tax paying is one of the civil rights of every responsible citizen of every community. Therefore, since it is the function of the Emirs in the northern Nigeria to enlighten their subjects to perform their civil responsibilities, the Emirs have been encouraging their subjects to pay tax.
7. Presides Over Council Of Elders Meetings In Their Domains
Often time, the Emirs will have to called for council of Elders' meetings to discuss issues bothering the progress and development of their communities.
Emirs, being the heads of each domain or community in the northern Nigeria, always preside over proceedings, whenever they called for meetings.
And in such situation, important decisions are taken by the Emirs, after careful deliberation with the council of elders in their domains.
More so, whenever there is a serious issue in the community, the Emirs will always assemble his elders to seek council on matters of community important.
8. Advises Local Government Council Boss On Community Development
Emirs, being the traditional fathers in the northern Nigeria are men vested with sound wisdom, who by the virtue of their reservoirs of knowledge and experiences can advise the, say local government chairmen in their domains, regarding community development.
The reason however, is obvious. These traditional fathers are elderly men who have traversed the world with a view to gather knowledge.
Quite a number of these royal fathers are retired university professors. Some too are experts in their individual profession.
So these Emirs are in the position to advising the political elected local government chairmen on some topical issues that could engender development in the individual community.
Read Also: How to Become a Human Resource Specialist
Conclusion
The functions of the Emirs in the northern Nigeria are numerous nevertheless, they must maintain the society norms of their people.
🤑 Start making money from home today!
👉 Get correct FREE TIPS and Guides on how to make money from home today. Click here to start
.
👍Showcase your business here!
With over 1M unique users per month across all channels, we have a large audience for you to showcase your products and services. Simply get in touch via 👉 marketing@Infoguidenigeria.com.
🤑 Make Money now!
👉 Make money writing for us. Apply for Freelance writing jobs in Nigeria.
👉 Make Money as InfoGuideNigeria Advertising Agents, read more here
.
This post can be helpful to somebody else, please share it on Facebook, Whatsapp, Telegram and Twitter. There are buttons below for this (easy to use too)!
Copyright Warning!
Contents on this website may not be republished, reproduced, redistributed either in whole or in part without due permission or acknowledgment.
.
Proper acknowledgment includes, but not limited to (a) LINK BACK TO THE ARTICLE in the case of re-publication on online media, (b) Proper referencing in the case of usage in research, magazine, brochure, or academic purposes,.
.
All contents are protected by the Digital Millennium Copyright Act 1996 (DMCA).
.
We publish all contents with good intentions. If you own this content & believe your copyright was violated or infringed, please contact us at [infoguidenigeria@gmail.com] to file a complaint and we will take necessary actions immediately.