Since the economic crisis began in Nigeria, people have began paying more attention to agriculture. This is a way of maintaining food stability and independence by planting and harvesting your own crops and food.
However, people have begun commercializing agriculture, and are even making a substantial income out of it. Maize is a common crop in the world because of its nature.
It can be processed into various foods and products. This article will clearly explain how to start a maize business in Nigeria.
Overview of Maize Business
 Maize farming is the commercial growing of maize for human consumption or, animal consumption. Maize or popularly known as Corn, is a cereal plant with plenty uses in Nigeria.
In fact, maize is one of the most sort for products in Nigeria. Because of its dynamic nature, it can be boiled, roasted, pounded and a lot more.
In many countries all over the world, maize is used mainly for animal feed. In Nigeria and Africa however, maize is used for a variety of other things. Examples of maize uses in Nigeria include;
Read Also: Problems And Prospects Of Onion Farming In Nigeria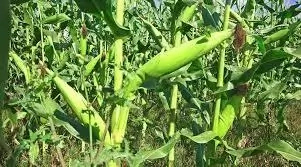 Pap Dokunu
These are foods that are common amongst different tribes in Nigeria.
In 2010, Africa accounted for 6.7% of the world's maize production, far behind United states who produced 42% and china that followed close behind.
This means there is room for improvement in the maize market, as supply is not meeting demand. Starting a maize business will not only be profitable to you, but also boost our dear nations economy.
 Profitability of the Business
To be frank with you, agriculture in general is a gold mine in Nigeria, if you know what you are doing. Maize has a variety of uses, this makes it easier to sell your goods in different kinds of market just with a little processing.
A bag of maize in Asaba went for 14,500 as of early this year, this is a contrast to the former price of 10,000. Scarcity caused the price of this cereal crop to sorer by almost 30% in less than 3 months, and its not coming down soon because demand always seems to outgrow supply.
Out of a yearly harvest, you can harvest 30 bags worth of healthy maize (This depends on how large your farm is, some big companies harvest 200 bags to 500). Now doing the calculation, you can make more than half a million naira in 1 planting season, and this is for starters.
Read Also: Problems And Prospect Of Commercial Orange Farming In Nigeria
Notable Key Players in the Market
Just like any other business, there are some notable key players in the maize market. It is good to know them and do your research to find out how they process and harvest their crop.
There is an association that maize farmers join for collective distribution and assistance, this  association is called MAAN (Maize Association Of Nigeria).
Target Market
The thing with maize is that, it is a multi purpose crop and can be used for a variety of things. some companies like
Semolina Companies
Wheat Companies
Biscuit making Companies
With the right pitch, you can sell your bags of maize at a good price to this type of companies. Or you can grow maize for Animal feed, this is common outside Africa but in Nigeria, Corn is mostly for human consumption.
Steps to Start a Maize Farm Business
 Now it's time to find out steps to start a maize farm in Nigeria.
1. Acquire Capital
You will need a substantial amount of capital to start a maize farm. The CBN recently approved over 70 billion naira worth of loan to be given to farmers. You can get an Agric loan with the right approach and pitch. If you have personal savings, you can also add it up to raise enough money to start your dream business.
Relatives, investors or friends could be another medium to raise required amount for capital. This amount can vary greatly, depending on how big you want the farm to be.
Read Also: 7 Steps To Start Plantain Farming Business In Nigeria
2. Aquire Spacious Land Space
This is very obvious, you will need land to plant any crop. For starters, you can manage one plot or two, to begin planting.
 Maize is a sub-tropical plant, and the way and land on which it is planted is critical to its ability to mature.  Go for lands facing the south that are not too exposed.
Maize needs a dry soil in the raining season, but not to dry so that the young plants don't die during the end of raining seasons.
You can get a land by negotiating with the land owner, sometimes you can come to an agreement of a rent or a split of the season's harvest.
You must figure which one works for you, financial wise and location wise. Choose a farm that is at least close to the market for easy transportation of crops.
3. Buy Maize Seed (Choose variety)
Now that you must have gotten a spacious land, its time to choose your maize seed. The yellow millet corn is very common in the Nigerian Market, so i will advice you go for that one.
However, its good that you study your market to know which hybrid sells.  Look out for this things when choosing a maize seed; How fast they grow, resistance to pest and disease, How long they take to mature.
Late season seeds:These are best for areas where the rainy seasons are long. They can also mature between 110 to 120 days.
Early season seeds:They can be planted after the late season seeds and can mature between 90 to 100 days.
Extra-early season seeds:These are suitable for areas with a short-term rainfall. They can mature between 80 to 90 days.
N.B when planting, make sure you space your crops properly to avoid the plants fighting for nutrients and dying in the process.
Read Also: Steps To Start Garden Egg Farming Business In Nigeria And Tips To Succeed
4. Prepare Your Land For Fertilizer
The fertility of the soil will greatly determine the health, size and nature of your harvest. Apply fertilizers on your land. Some lands are naturally fertile, but it's always a bonus to apply fertilizer on your land, as it will increase the seasons yield effectively.
5. Plant Early and at the Right Time
The early bird eats the fattest bone. Get your farm ready 2 weeks before the planting season and prepare your seeds. Planting at the right time will increase the volume of your harvest substantially. Some maize crops need a lot of water at their early stages, they can even consume 500 to 600 mm of water.
6. Pest and Weed Control
 It is always good farming habit to mitigate against pests and weeds. Take your time to uproot any weed in your farm, they are notorious for choking crops and rendering them useless especially at its early stages. The major animal pests of Maize are Rodents, Monkey. Insect pests include;
Borer
Stem Borers
Stem Fly
Corn Worms
Plant Lice e.t.c
7. Harvest
 Your volume of harvest is determined by your level of hard work and commitment. There has been records of farmers harvesting a gulf car load of corn. So be positive about your business and look forward to harvest day.
Read Also: How To Start Beans Farming In Nigeria
8. Make Your Business Known
Now that you have successfully harvested your crops and it is in storage, it is time to let people know about your product. you can do this through social media or cold pitching.
Cold pitching means going directly to the market and telling sellers that you have maize, and you are willing to sell it whatever price you decide.
Cold pitching always works since the demand for maize is quite high. There are other means of selling your agric products, you can put for sale on a website such as; Jiji, OLX, KONGA, Agrotradeafrica e.t.c.
Conclusion
Like every other agric business, starting up a maize farm that will yield profit requires hard work. However, this hard work will pay off in huge amounts with the right scale of commitment.
It is always a good idea to join an association, as members will have other members supply to their customers when they are out of stock.
Information is Power!
Don't miss any valuable information or opportunity that can change your life, business, and family positively and permanently.
👇👇👇👇👇
For Latest updates on News, Jobs & Business Ideas, and Opportunities.
Copyright Warning!
Contents on this website may not be republished, reproduced, or redistributed either in whole or in part without due permission or acknowledgment.
.
Proper acknowledgment includes, but not limited to (a) LINK BACK TO THE ARTICLE in the case of re-publication on online media, (b) Proper referencing in the case of usage in research, magazine, brochure, or academic purposes,.
.
All contents are protected by the Digital Millennium Copyright Act 1996 (DMCA).
.
The images, except where otherwise indicated, are taken directly from the web, if some images were inserted by mistake violating the copyright, please contact the administrator for immediate removal.
.
We publish all content with good intentions. If you own this content & believe your copyright was violated or infringed, please contact us at [infoguidenigeria@gmail.com] for immediate removal.
🤑 Start Making Money from home today!
👉 Get the correct
FREE FOOTBALL PREDICTION
TIPS
and
Guides
today.
Click here
.
👍Advertise your business here!
With over 1M unique users per month across all channels, we have a large audience for you to showcase your products and services. Simply get in touch via 👉 marketing@Infoguidenigeria.com.
🤑 Make Money now!
👉 Make money writing for us. Apply for Freelance writing jobs in Nigeria.
👉 Make Money as InfoGuideNigeria Advertising Agents, read more here
.