Agriculture
How To Start Animal Feed Business In Nigeria
The Business Overview
The animal feed industry in Nigeria is big and wide. Animal feed business is all about the production and supply of animal feed to farm animals There are many aspects of animal feed.
You can either be a producer of animal feed or a seller or supplier of animal feed byproducts. This all fall under the production aspect of animal feed.
👉 Relocate to Canada Today!
Live, Study and Work in Canada.
No Payment is Required! Hurry Now click here to Apply >>
Immigrate to Canada
Alternatively, you can go into sales of processed animal feed either as a wholesaler or a retailer. Whichever angle you decide to come into this business, you are still going to make profits.
Read Also: How To Start An Agricultural Training Workshop In Nigeria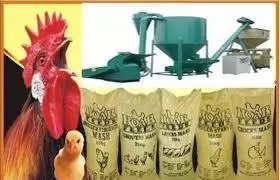 In this guide, I will be focusing on the production aspect of animal feed. As a farmer with years' experience in the farm animal feed production business, I think I am the best person to give you a standard blueprint for how the business goes.
To produce animal feed or go into the production aspect of animal feed business, you need to have a mill. That is where the bulk of your feed production will be done.
Business Profitability
Starting an animal feed business is a very good idea. In the process of meeting farmers and farm animals' feed needs, you earn money from feed production and supplies. It's a two-way thing – you animals feed and you earn. Also, you become an employer of labour and contribute significantly to the growth and development of the Nigerian economy. Animals cannot do without feed.
The following guides will show how you can begin and run this business successfully.
Your Target Market
Animal feed is needed majorly by farmers but they are not the only users of animal feed. Feed distributors also form a part of your target market or audience.
Companies manufacturing animal feeds and anyone up/down that chain is also your target market. So, you have to channel your advertorial efforts towards this direction.
👉 Relocate to Canada Today!
Live, Study and Work in Canada.
No Payment is Required! Hurry Now click here to Apply >>
Immigrate to Canada
Read Also: How To Package Agricultural Produce In Nigeria
Getting The Basic Education and Training
You need to be educated to run a viable feed business in Nigeria. This included training in feed production and marketing. In fact, you need to know all about animal husbandry and general farming principles.
There are many ways to get this education and training. They include agricultural colleges in Nigeria, Nigerian Universities offering Agriculture, Agricultural Engineering, Animal Extension, Animal Husbandry etc.
You can also advance your education online via YouTube, take online courses, read blog posts and documentaries, listen to podcasts etc. also, listen to Agro programmes on radio and watch episodes on TV. Get information from newspapers, magazines, newsletters etc.
There is no doubt about this. You will be better than someone who does not do any or a combination of these.
Business Registration and Licensing
The importance of business registration cannot be overemphasized. Do you want to be recognized as a legal entity? You must be registered by the Corporate Affairs Commission of Nigeria (CAC).
This will give you the license to start this business legally. Additionally, you will have your business name registered too.
It is important that you find out other bodies in charge of animal feed business in your town/city. To do this, get to the Ministry of Agriculture in your town/city and make findings on procedures and licensing.
Read Also: How To Start Poultry Farming In Nigeria
Conducting Your Feasibility Study Or Research
This is the first thing to do after receiving the required quality and practical training in feed business operations. Focus your Feasibility Study for this business within and around your proposed business premises.
Your business research and feasibility study will give you a clue as to whether to continue with your proposed business site or not. It will also expose to you the likelihood of profits or losses after a given timeframe.
Additionally, you will abstract vital information concerning costs and supplies. Furthermore, you will discover your market acceptability and availability, competitors and level or competition.
Drafting Your Feasibility Report & Business Plan
You need a functional feed business as a feasible marketing strategy for success.
When you fail to plan, you plan to fail. An unplanned business is at the mercy of failing anytime soon. As such, develop a decent business plan which will give you a blueprint on how to run the business successfully.
It will help you to concretize the efforts you made during your feasibility studies and research.
Choosing A Business Location
Animal feed business needs a decent and serene location. Your sources of raw materials and market should be as close as possible.
You need government approval on the appropriate site for your business. So, go back to the Ministry of Agriculture in your town/city and make findings to this effect. You will be advised accordingly.
However, take note that your building should be large enough to house your raw materials, machines and equipment, as well as processed animal feeds.
Needed Equipment, Machines & Production Procedures
a. Feed Hammer Mill: This is where whole grains are ground with other feed ingredients.
b. Batching Machine/Hopper Scale: For scaling and weighing various feed ingredients according to the feed formulation.
c. Control Panels
d. Feed Mixing Machine: For uniform mixing of each batch of feed ingredients
e. Feed Pellet Machine: here, the mixed feed ingredients are transferred into the pellet mill feeder controls the delivery rate of the ingredients to the feed pelleting equipment.
They are then dried and blended together to produce a wet mash in the conditioner. these are subsequently transferred to the pelleting chamber using a forced feeder system where the hot moist mash are compressed via the pellet mill die and made into pellet size
Read Also: How Profitable Is Fish Farming Business?
f. Pellet Cooling Machine
g. Packaging And Sealing Machine
h. Trucks: To deliver raw materials
i. Bags: For packaging the finished products
Feed Mill Equipment Maintenance
To improve your feed quality and plan operational efficiency, you must follow the proper feed mill equipment maintenance procedures. This will help to reduce or prevent chances of feed contamination
You can maintain your feed mill equipment in 4 different ways:
1. Routine maintenance,
2. Emergency maintenance,
3. Call-in maintenance, and
4. Preventive maintenance.
Routine maintenance is maintenance done on a scheduled basis. It consists of processes such as
a. Lubrication of bearings,
b. Replacement of wearing or worn-out spare parts of feed mill equipment. For example, you can consider changing the hammer mill screens when worn-out or risk the pellet mill dying out.
c. Checking oil levels in gearboxes.
1. Emergency maintenance is an almost immediate response to an emergency breakdown of machines and equipment. It is a form of unscheduled maintenance measure.
2. Call-in maintenance is done where your personnel is not around to handle maintenance work. Hence, you simply call-in third parties to help you out with the maintenance work during an emergency situation
3.  Preventive maintenance involves scheduled inspections, adjustments, replacement, and repairs worn parts or a machine or equipment to avoid impending failure.
This is done based on the observed conditions of the machines or their known useful life spans. It is to ensure that they maintain a proper working condition.
Read Also: 8 Ways to Improve Livestock Farming in Nigeria
Branding
Your brand is a vital selling point. This should be seen in your packaging or packing bags, receipts, and invoice, logo etc.
It will give you an edge in the marketplace. That is why Vital Feed for example still stays afloat despite the availability of other feed brands in Nigeria. Pay good attention to your branding and marketing.
For more brand visibility, ensure you have a large volume of your products in the market. The more it is in customers eyes, the more it is likely to be patronized.
Marketing & Sales
To market and promote your business, try to develop a unique selling point. Keep your price moderate and leverage on social media and mass media advertisement channels and strategies.
Caution!! Avoiding The Problem Of Wrong Feed Formulation & Mixing
Before you start an animal feed business, carefully consider the business's carrying capacity and the potential market.
This includes but not limited to your knowledge of the appropriate feed supplements and mixture for different farm animals.
Remember, wrong feed mixture or composition has negative multiplier effects on the farm animals and farmers. This will bounce back into your business negatively.
For example, it could lead to severe sickness and malnutrition. It could also result in stunted growth and development of farm animals and a drastic drop in egg production. In very severe cases, it could result in the death of farm animals.
No farmer will be happy about this. You could be sued and prosecuted. The negative aftermath of your business may not be bearable thereafter.
That is why I advise investors interested in the animal feed business to properly study, prepare and, also, get quality training in animal feed production and management.
You can do this in a formal school setting or undergo apprenticeship for at least one year under a seasoned animal feed firm or farmer.
Additionally, try and find out the general farm animal feed business workflow and operations to ascertain the carrying capacity of your business. this will greatly help you to achieve success in this business.
Read Also: Problems and Prospects of Agriculture in Nigeria
Summary, Profitability and Sustainability Tips
For you to succeed in this business, I recommend that you site your feed mill close to sources of raw materials and farms. This will help to cut your logistics and transportation costs. Additionally, it aids rapid sales of your products.
Do all that is good and necessary to make the business work. Invest quality time and study into it. Animal feed business has an almost zero diminishing demand, but rather, has multiple diminishing returns on investment.
Get more agro-business guides here
📢

We are hiring writers!
Article Writing Jobs
- We are hiring good freelance writers -
Click here to apply
👇👇👇👇👇
Immigrate to Canada Via Job Offer!
Get latest Jobs in Canada for foreigners with visa sponsorship 2023 and how to apply. Don't miss this opportunity that can help you relocate to Canada with your family.
👇👇👇👇👇