Economy
How to Become a Stockbroker in Nigeria
In this post, we will explain the steps required to be a stockbroker in Nigeria. The following parts will be explained to make understand how to become a stockbroker in Nigeria.
Meaning of stock market.
How the stock market works.
Meaning of a stockbroker.
Different types of stockbroker.
Functions of a stockbroker
How to become a stockbroker in Nigeria.
Qualities of a stockbroker.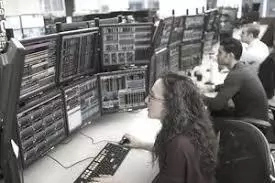 Read Also: 7 Steps To Buy Stocks In the Nigeria Stock Market
Meaning of Stock Market
A stock market is a market where activities connected with the buying and selling of stocks, shares and other securities in companies take place.
Simply, it is an organized and regulated financial  market where  bonds stocks, shares  are bought and sold by the forces of demand and supply. A stock market is also called an equity market. Stocks, bonds, shares are also called securities or equities.
A stock market comprises of buyers, sellers and stockbrokers. Buyers buy securities from sellers while sellers sell their securities to buyers in the stock market. Stockbrokers act as intermediaries for buyers and sellers in the stock market.
A stockbroker  could be hired individually by a company to be their representative in the stock market, or could work in a stockbroking firm as a full-time stockbroker.
How the Stock Market Works
The stock  market has two main sections namely the primary market and the secondary market. The two will be explained below.
1.The Primary Market
In the primary market, New issues are sold through initial public offerings known as IPOs. Investment banks issue shares, stocks , equities and these are purchased by institutional investors.
2.The Secondary Market
This is where subsequent trading continues. Institutional investors and individual investors trade in the secondary market.
Read Also: 8 Steps to Invest in the Nigerian Stock Market and Enjoy dividends
Meaning of a Stockbroker
A stockbroker is a professional whose job is to buy and sell stocks, shares and other securities in companies for people. A stockbroker is a regulated professional who buys hares, stocks and other securities in the stock exchange market for people, companies and organizations.
In most cases, a stockbroker is an investment advisor who advises buyers and sellers on how to invest profitably in the stock exchange market.
A stockbroker is also a financial/investment expert that is knowledgeable, experienced and informed about the complexities of  the financial stock market.
A stockbroker is knowledgeable in the fields of banking and finance, accounting, economics, insurance. Apart from buying and selling of stocks, shares on behalf of individuals and corporate organizations, a broker also  acts as a security dealer.
Different Types of Stockbroker
There are three types of stockbroker. They are full- time stockbroker, hired stockbroker and bank stockbroker.
1. Full-time Stockbroker
As the name implies, a full-time  stockbroker  works in a stock broking firm as a full-time time staff in a stock broking company and is paid salary at the end of the month. A full-time time stockbroker also receives commissions and percentages based  on the number of successful sales made in a month.
2. Hired Stockbroker
As the name implies, a hired stockbroker is an individual stockbroker hired by individuals organisations and firms based on his/her excellent reputation in the stock market and having the  professional expertise to manage investments and trade in equities on behalf of them.
He/She acts as an intermediary on behalf of their clients when the opportunity for trading  arises. A hired stockbroker earns commissions from the sale of equities.
3. Bank Stockbroker
A bank stockbroker trades in equities on behalf of banks.
Read Also: 10 Problem of the Nigerian Capital Market and Possible Solutions
Functions of a Stockbroker
1. Buying Stocks and Other Securities on Behalf of the Client(s)
A stockbroker buys stocks an other securities on behalf of the clients. He/She buys stocks in an office or electronically. A stockbroker buys shares and other securities by:
Buying them in a discretionary account.
Buying them in an advisory account.
Buying them in an execution account.
2. Selling of Stocks and Other Securities  on Behalf of the Client(s)
Like in buying, a stockbroker also sell stocks and other securities on behalf of the Client to make profit in three ways:
Selling them in a discretionary account.
Selling them in an advisory account.
Selling them in an execution account.
3. Research
Stockbrokers are competent researchers. They research on the profitable investments based on accounting, economic and technical analyses of the stock exchange and financial markets.
By researching, they gain valuable insights into the stocks and securities would be profitable for their clients to trade in. This enables them to give reasonable feedback to their clients and advise them accordingly on whether to buy stocks or not, retain stock or trade them.
4.Marketing
A stockbroker is also a marketer. He/She scouts for prospective clients and keeps a list of his/ her customers. A stockbroker can also have new clients through referrals from other organisations and people.
5.Managing the Clients' Investments
A stockbroker manages the clients' investments. This means that the stockbroker takes care of all stock exchange transactions and auditing of clients' portfolios.
Read Also: 14 Factors Affecting Entrepreneurship in Nigeria
How to Become a Stockbroker in Nigeria
The following steps explain how to become a stockbroker in Nigeria:
1.Educational Qualification
A stockbroker must have a minimum qualification of first degree (B.Sc.) , HND or  equivalent qualification from a reputable university or polytechnic in Nigeria. The degree or diploma must be in banking and finance, economics, accounting, business administration and insurance.
2.Registration on the CIS Website
The applicant must register as student by completing an online student registration form. After complete registration, the applicant will pay the required membership fee of #10,000 only.
3.Registration for Professional Programmes
After paying the student membership fees, the applicant can apply to register for the professional examinations which take place in March and September of every year.
4.Registration for Professional Diploma Programme
This is the basic foundation for any applicant aspiring to be a professional and certified stockbroker in Nigeria. To register for the professional diploma programme, the applicant must have five O'level credit passes in English Language, Mathematics and three other relevant subjects.
5.Uploading Relevant Credentials and Other Important Documents
The applicant must upload scanned copies of the credentials and documents on the CIS Website.
6.Registration for the CIIA Programme
CIIA stands for Certified International Investment Analyst. Applicants will pay an application fee of #75,000 to register.
Qualities of a Stockbroker
A stockbroker should possess these excellent qualities: trust, ability to work hard and ability to read financial reports.
1. Trust
Trust is an important quality for any business to succeed or a by professional to excel. It is the foundation of any profession and business.
A stockbroker must not cheat and deceive clients. A stockbroker must be trustworthy. A stockbroker must have high degree of trust before he/she can be entrusted with the clients' investments and funds.
2. Ability to Work Hard
Stock-broking is a profession that requires Handwork, patience and dedication. Handwork allows a stockbroker to get high paying deals and find credible investors.
A hardworking stockbroker gets excellent recommendations from individuals, organizations and clients. Hard presents limitless earning and business opportunities for a hard-working stockbroker.
3. Ability to Read Financial Reports
Frequent reading makes a stockbroker knowledgeable and informed about the latest trends in the financial market, national economy, profitable deals, and fluctuations in foreign exchange, unprofitable deals and fluctuations in the GDP.
Reading frequently enables a stockbroker to make excellent decisions on trading and finances. This will enable him/her to give excellent financial advice to the clients.
🤑 Start making money from home today!
👉 Get correct FREE TIPS and Guides on how to make money from home today. Click here to start
.
👍Showcase your business here!
With over 1M unique users per month across all channels, we have a large audience for you to showcase your products and services. Simply get in touch via 👉 marketing@Infoguidenigeria.com.
🤑 Make Money now!
👉 Make money writing for us. Apply for Freelance writing jobs in Nigeria.
👉 Make Money as InfoGuideNigeria Advertising Agents, read more here
.
This post can be helpful to somebody else, please share it on Facebook, Whatsapp, Telegram and Twitter. There are buttons below for this (easy to use too)!
Copyright Warning!
Contents on this website may not be republished, reproduced, redistributed either in whole or in part without due permission or acknowledgment.
.
Proper acknowledgment includes, but not limited to (a) LINK BACK TO THE ARTICLE in the case of re-publication on online media, (b) Proper referencing in the case of usage in research, magazine, brochure, or academic purposes,.
.
All contents are protected by the Digital Millennium Copyright Act 1996 (DMCA).
.
We publish all contents with good intentions. If you own this content & believe your copyright was violated or infringed, please contact us at [infoguidenigeria@gmail.com] to file a complaint and we will take necessary actions immediately.