The palazzo pants trend is not letting up. These wide-legged pants are fashionable and comfortable however they can be hard to style. Wearing the right top with your palazzo pants can make or break your full outfit.
A blouse can make the difference between casual and formal wear. For these reasons, it is essential that your top not only compliments your pants but flatters your figure and suits the occasion.
👉 Relocate to Canada Today!
Live, Study and Work in Canada.
No Payment is Required! Hurry Now click here to Apply >>
Immigrate to Canada
Choosing the right top can seem problematic but this is not the case. To help you understand how to wear wide legged pants, we have a list of our 10 best tops to wear with palazzo pants.
Read Also: Top 15 Fashion Designers In Nigeria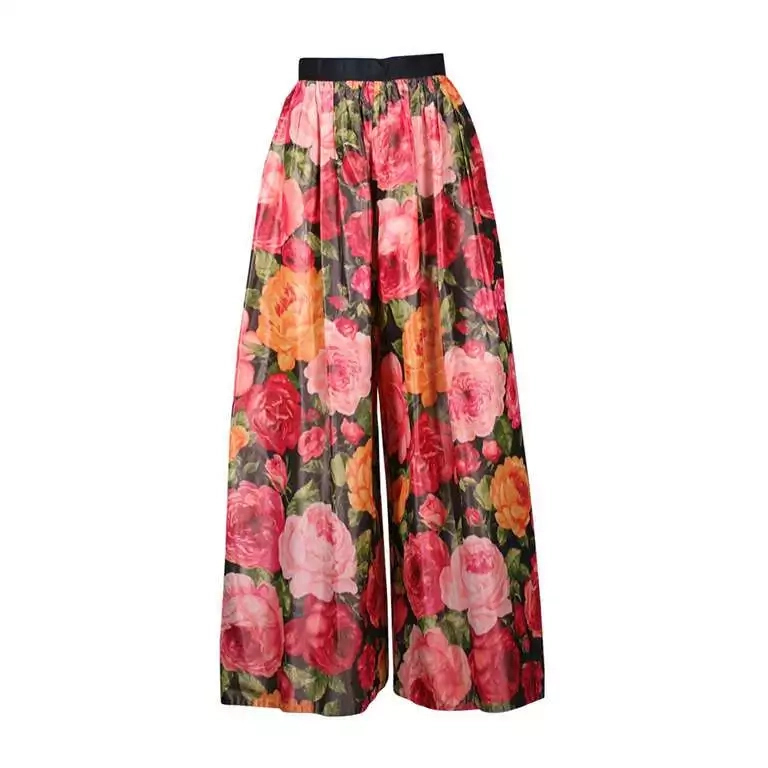 Tank tops
Leading the list is tank tops. These wardrobe basics look nice when worn with palazzo pants. Due to their lack of coverage, you can layer a kimono, small sweater or a blazer on the tank top.
Worn alone, a tank top and palazzo trouser can be paired with slippers or sandals for an effortless look. Tucking the bottom of this top into your pants shows off the cinched waist of your pants as well. Add a leather belt to accessorize this outfit. Get this here.
Bodysuit
Bodysuits are one piece wears that usually have a clip in between the legs. This top which comes in many colors, fabrics and designs pair beautifully with palazzo pants. Lace and strappy bodysuits provide an exotic aesthetic when worn with these palazzo pants.
If you have a lean upper body, wearing even a cotton or full coverage bodysuit with your palazzo pants will emphasize your physic. Lingerie is the new outwear so go to town with this stylish pairing. Wear this with stilettos for the deluxe effect.
👉 Relocate to Canada Today!
Live, Study and Work in Canada.
No Payment is Required! Hurry Now click here to Apply >>
Immigrate to Canada
Read Also: Super Eagles win "best fashion team" Award in Russia (Photos)
Crop tops
Palazzo pants are not always flattering. These pants can sometimes eliminate the presence of any curves in your lower body. This can create a wider look on some women.
To showcase a slimmer figure, a crop top is one of the best tops to wear with palazzo pants. A crop top can show off a sliver to a large amount of skin on your midriff area.
This showcases a slim waist or shapely bust region. Importantly, if you are short or have a short torso, this may be harder to pull off. A crop top could draw attention to a short torso, large stomach or thicker waist. Get this item here.
Button-up shirt
If you want to rock wide-legged pants to work, this is the top to wear with your palazzo pants. Wear well-tailored palazzo pants with a corporate shirt to create a dashing workwear outfit.
Choose an ankle grazer palazzo in a thicker fabric like linen or cotton. Wear an ankle grazer pants that is cinched at the waist but spreads out in a subtle fashion.
This will flatter almost any body shape. A pair of pumps will elongate your legs and adds effortless elegance to the look.
A Blazer
Blazers are one item that can add class to almost any outfit. A well-fitting blazer can make palazzo pants work appropriate.
You can wear these onto sleeveless or short-sleeved tops. A solid colored blazer can make a bright printed palazzo trouser good as work wear.
It is important though that if you want to pair these pants with blazers, get a form-fitting blazer. Well tailored blazers will create a flattering silhouette on any body type. Wear a blazer, top and palazzo pants with peep-toe pumps for a sexy yet professional outfit.
Read Also: Top 15 Fashion Blogs in Nigeria
Off-shoulder top
Shoulder is the new cleavage. With the coverage palazzo pants provide, an off-shoulder top shows just enough skin. Off-shoulder tops fitting or loose, compliment every woman.
When you wear these shoulder-baring tops with palazzo pants, you get a sexy yet covered outfit that is still comfortable. This outfit is suitable for dinner dates, night out with the friends and going out. High heeled sandals will give a subtle sultriness to this outfit. Get this here.
Loose T-shirt
A t-shirt is a staple in any woman's closet. T-shirts in solid colors are great when paired with numerous bottoms and palazzo pants are not different.
Palazzo pants have a bohemian vibe to them especially when they are made of light fabrics. A t-shirt, palazzo trousers, light accessories and sandals create a bohemian-chic outfit.
Wearing a fitted t-shirt tucked in wide-legged pants with pumps can make a work appropriate outfit as well. The versatility of t-shirts makes this one of the easiest tops to wear with palazzo pants. Get this here.
Lace blouse
For a light, feminine and easy look, wear a lace top with your palazzo pants. Lace blouses come in many designs and the style you choose can decide how you wear palazzo pants.
A sleeveless lace blouse with silk palazzo pants creates a beach outfit, especially when worn with slippers or sandals. Lace can also create a barely-there look which adds sexiness to loose- fitting pants. Get this item here.
Tunic
This is one type of top ladies avoid wearing with palazzo pants. Fitted tunics and palazzo pants look good together. This combination works well together, especially in lighter, breezy fabrics.
Pairing a tunic and palazzo pants particularly look good on tall, lean women. This outfit could swamp short or plus size women and make them seem stumpy.
Read Also: 7 Tips to Become a Pro Fashion Designer and Stay on Top of your profession
Bikini top
For a trip to the beach, throw on chiffon or silk palazzo pants as a cover-up. These wide legged trousers are suitable for hot beach outings because of the leisurely look they have.
For a full outfit, pair a stylish bikini top or one-piece swimsuit with delicate palazzo pants and a strappy sandal. This outfit will compliment any figure and you can wear a bikini top that compliments upper your body brilliantly. Overall, this will give you a light, summery look.
These are our picks on what tops to wear with palazzo pants. A simple guide is that you do not combine too many patterned or loud fabrics.
Choose what you feel comfortable wearing and style it to fit your body and your taste. Do you have any suggestions on what tops to wear with these pants? If you do, leave them in the comment section.
👇👇👇👇👇
Immigrate to Canada Via Job Offer!
Get latest Jobs in Canada for foreigners with visa sponsorship 2023 and how to apply. Don't miss this opportunity that can help you relocate to Canada with your family.
👇👇👇👇👇