Conflict can be defined as a serious disagreement, an arm struggle and incompatibility is an issue that is very peculiar to Nigeria as a country.
Causes of Conflicts in Nigeria:
1. Hate Speech
This is usually caused by people of high influence and follower-ship, who use the opportunity they have as a result of their influence to incite violence, causing conflict in the society. For example, the call for all the Igbos' in the North to vacate the land and go back to their land can cause a major bloody conflict in the country.
Read Also: 13 Causes of Ethnic Conflict in Nigeria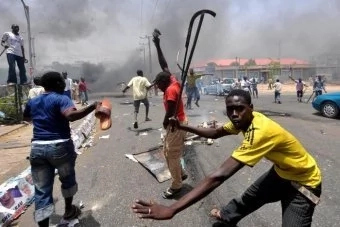 2. Dual-Ideology of the Constitution
Dual-ideology of the military drafted constitution of the Federal Republic of Nigeria is a major issue we have been facing. Nigeria as a country is said to be a circular nation, when you have Sharia boldly written in a country's constitution that is said to be a circular country, there is bound to be a problem.
This dual ideology have given people from the other part of the country a leeway to vigorously channel the course for the archaic Sharia law because it is boldly written in the constitution and there is nothing anybody can do.
3. University and Polytechnic Dichotomy

This is mostly experienced in the job market world. No matter the level of your intelligence, once you graduate from a polytechnic it becomes very difficult to compete for a better job with a university graduate.
This has made students to be trooping into the university hence killing the Polytechnic and making them insignificant.
The Polytechnic has sort of become a dumping ground for students who failed to get admission in the university, but after two years in the Polytechnic, they still run back to the university.
Read Also: Problems and Prospects of Community Development In Nigeria
4. Marginalization
There is this popular cliché that every citizen and region of a country is entitled to the wealth of country. Hence when the wealth and resources of a country is not going round or has not be felt and received by a particular region or state as in the case of Nigeria, they start crying about marginalization, this causes a big conflict in the land.
5. Resource Control
There is this generally accepted perception that the states and regions should be allowed to control their resources so as to bring fast growth and development as practiced in the Federal system of government, where power is shared between the Federal government and its component states.
But in the Nigeria the reverse is the case, the states have become slaves to the federal government, running to them for money to do almost everything.
Hence the struggle and clamour for resource control, i.e. the states using what they have to develop themselves, but the federal government realizing that it will lose its power if it happens have refused to give in, this disagreement has caused a lot of conflicts in the land.
Read Also: War against Corruption in Nigeria – Success so far, Challenges and Prospects
6. Farmers and Herdsmen Clashes
This is one of the major bloody conflicts currently in the country. The disagreement between the farmers, struggling to make ends meet through farming, and the Fulani herdsmen whose cows constantly destroy people's crops while moving from one place to another, has caused a major bloody conflict in the country.
7. Amalgamation
This is a historical conflict in the country, and one of the major strong points for those agitating for the resolution of Nigeria, claiming that the deal that brought about the amalgamation of the Southern and Northern Protectorate later Nigeria has expired, because the life span was 1914-2014. They claim that the country is living on borrowed time and has to be destroyed.
8. Favouritism and Nepotism
This is one of the major causes of conflicts in the country that has eaten deep into the spheres of the country. There is no major sector in the country where nepotism is not found. Even the president of Nigeria, Buhari is also said to have appointed his kinsmen into key government positions.
His nephew Abba Kyari is the current Chief of Staff to his government. This causes a lot of conflicts in the country, especially among outsiders who feel that that they also deserve to be looked into.
Read Also: The Nexus between Climate Change and Herdsmen Crisis in Nigeria
9. Propaganda
This is mostly used by politicians and other fields related to politics to demean someone that is contesting for political positions. This causes conflicts amongst the various candidates of the political parties as well as the parties themselves.
10. Tribalism
This is another major cause of conflicts in the country. Where you are not employed unless you're from the person's tribe, you are not allowed to marry the girl of your heart because you are not from her tribe. On one hand you can only be admitted into the university if you score from 180 upwards, but on the other hand-side, once you score 50, just 50 you are free to go.
11. Pipeline Vandalization and Bunkerng
This conflict arises as a result of the so called constant neglect of the youths of the oil producing states. As a result of this neglect they result to vandalizing oil pipeline, stealing crude oil and engaging in illegal refining, which is called oil bunkering. The consequence of this is that the country looses millions of dollars daily from their activities.
12. Religious Intolerance
Religion is another major cause of Nigerian conflicts in Nigeria. When a man who doesn't believe in another man's religion is said to be an infidel, there is bound to be conflict in the country. Eighty-Five percent of the conflicts in this country are related to religion.
13. Disobedience to the Rule of Law

This conflict is usually perpetuated by the men of influence, who use their power and influence to evade the laws of the land. They have this immunity mindset, thinking that they cannot be arrested or questioned by the law that they are above the laws of the land.
14. Corruption and Inept Leadership
With the country's unsuccessful attempt to do away with corrupt and inept leadership, the country has always been experiencing conflicts and more conflicts in the land.
Be it from the unfavourable decisions they make, their constant medical trips abroad that divides opinions, their inability to unite the country etc. there is bound to be a major conflict in the land from every reckless decisions they make.
Read Also: 10 Problems of Insecurity in Nigeria and Possible Solutions
15. Fuel Scarcity
This is another major cause of conflict in the country. Since almost everything in this country is run with fuel, anytime there is a slight scarcity of fuel in the country the country and its economic activities goes down instantly. The price of goods and services increases astronomically and transport fare goes up beyond imagination.
Solutions to the inter ethnic crises in Nigeria
You might want to ask, when will this stop or how can we stop these menace? What are the real solutions to the inter ethnic crises and violence in Nigeria? The answer is not far fetched. Click here to see the article on 10 solutions to the inter ethnic crises and violence in Nigeria.
.
👍Showcase your business here!
With over 1M unique users per month across all channels, we have a large audience for you to showcase your products and services. Simply get in touch via 👉 marketing@Infoguidenigeria.com.
🤑 Make Money now!
👉 Make money writing for us. Apply for Freelance writing jobs in Nigeria.
👉 Make Money as InfoGuideNigeria Advertising Agents, read more here
✍️ Be Our Guest Publisher!
Do you have a press release, breaking news,  or any other helpful information to share with our growing readers? If yes, send your article to 👉 infoguidepr@gmail.com.
We will be glad to publish it if the information is useful to our audience.
.
This post can be helpful to somebody else, please share it on Facebook, Whatsapp, Telegram and Twitter. There are buttons below for this (easy to use too)!
Copyright Warning!
Contents on this website may not be republished, reproduced, redistributed either in whole or in part without due permission or acknowledgment.
.
Proper acknowledgment includes, but not limited to (a) LINK BACK TO THE ARTICLE in the case of re-publication on online media, (b) Proper referencing in the case of usage in research, magazine, brochure, or academic purposes,.
.
All contents are protected by the Digital Millennium Copyright Act 1996 (DMCA).
.
We publish all contents with good intentions. If you own this content & believe your copyright was violated or infringed, please contact us at [infoguidenigeria@gmail.com] to file a complaint and we will take necessary actions immediately.