Security
10 Causes of Insecurity in Nigeria
Insecurity has been a problem in Nigeria for almost two decades now. This has presented itself in the form of insurgency such as Boko Haram, Niger Delta Millitants, Fulani herdsmen attack etc which has caused a lot of challenges for the economic development of Nigeria.
Insecurity has led to reduction in food production thus contributing to inflation and poverty level in the country. It has also led to poor industrial development among other problems which have retarded its economic growth. There are many causes of insecurity in the country as discussed below:
1. Illiteracy Among the Youths
Most of the people involved in threatening the security of Nigeria are young ignorant people who are being brain washed by politicians and other people who have influence on them.
Read Also: 10 Problems of Insecurity in Nigeria and Possible Solutions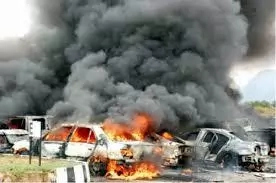 They just do as they are told without asking any questions because they don't know any better. This is why the cabals in the country are against their enlightenment because they will stop doing their bidding once they get to understand the true implication of what they do.
The same youths are used as thugs during elections to disrupt peace. Illiteracy therefore is a major issue that has led to the prolonged insecurity situation in the country.
2. Unemployment
Again, young people involved in acts that threaten the peace are unemployed youths who would do anything to eat. Some of these unemployed youths are actually graduates with the potential to do well on jobs but have not been employed for several reason (see my article on causes of unemployment in Nigeria).
If the government will engage them in productive ventures then insecurity issues will reduce.
Read Also: 10 Ways to Improve Security in Nigeria
3. Unfair Distribution of Wealth
Nigeria is a large nation with diverse ethnic groups that expect the government to pay equal attention to them. If this is not done, one part of the country rises up to protest against the perceived injustice.
A typical case is the Niger Delta Militants which arose years back when Yar'adua was president because they felt they were not enjoying the proceeds from oil that is extracted from their part of the country.
This may also be responsible for the Fulani-farmer conflicts since the Fulanis want to graze their cattle while farmers want to cultivate crops.
4. No Prosecution for Those who Threaten Peace
There have been several incidences of people involved in criminal activities being set free after their arrest without any prosecution or penalty.
This encourages such activities as there is no penalty for engaging in activities that disrupt the peace of the nation. This is likely due to corruption in the government in which case government officials use the criminals for their own gain and so will bribe their way to see that such criminals are set free.
Politicians also use thugs during election and I am not aware of a single case in which a political thug was prosecuted and penalized for engaging in peace threatening activities. This certainly encourages crime and unlawful activities in the society.
Read Also: 10 Problems of Security in Nigeria and Possible Solutions
5. Nigeria's Porous Borders
Book Haram has lingered this long without being contained because they flee to neighbouring countries like Cameroun, Chad and Niger when they are being attacked in Nigeria.
This wouldn't be happening if our borders were secured by the Nigerian immigration service whose job it is to ensure such things don't happen.
Sometimes it is as a result of corruption in high places since top officers in charge of borders can be bribed to allow illegal passage across our borders.
6. High Influx of Arms
As a result of previous ethic and religious crises in Nigeria, many Nigerians now possess illegal arms purchased during those crises which were allegedly funded by some important people in the country.
These arms are now used in armed robberies and other terrorist activities in the country which affect the peace of citizens.
Most of those who possess the weapons are idle youths who don't have anything better to do than cause chaos using these weapons.
7. Drug Abuse
The effects of drug abuse on youths cannot be overemphasized. A major effect is that It causes them to behave violently thus causing insecurity.
Politicians who use thugs during elections usually buy drugs for them that will make them behave outside of their normal senses and make them to engage in activities that threaten peace.
Some drugs commonly used to achieve this are cocaine, Tramadol and cough syrups taken at extremely high doses. Drugs must be controlled to prevent abuse that results in disruption of peace in our society.
Read Also: How to Start a Security Company in Nigeria
8. Bad Leadership
While most insecurity challenges are caused by the above mentioned reasons, bad leadership also causes rebellion among followers and so result in social insecurity.
I have heard many cases of public servants' convoys being attacked and sometimes people get badly wounded and in extreme cases killed.
I have also heard of a local government chairman who had to scale to the fence to save his life when youths charged into the secretariat looking for him. Bad governance is definitely a cause of insecurity in Nigeria.
9. Poor Response by Security Agents
Security agents may not be in every place at every time, which is why they have given out telephone numbers to call when there is a security threat.
However some of these numbers don't go through when called and so the communities are destroyed before security ever shows up. This is a bad practice that encourages terrorism.
If security operatives can be reached as at when needed and they respond timely it will go a long way in combatting insecurity in the country.
10. Failure of Parents and Religious leaders
Parents play a vital role in cautioning their children against doing things that disrupt peace. Religious leaders also have so much influence on their followers so they can preach abstinence from unlawful acts that threaten the peace of the country.
If this two groups play their roles well in admonishing young people to stay away from violence, the country will become better in terms of security.
Read Also: How to Survive in Nigeria Despite Huge Economic and Security Concerns
Conclusion
Insecurity is a major threat to our nation and it is our responsibility as citizens to help the government to ensure every security challenge is eradicated. When this is achieved, we will experience growth and peace on every side and our country can be great again.
Click here to see the latest
Study Abroad Scholarships and Guides
Click here to see the latest
Jobs opportunities in Nigeria
.
Click here to Join
Recharge and Get Paid
Click here to Read Latest School News in Nigeria
Copyright Warning!
We work really hard and put a lot of effort and resources into our content, providing our readers with plagiarism-free articles, original and high-quality texts. Contents on this website may not be copied, republished, reproduced, redistributed either in whole or in part without due permission or acknowledgement.
Proper acknowledgement include, but not limited to (a) Proper referencing in the case of usage in research, magazine, brochure, or academic purposes, (b)"FAIR USE" in the case of re-publication on online media. About possible consequences you can read here: What are the consequences of copyright infringement? In an effort to protect our intellectual properties, we may report your website to Google without prior notice and your website be removed from search engines and you may receive a strike. All contents are protected by the Digital Millennium Copyright Act 1996 (DMCA).