Politics
Causes Of Vote Buying In Nigeria
We are going to explore the root causes Of Vote Buying In Nigeria. We hope you enjoy reading this while learning a thing or two from this article.
Vote buying has been quite extensive in Nigerian politics, and this problem has increased significantly over the last few years.
The majority of citizens usually participated in vote buying, even though they may not always vote in favour of the politician, who bought their votes.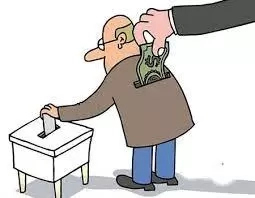 Money is considered the most used reward for votes, although essential materials such as wrappers, and food items were also issued during campaigns.
Every party's political candidates, and agents, including candidates from both the ruling party and the opposition party, are major political players involving in handing out of vote rewards to beneficiaries.
One of the major reasons for handing out rewards to the electorates was to get from them their votes in return. That out of the way, in this article, I will be looking at the causes of vote buying during an election in Nigeria.
Why There Is Vote Buying In Nigeria
Having said that, all the things that happen, usually have some causes. There are things that caused vote buying in Nigeria, and there are quite a number of reasons that have been featured as the causes of vote buying in the country, and why people sell their votes in Nigeria during an election period, and these reasons include:
1. Betrayal By Leaders
Anytime election draws near, there is always a heightened sense of awareness, which usually appeared to be taking place across Nigeria.
Although there are many things that are normally said about politicians, who usually run for political offices, however, the electorates are usually appreciative of the elective public office holders who have served their people creditably while in office.
The electorates usually applaud politicians who have the interest of the people at heart, and who also do not campaign on the ground of lips promises, but who also fulfil those campaign promises that they have made while campaigning.
On the contrary, those who saw political office as an avenue to acquire personal wealth betrayed their people, and as a result, in trying to vote them out, the electorates may be willing to sell their votes during elections. Such betrayal is clearly unethical.
2. Rampant Corruption At the Top Leadership Level
Truth be told, corruption at the leadership level is one menace in the country that also caused vote buying during an election in Nigeria.
Many people have now begun to see Nigeria as having a corrupt political culture. For a number of years, Nigeria leaders have earned a huge sum of money from the country's treasury.
Their aspirations to leadership have always been to loot the Nigerian treasury, that is why they are willing to go extra miles in making sure that they win elections by all costs.
More so, Nigeria, as the oil giant, and a nation that runs on grease of politics, could actually be known as one of the economically viable countries, which stays afloat on oil, unfortunately, the money got from the oil never flow to the people.
Almost all the top public officials in the country are extremely rich because they syphon the money, and then hide behind the falsehood of claiming that the public money actually belongs to no one but the Nigerians.
As a result, this corruption on the part of the top Nigerian public officials, the elections in the country are always characterized by vote buying.
The news in the country is full of information of how Nigerian politicians are buying vote during an election, in order to have their way of buying million dollar mansions across the world and as well, accumulate stolen Nigerian funds from the country for their individual financial establishments overseas.
3. Economic Problem
Economic problems and economic instability can make people become more anxious about their individual future thus, is the cause of vote buying.
The lack of consistency as well as the greed of the Nigerian politicians is also among the many causes of vote buying in Nigeria.
And the reason is obvious, one can observe that every government that comes on board, will always want to set up a fresh policy initiative of that administration rather than continuing on the previous policy set up by the previous government.
As we speak, Nigeria is known for its series of inefficient and also badly executed government policies hence the bad economy which has also led to vote buying in Nigeria during election.
4. High Rate Of Poverty
It is never news that many Nigerians are poor. There is poverty, and low salaries, and unemployment. There is a new report that shows that Nigeria by ranking, has overtaken the country of India, as Nigeria is rated as the country that has the most poorest people globally.
Even the country I mentioned here, I mean India, its population is seven times larger thanthe population in Nigeria, which has succeeded in lifting its citizenry out of abject poverty, an this is an indictment on the part of Nigeria's successive governments.
The people of Nigeria are poor people, caused as a result of poor or mismanagement of Nigeria's resources. And as a result of the high rate of poverty in the country through incompetence and corruption on the part of the government officials, the electorates are willing to sell their votes on the elections days.
Over 88 million Nigerians are now living in abject poverty, and the figure represented about 50 percent of the total population of Nigerians. The consequence of this high rate of poverty in the country has led to vote buying during elections.
5. Weak And Unfunctional Courts
With all the rumours of fraud that surrounded the election outcomes in the country, courts do not help matters, at least, by  punishing the offenders.
6. Problem Of Temporary Staff
Although it is cheaper, when hiring a temporary team to work at elections, it actually saves Nigerian money however, temporary staff can easily be influenced by the fraudulent politicians since, they do not have the sense of responsibility required in the job, for example, like people who have been at the worke for 30 years.
7. Lack Of Discipline
There is little or sometime no discipline at all in various political spheres in the country. For example, there are always problems with infrastructure, and logistics, as well as, with security staff.
8. Unemployment
Unemployment is one of the causes of vote buying in Nigeria. It is a damaging problem in the political system of the country.
Many Nigerians are disappointed because of lack of employment in the country, therefore, this widespread of joblessness has actually lead to vote buying during election.
Actually, in Nigeria, there is a tough economic situation because of the high rate of unemployment. Nigeria need to break out of a vicious cycle of unemployment, if the rate of vote buying must reduce in the country.
Unemployment in Nigeria can be liken to a viral disease, whose treatment is yet to be discovered. In Nigeria alone, there is about 26 percent of people who are unemployed, and the numbers are only worse for the youths of the country.
Going by the official country's statistics, about 40 percent of Nigerians under 25 years are unemployed. Graduates from tertiary institutions usually have low morale because of joblessness. As a result, these unemployed youths in the country are always willing to sell their votes to politicians during election.
Conclusion
Vote buying has been quite extensive in Nigerian politics, and this problem has increased significantly over the last few years.
The majority of citizens usually participated in vote buying, even though they may not always vote in favour of the politician, who bought their votes.
Buy and Sell Bitcoin in Nigeria - Register for free on Luno
Click here to see the latest
Study Abroad Scholarships and Guides
Click here to see the latest
Jobs opportunities in Nigeria
.
Copyright Warning!
We work really hard and put a lot of effort and resources into our content, providing our readers with plagiarism-free articles, original and high-quality texts. Contents on this website may not be copied, republished, reproduced, redistributed either in whole or in part without due permission or acknowledgement.
Proper acknowledgement include, but not limited to (a) Proper referencing in the case of usage in research, magazine, brochure, or academic purposes, (b)"FAIR USE" in the case of re-publication on online media. About possible consequences you can read here: What are the consequences of copyright infringement? In an effort to protect our intellectual properties, we may report your website to Google without prior notice and your website be removed from search engines and you may receive a strike. All contents are protected by the Digital Millennium Copyright Act 1996 (DMCA).