Politics
Vote buying In Nigerian Election; Causes, Effects, And Possible Solutions
We are going to delve into investigating vote buying In Nigerian Election; Causes, Effects, And Possible Solutions. We hope you find this insightful.
 Election, as we all know, is an aspect of any democratic process. Nigeria is a democracy, however, and its politics has been described as a dirty game because of some prevalent electoral malpractices within the system.
For example, vote buying. Although my focus in this article is on the vote buying, the causes, the effects and the possible solutions, but before then, let us look at what vote buying is.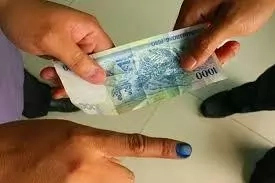 What Is Vote Buying?
Vote buying is a process, whereby, the voters make their votes to become commodities of trade. They will strike deal with political party agents, and whoever is the highest bidder, they will sell their votes for money.
However, is it possible to stop vote buying in Nigeria during elections? Anywhere, Let us look at the causes and the effects of vote buying in Nigeria.
Free and fair elections in Nigeria is nothing but a fairy tale, even Nigerians do not believe in free and fair elections. But is there anything anyone can do to stop the practices?
The term, vote buying is used to describe one of the electoral fraudulent activities that usually take place during elections. Perhaps, this election fraud practice is as a result of:
political apathy and
instability and
lack of political awareness as well as,
high poverty rate.
Nigerian Elections
In every election cycle in Nigeria, there is always this rumours about unfairness practices and electoral malpractices. One of the most common bad activities that usually happen before and during and, even after elections is vote buying.
Causes Of Vote Buying
All the things that happen, usually have some causes. There are things that caused vote buying in Nigeria, for example;
1. Economic Problems
Many economic problems and economic instability can make people to become more anxious about their individual future thus, is the cause of vote buying.
2. High Rate Of Poverty
It is never news that many Nigerians are poor. There is poverty, and low salaries, and unemployment.
3. Weak And Unfunctional Courts
With all the rumours of fraud that surrounded the election outcomes in the country, courts do not help matters, at least, by punishing the offenders.
4. Problem Of Temporary Staff
Although it is cheaper, when hiring a temporary team to work at elections, it actually saves Nigerian money however, temporary staff can easily be influenced by the fraudulent politicians since, they do not have the sense of responsibility required in the job, for example, like people who have been at the worke for 30 years.
5. Lack Of Discipline
There is little or sometime no discipline at all in various political spheres in the country. For example, there are always problems with infrastructure, and logistics, as well as, with security staff.
Effects Of Vote Buying
There are some effects, as a result of vote buying, some of which are:
1. Some people will be eager to join politics and possibly start a political career in order to build personal financial fame
They will be thinking only about their personal wealth. They will have no willingness to work for the improvement of Nigeria and the deveopment of its economy.
2. Poverty is usually used by the politicians
They will make promises and they will not keep it. Politicians usually make friend with poverty, and they extremely loved it, because when people cannot afford their food they will be willing to trade their vote for for food, and for money.
3. Lack of justice will only make vote buying to continue
Once politicians can get away with false, and lies and even fraud, they will be tempted to continue to remain unfair, lest alone to bring real development to Nigeria.
4. When temporary staff do not have experience at the work, they will definitely feel the need of making extra money, while at work, since they will returned joblessness after elections work.
5. Lack of discilpine in politics will encourage low electoral interest among Nigerian citizens
6. Possible Solutions To Vote Buying
Solutions to vote buying in Nigeria among other things requires changes in minds, and in thoughts, including a strong desire for positive changes in Nigeria.
These are the changes that can make that difference. Although it will take a longer time, nevertheless, hardwork is needed to reduce as well as, prevent this menace any time there is elections. However, below are some possible solutions to vote buying in Nigeria:
7. There Should Be Strict Rules For All
Vote buying can be reduced with real responsibility. Politicians who know that they will be fined heavyly, that is, financial punishment or will be imprisoned or be bared from politics must have to think twice before trying to indulge in vote buying.
8. Everyone belonging to election team, including all the staff involving, especially in the proces of voters registration, and votes counting as well as, results announcement must be responsible enough if they fear the penalties for vote buying offenders.
9. Another One Is Education And Training
Educational programmes will actually help in raising the political awareness of voters. Among electoral staff, there must be professionals, even in political parties. There is a need to explain to the electorates how important their votes are.
Read Also: How To Become a Nigerian Politician
10. The System Need To Be Reforms
The government of the day has the responsibility  of performing reforms. It is important to figure out what are the issues and challenges in the Nigerian electoral system and then proffer solutions to them.
Conclusion
The system must be transparent, and must be better control. The above are those changes that must be effected to minimize vote buying in the country during elections. Nigeria must constantly work for improvement.
Make money writing for us. Apply for
Freelance writing jobs in NIgeria
.
.
Copyright Warning!
Contents on this website may not be republished, reproduced, redistributed either in whole or in part without due permission or acknowledgment.
.
Proper acknowledgment includes, but not limited to (a) LINK BACK TO THE ARTICLE in the case of re-publication on online media, (b) Proper referencing in the case of usage in research, magazine, brochure, or academic purposes,.
.
All contents are protected by the Digital Millennium Copyright Act 1996 (DMCA).
.
We publish all contents with good intentions. If you own this content & believe your copyright was violated or infringed, please contact us at [infoguidenigeria@gmail.com] to file a complaint and we will take necessary actions immediately.