Innovation
Security
The Use of Clocking-In Systems in Nigeria as an Effective Approach to Reinforcing Professionalism At Workplaces
What are the benefits of clocking-in systems for employees? What good can employers look forward to with the use of clocking-in systems? Don't fail to read them here!
Clocking-In Systems (CIS) has been in use in the private sector prior to its introduction to the public sector or Government agencies. However, many business organisations in Nigeria do not often utilize this technology. Perhaps little is known about the value it brings.
👉 Relocate to Canada Today!
Live, Study and Work in Canada.
No Payment is Required! Hurry Now click here to Apply >>
Immigrate to Canada
What arouses interest on the above mentioned subject? First is the misconception often applied by employees concerning the objective use of a clocking in system as a punitive measure to 'witch hunt' staff and satisfy the selfish tendency of employers. Second, as organisations in Nigeria seek new approaches in enhancing productivity, there is a greater need to minimise loss, prevent overstaffing, truancy, workplace fraud and similar problems alike which have long scarred and weaken work ethics in many workplaces. Third, there is a need for awareness and enlightenment on the practical use of clock in systems and its benefits to both employers and employees. And lastly, to consider what prospect lies for workforce management in organisations in near future.
Having these four points in mind while discussing the various aspects of this technology would help us see how it can significantly solve major work ethic problems and throw brighter prospects for both employers and employees alike.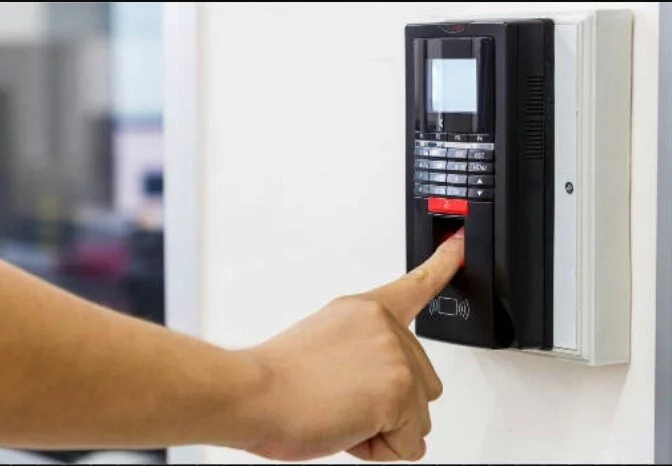 Clocking In Systems: Application and Types
During the late 20th Century, Clocking In Systems (CIS) have developed from mechanical machines to computer based, electronic time and attendance system. Clocking in systems or time and attendance systems are mechanical or electronic devices used in tracking and monitoring the time employees resume and close work for each day. For example, employees may be required to register their attendance in and out by simply placing their fingers or typing in an ID number on a touchscreen. The data is electronically recorded and used to reference whether an employee has worked the correct number of hours or how much overtime an employee has accrued. They are usually more accurate than the old tradition of writing attendance on booklets.
Clocking-In machines have been in use by companies in developed countries for several years in keeping track on how much employees should be paid based on their hourly input. They have been in use in Nigeria for some years by few organisations such as private schools, construction companies, a few government agencies etc. CIS is not restricted for hourly payment; it is equally of importance for scheduled salary payment.
Size and complexity of a company are generally the primary considerations that move organisations to decide whether or not to invest in clocking machines. Depending on the need and reasons to adopt the usage of these devices, organisations choose the type that would be most beneficial and suitable for its needs.
There are several types of clocking-in systems. They vary with the way employees interact with the devices and some offer advantages that others do not. The types of clocking-in systems include some of the following:
Biometric time clocking – employees simply register their resumption and departure time with their biometric details.
Web based clocking – employees manage their working hours directly from their computers using employee self-service software.
Mobile phone clocking – using employee self-service software, employees can clock in and out, and request for leave. It has optional GPS coordinates to track the real-time location of employees during their working hours.
Text alert clocking – It requires employees to clock in and out through text messages sent to a virtual mobile phone number. The data is instantly transferred to a clocking-in system. This type of system also provides real-time workforce visibility.
Land clocking – Employees use a land line phone to clock in and out. The data is later sent to a clocking-in system.
Desktop biometric reader – A finger printing scanning device is directly connected to the employee's desktop. The employee simply runs his fingertip on the scanner, his working hours is immediately sent to the database where his managers can view his visibility real time.
Workplace challenges that give rise to the need for implementing CIS
Workplace ethics incorporate rules and standards of conduct recognised to build and maintain right attitude towards work by employees. As organisation grow in workforce, complexity arises in the following: tracking down of employees activities, reinforcing organisation policy with regard to time management, deducing detailed labour data for accurately computing payrolls and even discerning the necessary staff strength to prevent wasting of capital.
👉 Relocate to Canada Today!
Live, Study and Work in Canada.
No Payment is Required! Hurry Now click here to Apply >>
Immigrate to Canada
The above complexities become even more challenging when organisations struggle with inadequacies that threaten its reputation and functionality. What are these inadequacies? They include negative tendencies such as the truancy, ghost worker syndrome, lateness to work, absenteeism, poor service delivery, cheating in overtime payment, abuse of employees non-working hours, payroll fraud and errors,  and others alike. All these negative trends are threats to the smooth running of the organisation, lead to loss of capital for the organisation and moreover threaten the existence of the organisation.
Though all the aforementioned drawbacks can be corrected with a combination of strategies applied by the employer; however, what remains one of the powerful tools to put into check the activities within the organisation is the attendance registry. Unfortunately, most of these drawbacks are not easily tackled with the old traditional method of maintaining a record of handwritten entries of closure and departure time by employees.
Limitation of Handwritten Attendance Registry Booklet/Sheet
Hand written attendance registries are subject to manipulation and tampering. Control measures cannot be easily applied on handwritten entries because hundred percent of employees have direct access to it. This means that entries can be later made to misrepresent the actual time staff resume or close work. Therefore, it offers no verification on both captured time and number of staff on site. With this old method, it is very easy to forge the actual staff strength thereby breeding the existence of ghost workers within the establishment.
Even when fraud is not the case, human error is inevitable especially on processing of payroll data. In having to process payroll with lateness and absenteeism, one can be overpaid or underpaid without the organisation realizing the hole in the basket. Additionally, limited data on labour report is deduced with handwritten registry. How does clocking in systems change the game? The answer lies in its features.
The advantages of CIS in addressing workplace challenges
1. It strongly prevents the possibility of impersonation
When used with an access control system, CIS with biometric readers help prevent both time theft and entry of illegal employee identity (ghost worker) included in a payroll.
A biometric reader which is an integrated feature of advance clocking in systems relies on the attributes of staff to clock in and out. Attributes such as facial recognition, iris, retina, palm vein, finger vein, finger print, and hand print are captured by the reader, instantly recorded, and the resulting data (including time and date) immediately sent to a database to be integrated with a payroll program. Biometric CIS offer more advantage than punch card based CIS in this regard.
2. It allows for real-time data capturing and visibility even at remote locations
Many organisations such as construction companies rely on the advantages of mobile based CIS in providing precise tracking of its workers during paid work hours and at out-of- office assignments. With this method, data capturing can be done real-time at multiple locations. Validation of precise mobile tracking is accomplished with GPS functionality of the mobile device, a mobile application or an IVR (Interactive voice response) based phone call in system.
3. It provides valuable reporting and analytical features for labour statistics
Advance CIS provide features to process time and attendance employee data into valuable information needed for managers to obtain report and analysis on labour data, tax information, and other relevant information for business administration. Employee attendance details such as absences, vacation, leave, and so forth can be exported to or integrated with other departments, payroll application software and timesheets to empower managers on real time decision making, actual staff strength, executive reporting, job costing, labour distribution, audits, tracking of jobs and projects or employee recognition and reward etc.
Some CIS are accompanied with paid time off tracking and monitoring solutions to help managers keep track of accrued time off for each employee. Managers can easily manage employee requests time off or leave and easily spot out tardy employees. Gross pay period totals can be processed in a matter of seconds along with various expenses such as reimbursements, overtime and paid time accruals. These features help companies eliminate the risk of both computing and transcription errors commonly associated with the manual system of managing handwritten attendance registry.
4. Security is guaranteed with a zero risk of manipulating data
Advance CIS are accompanied with extra security features. Some CIS have an access control feature along with biometric scanners to prevent 'buddy punching', i.e. an employee clocking in for another and also to prevent time theft whereby an employee signs in attendance but is not present in duty.
Furthermore, CIS can be programmed to notify a manager if an employee attempts to clock in late, has not had a lunch break or unduly stays overtime to accrue more hourly pay which is also a form of time theft. Advance CIS with biometric readers also eliminate the chances of employee gaining access to the clocking in system in order to fraudulently adjust it.
To ensure that results are not subjected to file corruption and manipulation, information sent between computers and host servers are encrypted. Web-based solutions can ensure maximum security of 24 hours per 7 days in a week.
The good aspect in the security features is that it reduces the frustration that comes in dealing with time discrepancies and employer vs employee disputes on payment which are the common frustrations experienced when managing a handwritten attendance registry. Also, employees also get the chance to view their schedules just the way it is.
5. Enhances productivity by reducing mismanagement of paid work hours
PC based CIS are effective for both employers and employees in managing their paid work hours. CIS with both automatic time tracking software and productivity monitoring software are ideal in this regards. Once an employee turns on or off his computer or stops using both keyboard and mouse a record is made to correspond to the time he starts and stop work. Fraudulently clocking in and out when work is not done is just impossible with this method. Also forgetting to clock in and out is not even a problem.
Additionally, some CIS come with screen capture features to allow managers to capture employee's screen in random of some minute intervals.
PC based CIS also allow both managers and employees to view how their worked paid time was spent. One can evaluate his productiveness in work by viewing just how much time he spent in various websites, or how much time he spent on personal business and unproductive website.
The benefit of Clocking-In Systems for employees
Often times many focus on the benefit of CIS for employers while overlooking some of the advantages it gives to employees. CIS are really advantageous and effective for both employers and employees where favourable working conditions exist, such as, regular payment in salary. Below are some of the benefits that employees can enjoy with the use of a clocking-in system.
1. CIS is an employee's protection and defence against time theft by employers
Employers can engage in time theft when they misuse the off-paid time hours of employees without due compensation. This is a situation that exists in some private organisations. However, with the use of a CIS, issues regarding overtime payment are reduced. An employee enjoys a measure of protection with this system.
2. It ensures compliance with payroll regulations by the employer
Once a CIS is installed and in usage within an establishment, there is concrete evidence between an employer and employee that work has been done by the employee during the stipulated paid work time. Therefore and by law, an employer is under obligation to pay an employee for the worked hours. The use of a CIS is a strong reminder of this fact. Employee must ensure to enter a mutual agreement with his employer.
3. It helps employees meet company's payroll criteria
Proper use of time with the help of a CIS can help an employee sharpen self-discipline, and push both creativity and productivity. CIS help employee cultivate professionalism along with strong work ethics that are in compliance with company policy and payroll criteria.
4. It enhances employer-employee relationship
Disputes on actual work hours often form the breach between employers and employees. But a CIS tells all the truth. Employees do not always have to risk their job knocking heads with employers on salary issues. The CIS does the job. Because a high level of accuracy on employee information is guaranteed, there is no need for undue confrontation.
5. Enhances employee's personal safety
Biometric CIS along with access control system enhances employees' personal safety. It eliminates the chances of questionable characters gaining undue access to office premises as every individuals biometric details is required to gain access. Dubious characters don't like to leave clues behind. Employees can better concentrate on their work with less anxiety.
6. A CIS helps employee discern what employers are up to with salary
With the manual system of managing hand written registry, it is difficult to tell whether or not an employer is making up excuses for late payment on the grounds of transcription errors or slow processing of payroll. CIS always ensure that human errors are eliminated and that accurate employee attendance information is snappily processed to correspond with payroll date. There isn't an excuse for employers to pay late because there are no funds.
7. Promotes fairness at workplace
CIS provides valuable information for employers on who is working and who is not working. Favouritism, absenteeism, late arrival, and early departure can create imbalance in workload distribution. Doing double duty for missing employees can be a retard for the morale of skilled workers and productivity. CIS makes it possible for employees to be fairly compensated based on their individual input. It promotes fairness in the working environment and motivates employees to see the value of his or her input. In that way, employees would gain job satisfaction. Therefore, a CIS highlights those employees who deserve reward and recognition.
Conclusion
Managing hand written employee attendance registry leads to very costly mistakes for organisations. In Nigeria alone, billions of naira has been lost from various organisations due to inaccurate information on labour statistics.
The features provided in Clocking-In Systems ensure that money is saved by organisations, accurate labour distribution and actual staff strength is visualised, and that professionalism and productivity at work place are at their optimum.
CIS do not only benefit employers but are equally valuable to employees. Where favourable working conditions exist with the use of a CIS, employees can enjoy protection on time theft by employers, compliance to payroll regulation by employers, fairness and job satisfaction, personal safety, reward recognition etc. Therefore, the use of CIS in Nigeria remains an effective approach that offers better prospects in the reshaping of workforce management for various organisations.
📢

We are hiring writers!
Article Writing Jobs
- We are hiring good freelance writers -
Click here to apply
👇👇👇👇👇
Immigrate to Canada Via Job Offer!
Get latest Jobs in Canada for foreigners with visa sponsorship 2023 and how to apply. Don't miss this opportunity that can help you relocate to Canada with your family.
👇👇👇👇👇