Business Ideas
7 Steps to Start Commercial Tomatoes Production in Nigeria
In this post, I will show you the 7 Steps to Start Commercial Tomatoes Production in Nigeria. You can use this as a Tomatoes Production business plan in Nigeria to get started.
Ever wonder on how to starting commercial tomatoes production business in Nigeria? Some may actually think that, it is only in the north, where tomatoes can be grown in Nigeria, but that is not true.
I want to tell you that, irrespective of which part of Nigeria, anybody can grow tomatoes once you have the right knowledge to start and run commercial tomatoes production in Nigeria.
Read Also: Top 10 Tomato Producing States in Nigeria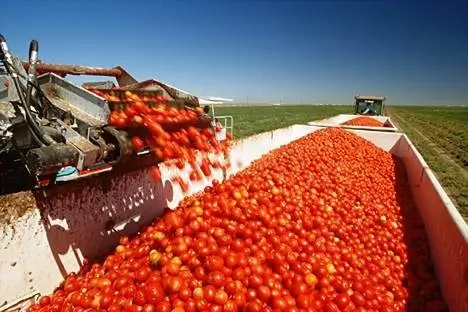 More so starting commercial tomatoes production in Nigeria, one must have to plan well, and also take into consideration other important issues concerning tomatoes production.
Unlike other food products, produced in Nigeria, for  example the garri, and rice, and beans, even yam; tomatoes remained among these popular foodstuff that are produced in Nigeria, and in this part of the world, people cannot do without tomatoes.
Quite interestingly too, producing tomatoes for commercial purpose is in deed a big business in this part of the world. Having said this, I will in this article be discussing some steps to considered, should one want to start commercial tomatoes production in Nigeria.
Read Also: 6 Problems of Tomatoes Production in Nigeria
How to Start to Start Commercial Tomatoes Production in Nigeria
Just like every other fruit produced in Nigeria, production of tomatoes is much simpler. For example, to set up tomatoes production business and run it successfully is all about taking some vital things that have to do with growing of tomatoes in Nigeria into consideration. And I am going to explain them here.
1. Look For A Perfect Location And A Good Site In Nigeria
First and foremost, if you want to start commercial tomatoes production in Nigeria, you must have to consider and better location for the business.
Your choice to site or location, must have to do with both the availability and nearness of market for your products, and then access transportation for the purpose of conveying your products after harvest from the farm to the available market.
2. Find a Land That Has A Soil That Is Healthy For Tomatoes Production
This is important too, very important if your intention is to start commercial tomatoes production in Nigeria. There is need to choose  a good soil that will be suitable for the planting of tomatoes.
This will determine the  harvest of the type of tomatoes that you chose to produced. This soil you have chosen has to be well-managed, and the type of this soil should be sandy loam or it could be heavy clay loams land must be free from hardpan because good harvest is made from deep, and well-drained loam.
Another thing is that the soil have to be rich in organic matter. Plough the soil at least like 1-3 times so that the soil can be light weights.
Read Also: 8 Varieties and Types of Tomatoes Grown In Nigeria
3. Select The Right And The Best Variety Of Tomatoes
What variety of tomatoes are you willing to produce, you must decide on that. You need to make sure that you plant  the right variety of tomatoes in your farm.
There are different varieties and types of tomatoes to grow, for example Beefsteak tomatoes and Cherry tomatoe and Plum tomatoes and Grapes Tomatoes and Campari tomatoesand Tom berries Tomatoesand Oxheart tomatoes and Pear tomatoes, as well as, Slicing and Globe tomatoes.
Tomatoes varieties in Nigeria, is classified in terms of their shapes, and their local names and  also places of cultivation. But in case you are confused about the variety, i will recommend the Roma tomatoes, it is plum in size and is being commonly used in the country.
4. Plant The Tomatoes First In The Nursery
To boost productivity of your commercial tomatoes production, you must have, where you will plant tham first, before transplanting them to the farm.
That means you must make sure that, you have a nursery, and that can be prepared within the period of five weeks, at least, then  later transplanting them at the field.
Make sure you prepare the nursery bed for a period of about 5 weeks. When to start planting your tomatoes should be about March or April, that is when the rainy season sets in. Five to six days, later they, they can be transplanted from the nursery to the fields.
5. Irrigate The Tomatoes Farm
Regular farm irrigation is another important step you must adopt in starting commercial tomatoes production in Nigeria.
Should you want the best from your crop; you should ensure regular supply of your farm with adequate water, particularly when the season is dry season, like between the month of October and the month of February. It is such a time that you deploy the strategy of constantly providing your crops with plenty water.
For example, between like three to seven days interval, and should happen based the quality of the soil, because too many of water will crack the crops.
Read Also: How Profitable is Tomatoes Farming in Nigeria
6. Fertilize Your Farm Adequately And Weed The  Farm
To increase harvest and productivity, once one or two months have elapsed, after transplanting the tomatoes, the next important thing to do is to weed the tomatoes field. You need to be careful, while doing the weeding to so as not to damages your crops.
Chemical weed control is recommended to be used in weeding the tomatoes field. Mechanical methods is also recommended, but care must be taken to avoid crops damages.
Again the farm need to be fertilizer once weeding has been completed, particularly after the first weeding is done. Why? It is became during the weeding, the soil nutrients have been affected, restocking of the soil of its nutrients because necessary.
7. Pests And Diseases Control In The Farm
Besides weed control, pests and diseases ought to also be controlled in your tomatoes farm. Below are some of the crops diseases, which must be controlled: Plusia looper and Cutworm and Rust mite and Red spider mite and Nematodes and Aphids and Leaf miner/potato.
Others include, tuber moth\Bacterial wilt and Fusarium wilt and Late blight and Erinose mite and Bacterial canker, as well as Thrips.
Having listed these tomatoes diseases, these diseases can be controlled through the practice of crop rotation. Affected crops should be destroyed and take out of the field.
Read Also: Tomatoes Cultivation and Its Potential in Nigeria
Conclusion
Therefore, starting commercial tomatoes production in Nigeria, one must have to plan well, and also take into consideration other important issues concerning tomatoes production as discussed in this article.
🤑 Start making money from home today!
👉 Get correct FREE TIPS and Guides on how to make money from home today. Click here to start
.
👍Showcase your business here!
With over 1M unique users per month across all channels, we have a large audience for you to showcase your products and services. Simply get in touch via 👉 marketing@Infoguidenigeria.com.
🤑 Make Money now!
👉 Make money writing for us. Apply for Freelance writing jobs in Nigeria.
👉 Make Money as InfoGuideNigeria Advertising Agents, read more here
.
This post can be helpful to somebody else, please share it on Facebook, Whatsapp, Telegram and Twitter. There are buttons below for this (easy to use too)!
Copyright Warning!
Contents on this website may not be republished, reproduced, redistributed either in whole or in part without due permission or acknowledgment.
.
Proper acknowledgment includes, but not limited to (a) LINK BACK TO THE ARTICLE in the case of re-publication on online media, (b) Proper referencing in the case of usage in research, magazine, brochure, or academic purposes,.
.
All contents are protected by the Digital Millennium Copyright Act 1996 (DMCA).
.
We publish all contents with good intentions. If you own this content & believe your copyright was violated or infringed, please contact us at [infoguidenigeria@gmail.com] to file a complaint and we will take necessary actions immediately.