Here in this post, we are going to discuss Entrepreneurial Education and Its Objectives. We hope you find this post informative and educating.
What is entrepreneurship education? Someone may ask! However, the answer to the above question is not farfetched.
Therefore, in a sentence, I can simply define entrepreneurship education as 'the process of unleashing the entrepreneurial spirit in a person'.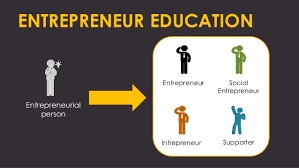 Having defined entrepreneurship education in my own way, I want to also add that, excellent entrepreneurship education is made up of three outstanding ingredients, and these ingredients are:
-Creativity: Creativity means creating all kinds and types of ideas
-Innovation: Innovation means finding value in selected ideas
-Entrepreneurship: means developing a business from innovative ideas
Teaching Entrepreneurship
Entrepreneurship education is to transform an idea into a reality and one must actually try to do that. It is opposite or contrary to the academic approach, where someone will only talk about entrepreneurship and perhaps study about entrepreneurship without actually practising it.
Therefore, entrepreneurship education is a practical responsibility where someone has to design his education in a way that will make the students or recipients do it.
As a lecturer, it is expected of him to push the students and make sure that they act and try most of those startup processes in real life situations.
The students are allowed to go to the surrounding environment of their schools and talk to business owners and shop keepers, they must find customers and enquire of their opinion about the goods or services they are planning to sell.
This is important when it comes the entrepreneurship education. When they returned to the classroom, the teacher can then discuss with the students about their findings from the real world situation or experience. That is how entrepreneurship education works!
Entrepreneurship Teaching Materials
To really unleashing entrepreneurship spirit among students, teachers are advised to always make an attempt to access practical materials and templates that will guide the students in finding answers from startup questions:
Inspiration To Teaching Entrepreneurship
Experience has made it clear that even if the teacher is an excellent individual, teaching entrepreneurship can be challenging.
Hence it is advised that the teacher find inspiration to teach successfully entrepreneurship education at his or her own college and/or university by accessing the following:
-Training context and
-Training concept and
-Training module specifications and
-Inspiration to Problem Based Learning
By meeting these obligations, the teacher must have helped potential entrepreneurs in this country to become their best, I mean the actual entrepreneurs thus, he can at that point feel as participated in contributing to making the nation and the world at large, a better place. That out of the way, wish to delve into looking at the objectives of entrepreneurship education.
Now, What Are The Objectives Of Entrepreneurship Education?
Entrepreneurship education has actually make life worthwhile in many ways, for instance:
-In this modern days, responsible and active citizenship requires an entrepreneurial approach to  life:
-Enhances interest in one's environment plus the opportunities it provides
-Enhance the ability to find out things for oneself
-Enhances ability to perceive new patterns from various points of view
-Courages one to make independent decisions in life
The above are actually entrepreneurial skills that helps in supporting life management.
Objectives Of Entrepreneurship Education
The objectives of entrepreneurship education are:
-Improvement of student's and recipients' life management, by that, i mean skills
-Promotion of citizenship
-Provision of students with resources for their future
-Provision of student's and recipients with diverse opportunities for participation in life
-Improvement of student's and recipients' social and economic skills
In order achieve the above objectives, there is need therefore, to emphasize the following:
-activity and
-goal-orientedness and
-creativity and
-responsibility and
-collaboration skills
Some Of The College's Operational Culture
Entrepreneurship education at all standards should be able to permeate the entire operational culture of the schools and colleges and even universities as a:
-mindset and
-learning method and
-teaching method
Whereby students and recipients develop into active information researchers and seekers as well as, participant in their community.
Entrepreneurship education has also helps students and recipients to acquire the following:
-skills and
-information as well as,
-attitudes among others
Such that, they will need in the nearest future in their studies and also in their lives. Even in basic education, entrepreneurship education is also playing a vital role in the provision of student's with information and with experience in both entrepreneurship and other aspects of work with a view to making them base their subsequent choices on factual information.
While still on the objectives of entrepreneurship education, it is also noteworthy the understand that, entrepreneurship education actually focuses on developing skills and attributes for the purpose of enabling the students to realizing opportunities, whereas management education simply focused on how best to operate existing hierarchies.
Hence, the two approaches normally share interest especially in achieving profit from their investment. Entrepreneurship education can, in a sense, be oriented towards various ways of realizing opportunities, and some of these way are discussed below:
*The many of the entrepreneurship education programmes in  university and colleges are directed towards making distinction between creativity and innovation, which the colleges saw as a cursor to a new development of unleashing entrepreneurship mindsets among students. Enterprises are defined as that ability of developing different ideas and opportunities with a view to making real.
Whereas the entrepreneurship is defined as the process of developing business acumen for the purpose of realise full business potential.
*Entrepreneurship education focuses on setting out a series of learning outcomes, provided it addresses the need for business-wide perspectives on how this programme can be evaluated, and as well, highlights the need for teacher's development at all levels.
*It guarantees best practice guidance for both the schools and the teachers, of course, such practice guidance is available through the Enterprise and Industry's Entrepreneurship Unit.
*It works towards producing guidance for the development of skills and development of competencies for entrepreneurship.
*It encourages an alternative approach towards action-based entrepreneurship education programme
*Encourages the students to launch new creativity and innovations as an integral part of the learning process of the entrepreneurship education programme.
Conclusion
Entrepreneurship education actually focuses on developing skills and attributes for the purpose of enabling the students to realizing opportunities in their future endeavours.
📢

We are hiring writers!
Article Writing Jobs
- We are hiring good freelance writers -
Click here to apply
👉 Relocate to Canada Today!
Live, Study and Work in Canada.
No Payment is Required! Hurry Now click here to Apply >>
Immigrate to Canada
👇👇👇👇👇
Immigrate to Canada Via Job Offer!
Get latest Jobs in Canada for foreigners with visa sponsorship 2023 and how to apply. Don't miss this opportunity that can help you relocate to Canada with your family.
👇👇👇👇👇