Business Overview
Event management is the application of project management to the creation and development of large-scale events.
This includes such events as festivals, conferences, ceremonies, weddings, formal parties, concerts, or conventions. It involves studying the brand, identifying its target audience, devising the event concept, and coordinating the technical aspects before launching the event.
👉 Relocate to Canada Today!
Live, Study and Work in Canada.
No Payment is Required! Hurry Now click here to Apply >>
Immigrate to Canada
The event manager is the person who plans and executes the event, taking responsibility for the creative, technical, and logistical elements.
This includes overall event design, brand building, marketing and communication strategy, audio-visual production, script writing, logistics, budgeting, negotiation, and client service.
Read Also: Functions of Asset Management Company of Nigeria (AMCON)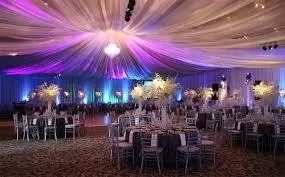 Profitability
Event management business is highly lucrative as there is a high number of events that take place in the country on a daily basis.
Examples are weddings, birthdays, anniversaries, naming ceremonies etc. So, if you are thinking of a business with a large market, consider choosing event management business.
Events managers are always needed because most people don't have time to plan out their events. Also, everything, events included, is always better handled by a professional.
Therefore, if you are a professional events manager, you'll always be called upon, as everyone loves their events going smoothly with little or no hitches.
Managing an event is very profitable, you could make a living in events management. With as low as N20,000 you can start this business and within a short time, make up double or more of this from managing a single event.
👉 Relocate to Canada Today!
Live, Study and Work in Canada.
No Payment is Required! Hurry Now click here to Apply >>
Immigrate to Canada
Types of Events & Event Management Services You Can Render
1. Parties, Awards, Launches, First Nights and VIP events
2. Product launches
3. Sports events
4. Charity events
5. Meetings, Roadshows, Conferences and Educational events
6. Festivals and Concerts
7. Carnivals
8. Weddings
9. Music/entertainment shows
10. Corporate events
11. Seminars
12. Fairs
13. Exhibitions
14. Birthdays
15. Festivals
16. Burials
17. Etc.
Read Also: 10 Leading School Management System Software in Nigeria
Niches In Event Management Services
Events management is a very broad industry as so, it can be said to be of two different categories, namely:
1. Cooperate events
This includes, conferences, seminars, workshops etc. Cooperate bodies employ these events to bring clients together and create a rapport or to create awareness for a product or service.
2. Social events
This includes birthday parties, wedding, ceremonies, funerals, anniversaries etc. Social events keep growing as people feel a need to celebrate their life experiences.
It's always good to choose a niche when just starting up as this give a direction for your initial target market.
The Market Demand & Competition Overview
In Nigeria, there is barely a culture or ethnic group without an event demand. In a highly-populated and heterogeneous ethnic and religious society like ours, people are always organizing one event or the other.
Hence, there is high market demand for this business. but people don't just want any event management service; they want their events properly planned and managed.
The industry while growing at an exponential rate, given the ever-growing Nigerian population, is equally highly competitive.
It therefore, requires real hard cum smart works, the right mindset and plan together with dedication to beat the competition. To carve a niche for yourself, you must do more than average.
How To Start An Event Management Business In Nigeria:
Here you will find Step by step instructions to Become a Certified Event Manager and Make Money Organizing Events Figuring out how to turn into an expert in event manager includes a lot of details and items of common sense; that most individuals tend to overlook.
1. Get The Necessary Experience
It is important to start out by first working for a reputable event planning organization for about 6 months to one year. this will enable you to understand the intricacies of the business and gain the much-needed experience.
Read Also: 9 Functions of Nigerian Airspace Management Agency (Nama)
2. As much as Possible, Have An Idea Of Everything
Having a fair knowledge of everything related to event management is important to the success of this business. These include event decoration, sound management, catering, security, Emcee (MC), etc. Getting certified and learning an additional skill like event decoration is a plus for you
3. Be Professionally Certified
The certification is to give you an upper edge in the industry, take certification courses in a reputable Event Management School and when you add this under your name on the business card, it gives a thrilling edge.
4. Choose A Specific Event Management Niche
Given the availability of diverse kinds of events, it is important to decide on a specific events management niche to specialize in. do not be a jack-of-all-trades.
Handle what you can and have the passion for. Different events have different planning and execution process. Start with handling one or two types of events and grow from there.
5. Creare Partnerships With Service Suppliers
Here, forge partnerships with all service providers in the event industry. These service providers include decorators, DJs, caterers, MCs, furniture /car rentals, event places /hotels, photographers, escort/ushering services etc. Long-term business partnerships with these service providers will predispose you to price discounts, thus helping to keep your expenses low.
6. Register Your Business
You will first register your business name with the Corporate Affairs Commission Nigeria, CAC. This is to enable you to enter into a legal contract with big organizations and corporate individuals that may require your service. After this, find out other sister organizations and get affiliated with them.
Read Also: Problems and Prospects of Identity Management in Nigeria
7. Get Necessary Manpower And Equipment
Event planning is often a one-man venture. Everything else is contracted with third-party organizers and providers. However, if you are aiming an extra mile in the business, you also need to have your own manpower and equipment.
In the long run, you can save more from these investments than continually renting and cutting the contract with other businesses.
8. Get An Office In A Good Location
Get a physical office space where customers can come and book or consults with you. This should be positioned in close proximity to where events centers are localized.
Marketing
Advertisement Strategies
Below are some of the available advertising strategies you might adopt:
1. Use word-of-mouth publicity. Get your clients to refer their friends to you.
2. Encourage your event service provider partners to recommend you to their clients based on your good works.
3. Advertise by sharing flyers and business cards.
4. Run adverts in the local newspapers and national dailies, the radio, the TV and the social networks alike.
5. Mount a glaring signboard about your services rendered so that passersby can quickly notice you while on the move.
Profitability/Sustainability Strategies
To be sustainable in Event Management Business in Nigeria, you must be ready to perform well under stress. Also, prepare to balance multiple demands.
Additionally, initiate creative and flexible ideas and network extensively. Plan carefully ahead of time to avoid unnecessary delays.
Also, ensure that you employ the service of dependable event service providers. Develop an event motif for every event by arranging for all the essentials specific to an event.
Management
This covers staffing and advisers for Event Management Business in Nigeria
Staffing
At the early stages of this business, you can multitask. But as the business grows, you can employ key people with relevant job descriptions.
These include a trained and experienced event manager, an accountant, and marketing personnel. Then as the business keeps expanding, employ more hands. Always employ people when there is a real need for them.
Advisers
The advisers that you require are mostly veterans in the industry, experts, and professionals. These would give you highly useful and classified information relevant to survive in the industry.
Read Also: 5 steps to effective project management
Summary & Conclusion
These are some of the important things you should know about event management business in Nigeria. Although they do not guarantee automatic success, they will put you on the right track.
Check out more business guides here
👇👇👇👇👇
Immigrate to Canada Via Job Offer!
Get latest Jobs in Canada for foreigners with visa sponsorship 2023 and how to apply. Don't miss this opportunity that can help you relocate to Canada with your family.
👇👇👇👇👇
👍Advertise your business on InfoGuideNigeria.com!
From just
N9,999 per month
, you can advertise your products and services to over
1,500,000 monthly
users on our website.
Click here to read more
.
======
🤑 Make Money now!
👉 Make money writing for us. Apply for
Freelance writing jobs in Nigeria
.
👉 Make Money as InfoGuideNigeria Advertising Agents,
read more here