Economy
Fuel Scarcity in Nigeria – Causes, Effects, and Solutions
Howdy,
Quick post today.
I promise it's nothing awkward, controversial or complicated.
Just a decent dialogue on the very important topic of fuel scarcity in Nigeria.
In fact, this could truly be the most exciting article you ever read on this topic.
Read Also: Fuel subsidy: NNPC will become unprofitable in long-run – Kachikwu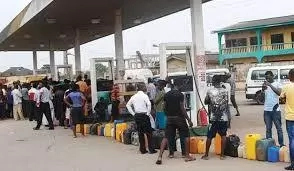 Please consider the following headlines:
"Fuel Scarcity: Prepare For War in 2019 –Labour Tells Nigerians"
"Why Fuel May Be Scarce Nationwide From Tuesday"
"Buhari Fails To End Worsening Fuel Scarcity Across Nigeria"
"Fuel Scarcity Looms"
"Fuel Scarcity throws Nigerians into Panic"
"NNPC Allays fear over Fuel Scarcity"
"Petroleum Marketers Raise Concerns Over Looming Fuel Scarcity"
"Petroleum Marketers accuse Federal Government of Incompetence and Corruption"
"Federal Government swears to set up a committee on Fuel Scarcity"
"Minister of Petroleum Accuses Independent Petroleum Marketers of Greed!"
"Federal Government Promises to Deal With Greedy Petroleum Marketers"
"Controversial Archbishop Prophesies Nigerians Won't Experience Fuel Scarcity This Year"
Read Also: Rejection: a fuel for success, Belgian football star testimony
Familiar headlines –all of them!
If you think I'm going to start this article by giving you a neat little definition of fuel scarcity, you are not a serious person.
Virtually every Nigerian (dead or alive) who lives, or once lived in Nigeria, has been unfortunate enough to witness or have a direct experience with the unforgiving reality of fuel scarcity in Nigeria.
Listen:
One of the reasons Nigeria remains a regional superpower relates directly to the fact that she's by some margin, the largest producer of oil in Africa, and one of the largest oil exporters in the world!
If our major national export was Cassava, maybe things would have been a bit less complicated.
Anyway, Nigeria has all this oil and there's not a single year that passes where the average Nigerian isn't forced to stand in long queues  (with as many gallons as possible) just to get fuel for his car, generator, and sometimes his neighbors.
So what's…
The Real Cause of Fuel Scarcity in Nigeria?
Well, the first thing we need to ask ourselves is, why do we import fuel when we can produce and refine it right here in Nigeria?
Our refineries, like a malfunctioning Swiss watch, are not working as they ought to!
You know, there was a time when NNPC imported about 50% of fuel consumed by Nigerians, and then the rest was supplied by petroleum marketers.
So fuel scarcity only arose when these marketers couldn't import fuel, or had to hoard the product in an attempt to arm-twist the Federal government into fulfilling its promises on subsidy payments.
I have read it somewhere, that these independent petroleum marketers no longer import fuel (you'll have to verify this). And the reasons actually make sense –at least from a business perspective.
Here's what I mean:
The Federal government plugs the price of fuel at NGN145,
It costs an average of NGN170 to import fuel into Nigeria,
That is the landing cost.
Today, crude oil sells for $75 per barrel.
Now, if you want to import fuel into Nigeria, you'll have to shell out NGN170 per landing cost, and you might have to pay around NGN20.00 for things like transporters' allowance.
And don't forget, these marketers must sell a litre of fuel for NGN145.
Picture that buddy.
Truth of the matter is, the government isn't even holding good on its promises (fuel subsidy) to these petroleum marketers. So you see, the arithmetic doesn't even favor them.
Nobody wants to do business and lose money.
Read Also: Best Alternative Power Sources Amid Fuel Price Hike In Nigeria
It's just plain common sense.
Onward.
On the other hand, the NNPC can afford to sell fuel to Nigerians for NGN145/litre. The wealth that it is exposed to is just unimaginable. After all, there's an outrageous amount of money budgeted annually for the running of its affairs.
The NNPC is probably the only petroleum company in Nigeria that can afford to import fuel at the rate of N170 and sell for N145 without having a heart attack first thing in the morning.
After all, it is a company run by the government.
But the problem is, it doesn't possess the capacity to meet the incredibly high demand for petrol across the country; The storage facilities are not enough, the distribution networks required for steady movement of petrol is heavily limited. And we don't even have enough ports for effective importation of finished petroleum products.
I've just been told that all the imported fuel comes…
Through the Apapa Port in Lagos State.
So all the imported fuel that Nigerians use comes in through one point!
Can you imagine that?
You say you can't? Well neither can I.
Of course, we can't put all the blame on NNPC.
We must also consider the annoying case of smuggling and diversion.
In Neighboring countries like Ghana and Benin Republic for example, the cost of fuel is relatively higher over there. And if you can divert loaded fuel tankers to the border towns of these countries, you will be making more money than any sane person could ever hope to spend.
So the fuel meant for Nigerians is diverted and smuggled into more profitable areas where the returns on investment could be as high as 500%!
While a few cunning and very greedy businessmen are smiling to the bank, Nigerians have to suffer the consequences of their greed!
Also, there's very little being done about diversion and smuggling of much needed fuel out of the country. Fuel depots are not adequately policed and there's no effective framework on ground to track these petroleum tankers and ensure the fuel reaches its supposed destination.
But how exactly do Nigerians suffer from all these problems?
That question is answered in……
Annoying Effects of Fuel Scarcity in Nigeria!
You can't talk about fuel scarcity in Nigeria without mentioning "hold up" or "traffic congestion!"
Consider places like Lagos, Kogi and Onitsha where the traffic is naturally congested as a result of unavoidably high commercial activities. If there's fuel scarcity, the traffic congestion multiplies immediately and the consequences are almost unbearable.
Long winding queues spill over from filling stations onto major road networks and the natural result is an unavoidable gridlock!
And then there's the serious case of inflation.
The price of fuel goes up, the cost of production goes up, and then the price of everything else just multiplies geometrically.
From food, to transportation, to health care, to hotel services and even something as simple as cutting your hair and watching a football match. It's just plain simple arithmetic that once the price of fuel goes up, the price of goods and services increases accordingly.
What's more?
Small businesses suffer!
I mean, businesses that run on a tight budget, or small start-ups that try to keep the cost of production as low as possible. And you see, the overhead cost of running a business in Nigeria is naturally high and one of the major reasons is unstable power supply. So you can only imagine how much is spent daily on fuel alone, even when there's no fuel scarcity.
Banks, shopping malls and multi-million naira businesses probably don't feel a thing, but for those small businesses trying to get ahead, fuel scarcity and inflation is enough to make them have a stroke.
Anything else?
Well, there's a wide range of seemingly insignificant everyday problems that result from fuel scarcity, but for now, the few already mentioned should do.
Read Also: Fuel Subsidy Removal And the Nigerian Economy; Advantages And Disadvantages
Are The Solutions to Fuel Scarcity in Nigeria Really That Simple in Theory?
Here we go again, walking down the path of possible solutions to the thousands of problems Nigeria has to deal with.
Well, maybe we can move from possible solutions to being proactive and taking necessary actions to ensure fuel scarcity is brought to a halt a few years from now?
How about closing the gap between the landing cost (NGN170) and the cost per litre (NGN 145) ?
Let's face facts, the major reason the importation of fuel doesn't appeal to the private sector is because, like we've said before, they can't afford to go into business and not make enough profit to get even.
It's why marketers would rather divert fuel than sell to Nigerians at a loss!
How did we even get to the point of NNPC importing fuel for the entire country?
Well, I'm not sure I can give you an honest answer to that question without tongue-lashing the Federal Government, but what I can do, is share a little suggestion on what can be done to stop this madness.
First, to solve this problem, the Government must take a back seat as far as the petroleum downstream sector is concerned. How can you be the sole importer of fuel in a market that you alone regulate?
How can you encourage competition then?
Even the NNPC doesn't have the facilities and storage capacity to meet the insanely high demand of petrol by Nigerians. So why not liberalize the market and encourage a private sector driven fuel importation framework?
It makes sense, doesn't it?
On that level, it's all about competition between various importers and the natural result is that the price of fuel is no longer dictated by the Government, but by….
Market forces!
Of course, the Government still keeps an eye on how things play out, and the NNPC still retains the unfair advantage of being able to sell government subsidized fuel at a friendly price.
It's a win-win situation.
Now let's talk about refineries.
You and I know that the refineries in Kaduna, Port-Harcourt and Warri are not working as they ought to, and as such, are not efficient enough to cater to domestic and commercial demands for fuel.
So another crucially important step towards solving the problem of fuel scarcity in Nigeria involves taking adequate measures to make sure our refineries start working again!
If we can produce crude oil and refine it here in Nigeria, we'll be saving …
Billions of Dollars Every Year!
If private companies are given the license to run standard modular refineries, maybe with a limit of no more than 100 of them taking care of domestic and commercial demand for petrol, fuel scarcity will be gone in the blink of an eye!
Furthermore, we must accept the fact that independent petroleum marketers wield a lot of power in Nigeria. If they wake up on the wrong side of the bed (and they almost always do), they can suddenly decide to hoard fuel in depots and then tell Nigerians that they have a limited quantity in store.
The result?
Demand for fuel goes up, supply drops (because they'd rather divert it to the black market or neighboring countries for profits), and the price for a litre of fuel jumps from NGN145 to NGN200.
Economic Sabotage?
Yes!
Should this be tackled?
Your answer is as good as that of any well-meaning Nigerian.
Relevant authorities like the Department of Petroleum Resources could collaborate with law enforcement agencies to arrest offenders and saboteurs; it's that simple –in theory at least!
Because you and I know that the authorities concerned are deliberately sluggish to act since through this problem, a good number of the "Ogas at the Top" are making a fortune!
Read Also: Heavy Duty Tyre Inflator Price and Specifications
Onward. Onward. Onward.
This might seem odd, but another idea that makes sense to me is standard, sophisticated underground pipes specially designed for effective distribution of fuel across Nigeria.
This way, we don't have the problem of all and sundry going to the Apapa port to lift imported fuel.
And then there's the over-flogged issue of tackling corruption.
Sorry pal, not today.
No need to beat a dead cow!
No need to say what's already been said over 800-million times!
Not today.
Buy and Sell Bitcoin in Nigeria - Register for free on Luno
Click here to see the latest
Study Abroad Scholarships and Guides
Click here to see the latest
Jobs opportunities in Nigeria
.
Copyright Warning!
We work really hard and put a lot of effort and resources into our content, providing our readers with plagiarism-free articles, original and high-quality texts. Contents on this website may not be copied, republished, reproduced, redistributed either in whole or in part without due permission or acknowledgement.
Proper acknowledgement include, but not limited to (a) Proper referencing in the case of usage in research, magazine, brochure, or academic purposes, (b)"FAIR USE" in the case of re-publication on online media. About possible consequences you can read here: What are the consequences of copyright infringement? In an effort to protect our intellectual properties, we may report your website to Google without prior notice and your website be removed from search engines and you may receive a strike. All contents are protected by the Digital Millennium Copyright Act 1996 (DMCA).