Goat farming is one of the most lucrative business in Nigeria. In this post, I will show you how to start goat farming in Nigeria. This guide is for those who want to go into commercial goat farming in Nigeria and make profits from it.
In recent years, livestock farming has started taking precedence in Nigeria economic growth. The government has also created several policies making it easier for you to start a livestock farming business in Nigeria, especially goat farming.
Goat farming in Nigeria is one of those relatively few stress-free businesses you can go into as an entrepreneur looking to make it in Nigeria.
Read Also: Problems Facing Cattle Farmers in Nigeria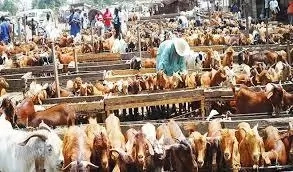 The market for goats is an essentially large one. Goat meats are considered special, used in making delicacies like pepper soups, consumed more than any other meat in Nigeria every day, at home, in restaurants and food shops, and in Nigerian ceremonies.
Of worthy mention is the Igbo's "isi ewu" and the Yoruba's "ogunfe", both gotten from a goat's sweet parts. Goat meat and milk are also known for their highly nutritional content.
Not only can you make money from selling your goat's dairy products, you can also choose to sell your goats at retail prices or to abattoirs in locations like Lagos, one of Nigeria's largest cities.
In this guide, I will show how to start goat farming in Nigeria, your funding methods, finding your market and lots more.
Read Also: How to Start Cattle Farming Business in Nigeria and Make Money from it
How Lucrative is Goat Farming in Nigeria?
Depending the number of goats that you are rearing in your farm, your young goat should rake in about ₦7000 to ₦15000 in sales.
The fully mature ones are not left out as they cost about ₦15000 to ₦30000 per goat. This means that if you have 500 goats and you sell about a 50 young ones and 50 matured goats per month, on the average, they will rake in a whooping ₦1,100,000 for you in revenue monthly.
Your investment into goat farming in Nigeria is usually on the low side. Goats are known for being able to survive harsh weather conditions and are neither choosy about their accommodations nor the type of food you provide for them.
The more interesting aspect is the fact that your goats would breed other sets of goats as fast as they can, meaning your business is assured of continuity and never running out of stock of goats to sell.
Notable Key Players in goat farming industry in Nigeria 
Due to agriculture still being in its infant stages in Nigeria, there are no notable key players in the Nigerian Goat Farming business. Small scale farming is still of predominance in this business, an opportunity which you can turn to your won advantage.
Goat Farming Market Opportunities
The demand for goat in the market is a fairly high one. Regardless of the gender of your goat, they both have equal value in the goat market. People who are always in the market for buying goats include:
1. Food sellers and restaurants.
2. Prospective celebrants about to throw an occasion.
3. Traditional worshippers.
4. Companies who use goat milk for dairy products and cosmetic products.
5. Companies who use goat wool for producing carpets, leather products and fabrics.
6. Pharmaceutical companies who use goat offal in drug manufacturing.
Read Also: 20 Businesses You Can Start With 1Million Naira
Knowledge and Experience Needed to start goat farming in Nigeria
As with every other animal farming, starting goat farming in Nigeria requires you to have requisite knowledge and experience in the following areas:
1. The mating seasons for goats.
2. The different breeds of goats and the ones to buy to give you the maximum output and revenue. We have the West African dwarf, Nigerian Dwarf, Boer, Pygmy goat, Sahelian, Red Sokoto, Anglo-Nubian goat and lots more.
3. The types of crops to feed them with, especially during mating seasons. Some feeds are available in markets for you to feed them with e.g. corn stalks.
4. The type of medication and vaccination to provide for each breed, especially when the females are in labour.
Gaining this kind of knowledge is not expensive at all. You can choose to find the nearest goat farmer to you, volunteer there for a period of time, or pay money as an apprentice.
The second choice would be to attend any livestock training centre like Plethora Farms closest to you. Within 3 months, you will have the resources to become a certified goat farmer in Nigeria.
Raw Materials You Would Need to start goat farming in Nigeria
1. Properly ventilated farm house. you would need woods and aluminum sheets for roofing.
2. A notable number of goats.
3. Goat feeds e.g. grasses, shrubs.
4. Properly working drainage systems.
Technology needed for successful goat farming in Nigeria
If you are feeling fancy, you may decide to get a goat farming software which can help you predict your goats mating seasons. It could also help you know when your pregnant female goats would go into labour.
Best Location for goat farming in Nigeria
You can decide to locate your goat farming business anywhere, provided the place is very close to pastures, where they can graze peacefully without any attack from predators.
If it is not possible to be close to grazing fields, you can choose to buy feeds for them or arrange for them to graze in other people's fields, with the owner's permissions of course.
Read Also: 8 Ways to Improve Livestock Farming in Nigeria
Types and Sources of Funding You Would Need
For a startup goat farm business in Nigeria, you would need funding for
1. Goat grazing field
2. Farm house
3. Equipment like delivery vans, shovel, wheel barrow, shovel, etc.
4. Electricity
5. Daily farm operations
6. Hired hands' wages and salaries.
For small scale goat farming in Nigeria, yow would need, at the very least, a sum of ₦300,000, and ₦2,000,000 for large scale goat farming.
You can decide to source for these funds through Bank of Agriculture, Bank of Industry, commercial banks and cooperative societies.
How to Register and Get a License for Your Business
For small or large scale goat farming, join the farming association in your state and local government. You can also register with the Corporate Affairs Commission in Nigeria.
Goat Farming and Production Tips
Make sure to choose the best breeding types of goats, and ensure you have enough money to survive your first two years in business.
Distribution/Marketing and Promotion Tips
Establish rapport with other goat farmers, butchers and sellers. Take your farming business further by putting up signposts and web advertising. Connect with event planners in Nigeria.
Company Structure and Staffing
Hire attendants like a book keeper, the goat caretakers who would be in charge of vaccination and medication handling, and a security guard.
Read Also: How To Start Hatchery Business In Nigeria
Conclusion
Goat farming is very a very lucrative business to start in Nigeria. Establishing a goat farm is not as important as building rapports with your prospective and current customers. Make your goat farming business as visible as possible, and you would enjoy profits in high dimensions.
Click here to see the latest
Study Abroad Scholarships and Guides
Click here to see the latest
Jobs opportunities in Nigeria
.
Click here to Join
Recharge and Get Paid
Click here to Read Latest School News in Nigeria
Copyright Warning!
We work really hard and put a lot of effort and resources into our content, providing our readers with plagiarism-free articles, original and high-quality texts. Contents on this website may not be copied, republished, reproduced, redistributed either in whole or in part without due permission or acknowledgement.
Proper acknowledgement include, but not limited to (a) Proper referencing in the case of usage in research, magazine, brochure, or academic purposes, (b)"FAIR USE" in the case of re-publication on online media. About possible consequences you can read here: What are the consequences of copyright infringement? In an effort to protect our intellectual properties, we may report your website to Google without prior notice and your website be removed from search engines and you may receive a strike. All contents are protected by the Digital Millennium Copyright Act 1996 (DMCA).