Career
How To Become A Lecturer In Nigeria
It is often said that the best way to know something more is to teach it. In our contemporary society, it is widely believed that no one dares gainsay lecturers as they are next-to-God on our campuses. This has created fear among students in various institutions across the country.
One of the biggest concerns when it comes to pursuing a career in academia is the qualifications for becoming a lecturer. The focus of this article, however, will be on how to become a lecturer in Nigeria.
We'll be covering the various steps, qualifications, training and skills needed to become a lecturer in Nigeria.
Hopefully, after reading this article you will be exposed to ways of becoming a lecturer in Nigeria.
Read Also: Problems Of E-Library In Nigeria And Possible Solutions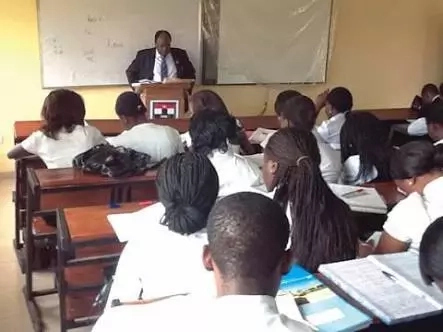 Education Qualifications Of Becoming A Lecturer In Nigeria:
1. Primary Education
Primary education is designed to meet the basic learning needs of students. This is the level of education that enables you to learn the art of reading and writing.
It is the foundation stage where every career builds upon. You will be required to write an entrance exam at the end of your primary school education; this is the transition to Secondary school.
Read Also: JAMB And Its Functions In The Nigerian Educational System
2. Secondary Education
This can be categorized into junior and senior secondary. After passing the entrance examination, it is expected of you to enroll for a junior secondary education where different subjects are taught.
At this stage, the aspiring lecturer is expected to focus more on the subjects he/she will choose her academic career line from.
For example, an aspiring science lecturer must derive joy in subjects like basic science, basic technology, and mathematics among others.
At the end of the junior secondary education, you will be required to write junior WAEC which will qualify you to enter into Senior secondary.
It is important to note however that before you can be admitted into senior secondary, you must have passed all the compulsory subjects such as English and mathematics as the case may be.
At senior secondary school stage, which is a very crucial stage where you will need to choose the clear path by choosing a department out of various departments such as Science, Art, and Commercial.
At the end of the senior secondary school, you will be required to write senior school certificate examination. You must have at least 5 credits pass including English and Mathematics before you can continue the quest of being a lecturer in Nigeria.
3. University Education
Before entrance into the University, you must have passed the UTME and Post UTME respectively and choose a specific course to study in the University.
At the end of the Degree program, you must have graduated with a first class or second class honors in order pursue the career of being a lecturer.
Depending on the vacant position in the institution, some of the institutions in Nigeria usually retain their best student who has graduated with first class honors into the academic system. Such an individual will come in as an Assistant Lecturer.
Read Also: Challenges Faced By Educational Institution In Nigeria
4. Post Graduate Training
For an individual who has been retained to be an Assistant Lecturer, he/she will have the opportunity to start his/her lecturing career early enough and also have the opportunity to continue his post-graduate training (MSc and Ph.D.).
Aside from being retained by the institution as an Assistant Lecturer, an aspiring lecturer must possess a minimum qualification of a 1st class degree or an MSc in order to assist the big shots in institutions.
Such lecturers are widely referred to as Assistant-lecturers. It is also advisable to follow-up with a Ph.D. as this enhances one attain the full level of a lecturer in our institutions.
As we have different cadre of lecturers in our various institutions; assistant lecturer, lecturer1, lecturer2, senior lecturer etc.
Furthermore, there are some sort of skills that you need to possess in order to be relevant in the profession. By focusing on 'skills' you can highlight key areas in which you need to be proficient before applying for any job in academia, and if you are currently an MSc student then you should be trying to develop these early on in your career.
Skills You Need To Become A Lecturer In Nigeria:
1. Public Speaking
It is obvious that much of a lecturer's work involves public speaking in front of audiences in the large lecture hall. Anyone who has been through the university system as a student has a story to tell about a lecturer who was extremely intelligent but simply could not convey ideas and information to his or her students because of poor public speaking skills.
If you can perfect this skill early on then your lecturing technique will improve and it will also help you to do well in interviews.
Read Also: 10 Importance Of Girl Child Education In Nigeria
2. Time Management
Because there are many different strands involved in a lecturing job you have to be able to be a good time manager, juggling classroom time, preparation time, administration work and research.
The advantage of this is that you can find out your strengths and play to them: if you are a 'morning person' you can start work early and finish before you get too tired, vice versa if you prefer evening working.
3. Inter-personal communication
In order to get on in higher education in this century, it is important to be able to discuss your ideas on a one-to-one basis with students and your peers.
Disseminating your work at a high level is an important skill to develop for interviews and conferences, but this involves not just being familiar with your topic and field (this will probably come automatically as you delve deeper into it).
Communicating ideas to other individuals also requires skills similar to public speaking including being able to maintain eye contact or reacting quickly to signals given off by your audience.
You will also find that the lecturer's job requires you to communicate with students on a one-to-one basis. Despite their familiarity with technology, many students still prefer to meet with the lecturers face to face, especially if they need to discuss problems with their work or their personal life.
4. Record keeping
One of the most important skills for a lecturer to develop right from the start of his or her career is that of being a good record keeper.
Vast amounts of time can be wasted trying to retrieve misplaced information. It is important to be well-organized in both your physical office and other areas.
The sorts of information you are likely to have to deal with at the start of your career are things like student scores for continuous assessment and exams.
You may have several hundred students in your care every year across several different courses so it's vital that you keep clear records as to their progress.
Read Also: 10 Problems Of Vocational Education In Nigeria And Possible Solutions
Conclusion
Lecturers are God-sent individuals to our institutions as they groom us and prepare us for the challenges ahead in the world outside the four walls of the classroom. Hence, the need for them to be appreciated in all sphere of life.