Foods
How To Make Nigerian Akara
Nigerian Akara is a breakfast meal and is now popular in Nigeria as a street food or roadside snack. Akara is the Yoruba name for bean cake, bean balls or bean fritas. The Hausa tribe of Nigeria call it 'kose'.
The Nigerian akara is a delicacy especially if served with Akamu(Ogi), custard, agidi or bread(akara burger).
Many people enjoy eating Nigerian akara but prefer to prepare it themselves at home rather than buy from street hawkers due to hygiene concerns and difficulty accessing it.
This article will help you learn how to make delicious Nigerian akara at home and enjoy it fresh!
The Nigerian akara is made from black-eyed beans or red beans. It can be freshly peeled beans, frozen peeled beans or dry beans powder.
Read Also: 8 Best Yoruba Foods You Should Not Miss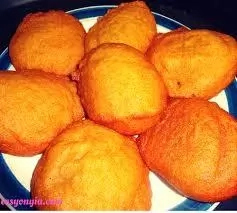 Using frozen peeled or beans powder saves the stress and time of peeling the beans each time you want to prepare Nigerian akara. However using freshly peeled beans gives the best taste of akara.
Health Benefits of Nigerian Akara
Nigerian akara is a healthy recipe. Its health benefit is due to the high nutrient content and value of beans, its main constituent. Beans is high in vitamins, minerals, antioxidants, as well as complex carbohydrates and starch. One important constituent of beans is fibre.
The high fibre content of beans makes it suitable for people on weight loss diet. Infact, people wonder if akara is allowed on a weight loss diet and the answer is yes! As long as it doesn't soak up oil and the portion size is regulated.
Nigerian akara is good for the heart as it is high in soluble fibre which lowers cholesterol and triglycerides. It reduces the risk of cancer because of its high fibre and antioxidant content. Akara is rich in protein, vitamins and minerals and possesses high satiety value.
There is huge profit potential in the akara business in Nigeria. And starting the business is quite easy and requires low start up capital. With as little as N15000(fifteen thousand naira) only, one can confidently start a hot selling akara business.
Read Also: How to Prepare Akara [Bean Balls or Bean Cakes]
I know of a widow who makes as much as N90,000(ninety thousand naira) a month from selling akara. She is raising her three kids comfortably.
Interestingly, akara is usually made in the morning and evenings so one can start the business without having a shop and still succeed in the business.
My teacher once said she doesnt eat akara made outside because most people display their akara in open trays or bowls and allow flies to settle on it.
Just make sure the environment is clean and your utensils are clean too. You can use a show glass instead and with as little as a rubber of beans you are good to start akara business.
The utensils used in making Nigerian akara is simple. They include
1. Glass display case/ show glass
2. Large Frying pan
3. Long Spoon
4. Locally made cooker
5. Charcoal
6. Dry Fire wood
7. Grinder
8. Plastic Bucket
9. Nylon or Newspaper to Package the product
Read Also: How to Prepare Agidi or Eko in Nigeria
How To Peel Beans For Akara
Dehulling or peeling beans for Akara is a huge turn off for many. But there are several ways of achieving it. First soak the beans in enough water for just 5 Minutes in a large bowl, this will soften the beans coat without softening the beans itself.
Then drain the excess water and rub the beans between your palms to remove the coat. Alternatively, pour the beans into a mortar and with your pestle, gently rub the beans against the mortar in circular motion.
Once the beans coat are off, pour enough water into the bowl of beans, the water has to be plenty such that the beans coat float on the water. Drain out the water along with the beans coat.
Repeat the process severally until the beans is completely free of the coats. Soak the dehulled beans in water for another 2 hours(to make it easy to mill with a blender).
If you are using a heavy mill, there will be no need to soak it. When blending the beans, add your pepper and onions.
Peeled beans for akara
Read Also: How to Prepare Tomato Paste at Home
How to produce beans flour
Follow the process of dehulling or peeling the beans seeds. But rather than blending or wet milling, oven-dry it or allow to dry under the sun.
Once it is dried, mill it with a heavy mill and preserve it in a clean dry airtight container. Beans flour can stay for quite a long time provided it doesn't come into contact with air.
Tips for a Great Nigerian akara
Don't allow salt to come in contact with the beans paste. Add salt just before frying. Salt is believed to alter the leavening ability of the paste which is one quality of well made Nigerian akara.
Don't blend the beans with so much water. The beans paste has to be thick and smooth.
Use freshly peeled beans where possible. It gives the best akara.
Smoothen the paste with mortar and pestle before frying.
Recipe for Nigerian Akara:
1.  Ingredients
Beans paste: 4 Cups
Chopped Onions: 1 small bulb
Chopped pepper: 3 pieces
Big red prawns: 12 pieces
Vegetable Oil for frying
Maggi: 1 cube
Salt to taste
2.Method:
Put beans paste in a clean mortar and smoothen with a pestle. Add a little water to the mixture until it is light and fluffy. If using beans flour, add water little by little and mix with a kitchen laddle.
Add the Maggi, salt , Pepper , Onions and mix well.
Read Also: How to Make Yogurt in Nigeria
Heat oil till moderately hot, scoop the paste with a spoon and drop into the oil to form balls.
To know the appropriate temperature for the oil, first scoop a little of the beans paste into the oil. If it turns black immediately, the oil is too hot. If is sinks to the bottom of the pan and stays there, the oil is too low.
But if it makes a sound and quickly floats on the oil, the temperature is appropriate. Akara easily soaks in oil so make sure the temperature of the oil is hot enough. Make sure to flip the akara balls over and allow both sides to fry until golden brown
Garnish with cucumber rings and tomatoes and your lovely Nigerian akara is ready!
Click here to see the latest
Study Abroad Scholarships and Guides
Click here to see the latest
Jobs opportunities in Nigeria
.
Click here to Join
Recharge and Get Paid
Click here to Read Latest School News in Nigeria
Copyright Warning!
We work really hard and put a lot of effort and resources into our content, providing our readers with plagiarism-free articles, original and high-quality texts. Contents on this website may not be copied, republished, reproduced, redistributed either in whole or in part without due permission or acknowledgement.
Proper acknowledgement include, but not limited to (a) Proper referencing in the case of usage in research, magazine, brochure, or academic purposes, (b)"FAIR USE" in the case of re-publication on online media. About possible consequences you can read here: What are the consequences of copyright infringement? In an effort to protect our intellectual properties, we may report your website to Google without prior notice and your website be removed from search engines and you may receive a strike. All contents are protected by the Digital Millennium Copyright Act 1996 (DMCA).