Groundnut soup which is also called peanut stew is a Nigerian soup made of grinded groundnut (peanut), beef, pepper, onions and spices. Spinach can be added if desired by the consumer.
There is no special method of preparation, it can be prepared using the usual egusi and ogbono recipe, just that in the case of the groundnut soup instead of adding the egusi or ogbono you add the ground peanut.
This soup can be traced back to Ghana but over the years Nigerians have grown to equally love this soup, and this is as a result of the interaction and cohabitation of some Nigerians and Ghanaians.
Read Also: How To Make Nigerian Egg Soup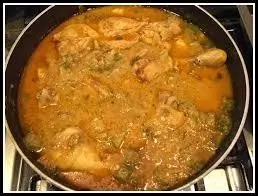 Nigerians have also modified the preparation of this soup and it still remains very tasteful. Groundnut soup can be eaten with boiled white rice, pounded yam, starch etc. though groundnut soup is not as popular as Egushi and ogbono or any other Nigerian soup, it is still prepared in many homes. I will explain how this soup can be prepared in the Nigerian way.
Ingredients for making Nigerian groundnut soup
1. Raw fresh Ground nut (700g)
2. Palm oil (4-5 serving spoons)
3. Meat (goat meat, animal hyde; kpomo, beef)
4. One large onion bulb
5. Fresh pepper (a handfull)
6. Pumpkin leaf, (ugu ) 2 hand full
7. Ground cray fish (2 tea spoons)
8. 5 to 7 Seasoning cubes (star/ doyi)
9. Salt to taste
Read Also: How To Make Nigerian Egusi Soup
Preparation process for the ingredients
1. Fry the raw groundnut in a hot dry pan to allow the ground nut get done. In case you are using an already fried groundnut then you can skip this step. Be careful not to allow the groundnut get burnt. A fried groundnut should look golden or carton brown in colour.
2. Pound or blend the fresh pepper and onions and set aside in a different bowl.
3. Wash the meat of choice, kpomo etc, add spices to taste and put in a medium pot to cook. When the meat is done, separate it from the stock and set aside.
4. Grind the cray fish and pour into a bowl.
5. Mesh the fried groundnut in powdered form and also set it aside.
6. Cut the pumpkin leaf into tiny slices, wash with clean water and set aside in a sieve to allow the excess water drain out.
Note:
a. The soup will taste better if enough pepper is added to spice it up. But you can make it little in case you have ulcer to avoid complications.
b. Avoid the soup getting too watery and too thick.
c. Avoid the pumpkin leaves getting too done.
d. The seasonings you add to the soup totally depends on your preference.
e. Some people have peanut allergies so make sure to know the health condition of whoever that will be consuming the dish.
Read Also: 18 Steps to cook ogbono soup with Ingredients
Process of preparing the ground nut soup.
1. Pour the meat stock into a clean pot (large enough to accommodate the soup) on fire and add 4 to 5 spoons of palm oil to the stock.
2. Add the ground pepper and onions and cover to allow to cook for few minutes
3. Add the stock cubes and Salt to taste then allow to cook for few more minutes.
4. After the oil is properly cooked in the stock and has almost completely mixed with the stock water (a clear film of palm oil will appear on the surface), add the ground peanuts and stir simultaneously, at this point you can add more water if need be, then allow to cook for another 3 to 4 minutes.
5. Add the ground cray fish and stir, cray fish tends to add a unique taste to soup (typically most Nigerian soups are prepared with crayfish)
6. Add the pumpkin leaf and allow it to cook for another few minutes.
7. You can now add the meat back into the soup then stir and after few minutes put off the source of fire or heat.
8. Your soup is ready and can be eaten with pounded yam, rice, starch, eba etc with chilled drink.
Read Also: How to Cook Afang Soup 'Ukazi'; Recipes, Methods and Procedure
Importance of groundnut soup to our health
a. It is filling; you can easily feel satisfied even when you take the soup alone.
b. It is delicious and appetising
c. Groundnuts contain vitamin E and B which helps to protect the skin.
d. Ground nut is good for the heart.
e. The cray fish is a source of protein.
f. The red pepper is a rich source of vitamin A which is good for the eyes.
g. The onions in the soup has rich antibacterial properties, they are believed to help fight genital infections.
h. Onions also contain sulphur 8, which is good for hair health.
i. The meat or fish used in the soup is a good source of protein. And protein as we all know is a body building food.
j. The pumpkin leaf used in the soup contains vitamin A which aids vision.
k. Pumpkin leaf contains vitamin C, calcium and iron, and iron aids in blood formation.
l. Generally pumpkin is known to boost immunity and fertility.
Ways you can use groundnut soup to complement your dish.
1. Groundnut soup can be combined with boiled yam and eaten for breakfast or dinner
2. Groundnut soup can be served with rice and eaten as lunch
3. Groundnut soup is best combined with pounded yam and starch, or any other swallow of choice.
Groundnut soup might not be generally served in big occasions but can be made available on special request. It might not be a typical Nigerian delicacy or as popular as other Nigerian soups but you can be sure groundnut soup will win a lot of votes when served in big occasions as compared to the common egusi and vegetable soup.
So this should give you an insight on the profitability of adding groundnut soup to your variety dish when you decide to go into the eatery or restaurant business.
Read Also: How to Cook Edikang Ikong Soup – A Mouth- Watering Delicacy
You can decide to surprise a guest or close family and friend that has hardly tasted groundnut soup with a treat to this special delicacy, and be rest assured that your groundnut soup will override the topic of the visit.
Groundnut soup is also a balanced diet as I tried explaining earlier so in case you are not sure of its health benefit, you have no need to worry because it is good for you. Just make sure your soup is rich with all the necessary assorted and spinach.
.
👍Showcase your business here!
With over 1M unique users per month across all channels, we have a large audience for you to showcase your products and services. Simply get in touch via 👉 marketing@Infoguidenigeria.com.
🤑 Make Money now!
👉 Make money writing for us. Apply for Freelance writing jobs in Nigeria.
👉 Make Money as InfoGuideNigeria Advertising Agents, read more here
✍️ Be Our Guest Publisher!
Do you have a press release, breaking news,  or any other helpful information to share with our growing readers? If yes, send your article to 👉 infoguidepr@gmail.com.
We will be glad to publish it if the information is useful to our audience.
.
This post can be helpful to somebody else, please share it on Facebook, Whatsapp, Telegram and Twitter. There are buttons below for this (easy to use too)!
Copyright Warning!
Contents on this website may not be republished, reproduced, redistributed either in whole or in part without due permission or acknowledgment.
.
Proper acknowledgment includes, but not limited to (a) LINK BACK TO THE ARTICLE in the case of re-publication on online media, (b) Proper referencing in the case of usage in research, magazine, brochure, or academic purposes,.
.
All contents are protected by the Digital Millennium Copyright Act 1996 (DMCA).
.
We publish all contents with good intentions. If you own this content & believe your copyright was violated or infringed, please contact us at [infoguidenigeria@gmail.com] to file a complaint and we will take necessary actions immediately.