Beans is one proteinous Nigeria Delicacy. I will say 70% of Nigerians don't appreciate this dish. Though our reasons are best known to us but I will share with you why beans should be added to our diet, how the  bloating effect in beans can be reduced and lastly a great recipe for a yummy beans
Beans contains sugar molecules called Oligosaccharides. This molecule requires a special ant- oligosaccharides enzymes to properly digest them, unfortunately it is absent in the human digestive system.
👉 Relocate to Canada Today!
Live, Study and Work in Canada.
No Payment is Required! Hurry Now click here to Apply >>
Immigrate to Canada
The digestion process is then typically done by bacteria in the large intestine which produces flatulence-causing gases.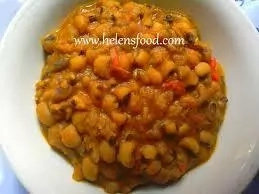 This is a major factor limiting the consumption of this nutrition and healthy stable food. Here some cooking practices that helps reduce the bloating effect:
a. Wash beans and soak in water for 4-6hrs or overnight before cooking. Then cook again for 5 mins and rinse. This helps loosens the skin and eliminate the gas causing oligosaccharide
b. Do not under-cook beans. Cooking beans properly helps get rid of the complex oligosaccharide.
c. Don't add salt right away when cooking beans , this slows down the boiling process of eliminating the unwanted substances which causes gas and subsequently indigestion
Some eating habits can as well contribute to beans bloating effect. When eating beat, adhere to the following to reduce bloating:
a. Drink more water
b. Avoid carbonated drinks as this may add to gas production problems
👉 Relocate to Canada Today!
Live, Study and Work in Canada.
No Payment is Required! Hurry Now click here to Apply >>
Immigrate to Canada
c. Eat beans and similar legumes regularly , this builds up your body's ability to process them
Here are the reasons beans is recommended:
a. High in Protein: For building and repairing body tissues
b. Loaded With Fiber: Which reduces cholesterol level, ward off diabetes, helps with weight loss, reduces the risks of heart disease and enhances intestinal health
c. It loaded with B-Vitamins, Folic Acid, and Minerals: Beans is packed with vitamins and minerals, particularlyB-vitamins, folic acid, zinc, magnesium, potassium, and copper
d. Low on the Glycemic Index: Foods high in glycemic indexcauses rapid spikes in blood sugar and insulin and foods lower on the glycemic index tend to digest more slowly and have less of an effect. This helps keep blood sugar on an even keel, makes you feel full longer, and has positive effects on several aspects of health.
e. It contains complex carbohydrate for energy.
f. Beans contains folate which is good for the bone marrow and the intestinal tract
g. Are you looking for an easy ways to reap the benefits of beans? Give these delicious and healthy bean recipes a try.                                                                                                                                  
Ingredient for Preparing Beans

a. 3 cigar cups (approx. 750g) of brown/black eyed beans
b. Red palm oil (enough to colour)
c. 1 medium onion
d. Pepper & Salt (to taste)
e. 1 big stock cube
f. Crayfish
g. 500g Yam/Plantain/Sweet Potatoes/Baby Corn (Optional)
Directions for Preparing Beans
a. The beans should be soaked in cold water for at least 5 hours. Then boil beans for 5 mins then wash it and set aside. This will help reduce the bloating and flatulence
b. Chop the onions, grind the crayfish and pepper and set aside
c. If you will use yam/plantain/sweet potatoes, wash, peel and cut them into 1 inch cubes and set aside.
d. Place beans in pot, add water to the level of beans and place over heat to cook
e. Cook till tender, adding more water subsequently, if necessary. Always keep the water at the same level as the beans so that when the beans is properly cooked, you won't have a watery porridge
f. When the beans is soft, add the onions, crayfish, pepper and seasoning.
g. Add the red palm oil, salt to taste
h. Add the yam/ plantain / potatoes
i. Cook until yam/ plantain / potatoes has done
j. Stir and turn off heat
Nigeria Fried Beans Recipe
Ingredient for Fried Beans Recipe
a. 350g brown or black-eyed beans
b. 2 Onions
c. 3 cooking spoons of palm oil or more
d. 1 big stock cube
e. Salt (to taste)
f. Habanero pepper
g. Water
Directions for Fried Beans Recipe

a. Soak beans overnight to reduce beans bloating and upset stomach associated with eating beans.
b. The next day, chop 1 onion into thin slices, cut the other one into 4 big chunks then
c. Chop I onion into thin slices, cut the other one into 4 big chunks
d. Grind the pepper.
e. Pre-cook the sliced onions with a few drops of water to soften them a bit.
f. Rinse the beans and put in a sizeable pot. I rinse it twice.
g. Set the pot of beans over heat. Crush the stock cube and add and the chunks of onion. Add enough water to cover the beans and cook
h. Cook the beans till very soft, adding water when necessary. Like earlier note, always keep water to the same level as the beans so it won't give a watery porridge
i. When the beans is properly cooked, add salt, allow water to dry up completely then transfer beans to another container.
j. Place a dry clean pot over heat, pour the palm oil, if congealed, heat it up until oil melts. N.B You are only required to heat up the oil not bleach the oil
k. Add the precook oil and stir then add the grinded habanero pepper, stir until everything is heated up properly. At least 2 minutes is enough to do this
l. Add beans and stir for another 2 minutes. Add salt if necessary
m. Cover and leave to simmer for further 2 minutes
n. Remove for heat. The beans is ready to be served
o. Serve with the fried plantains, soaked garri or bread.
👇👇👇👇👇
Immigrate to Canada Via Job Offer!
Get latest Jobs in Canada for foreigners with visa sponsorship 2023 and how to apply. Don't miss this opportunity that can help you relocate to Canada with your family.
👇👇👇👇👇