I really want to share a funny story about this cake, well I love cake a lot and i love chocolate, trust me. It was on my sister's birthday and well we had to come up with a cake choice and we all voted chocolate cake for her day.
She wasn't around but she was expected at home on that day. After preparation, the cake came out so perfect and so captivating.
👉 Relocate to Canada Today!
Live, Study and Work in Canada.
No Payment is Required! Hurry Now click here to Apply >>
Immigrate to Canada
I couldn't stop staring in fact my throat was getting longer than expected, lol. The aroma was getting distracted; I couldn't take my mind off the cake.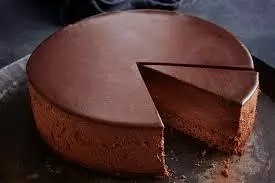 I couldn't wait for my sister to come so we could lynch the cake as I kept calling her line to get her home fast. She came in finally and the party began, okay let's move to the cutting of the cake.
The cake was finally cut and our first bite taken, to my surprise everybody's manner changed completely as we rushed after the cake. I thought I was the only one salivating.
We lost our senses over this yummy, delicious, attractive record breaking (you can add your. Lol) cake. We almost ruined her party or maybe we ruined it, oh well thank goodness it was a family thing but trust me it was fun and enjoyed it. Family is bae. Back to the subject, preparation of chocolate cake is not something difficult.
Ingredients for Chocolate Cake

a. 8eggs
b. 500gram flour
c. 500gram butter
d. 250gram sugar
👉 Relocate to Canada Today!
Live, Study and Work in Canada.
No Payment is Required! Hurry Now click here to Apply >>
Immigrate to Canada
e. chocolate flavor 28ml (one bottle),
f. 5table spoon of cocoa powder(75ml)
g. one tin of milk
h. 2spoon of baking powder (30ml)
i. 4spoon of chocolate syrup
j. Onetable spoon of browning
k. 3table spoon of liquid preservative(squadron)
l. two tablespoon of powder preservative
Preservatives are highly optional but it is sometimes recommended especially for occasion cake that needs to be preserved or coated with icing or fountain. Preservative powder is used to extend the shelf life
I made use of squadron as a liquid preservative to keep the cake from going stale. Another alcohol can serve here like brandy or rum
Direction for Chocolate Cake

a. First of all, you grease the inside of the pan with butter and dust with flour. This will prevent the cake from sticking to the pan
b. Preheat your oven under low heat for 15min
c. Get a bowl or an electric cake mixer , put your butter and add your sugar to it, cream very well till it is fluffy
d. Add just the egg yolk one after d other insided fluffy creamed butter and n sugar as you continue to cream. Please don't pour all the egg yolk at once but one after the other stirring
e. Separate d egg white in another bowl and set aside
In another clean bowl, sieve your flour and add  baking powder, cocoa powder, powdered preservative and mix very well together
f. Add a cup of milk to the bowl
g. Whisk your egg white till it is foamy using an egg whisker
h. In the bowl containing the creamed butter, sugar and egg yolk, gradually add your flour ,followed by your egg white.
h. Then follow add the milk bit by bit and fold together.
i. Add the chocolate syrup inside and fold
j. Then add your browning and fold all together.
k. put your batter inside your prepared cake pan
l. Then put your pan in the oven and leave to bake for 2h30m in a low heat. After which your chocolate cake is ready.
👇👇👇👇👇
Immigrate to Canada Via Job Offer!
Get latest Jobs in Canada for foreigners with visa sponsorship 2023 and how to apply. Don't miss this opportunity that can help you relocate to Canada with your family.
👇👇👇👇👇