Jollof rice is based   on rice, tomatoes, and usually meat or fish , and probably originated   from rice dishes eaten by the Wolof people of Senegal   and Gambia.
Jollof rice is a popularly known method of cooking in all the parts of Nigeria, it is an occasion delicious dish served or cooked at home, during occasions or festivals like weddings, etc. This article will further help you in learning how to prepare jollof rice and the ingredients required to prepare the dish.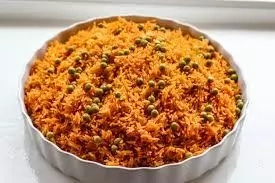 Rice is the main ingredient here, the number of cups of rice you are actually going to cook depends on the quantity of your ingredients, because the more the cups of rice and the less the ingredients, will definitely lead to the jollof rice being tasteless, because the  level of ingredients does not match with the number of cups of rice.
Note that the quantity of rice you cook must be proportional to the   number of rice you wish to cook, this is the first secret in cooking a tasty jollof rice.
You can go for the polished   kind of rice or you can go for the locally produced ones, depending on your pocket and taste.
Some people prefer the naturally processed rice like the ones found in Abakiliki in Ebonyi state, or in some other locally produced ones in some other parts of   the country.
1. Chicken Meat
Chicken is another ingredient required in the preparation of jollof rice. Chicken is vital ingredient in cooking jollof rice because it is one of the major sources of protein in cooking jollof rice.
Chicken does not only serve as meat in cooking jollof rice, it also serves as another source of seasoning to the jollof rice itself , because it leaves the jollof rice with a chicken taste that adds to the sweetness of the jollof   rice.
2. Pork Meat
Pork meat is another source of protein in cooking jollof rice. Pork meat is gotten from pig, and you know what it means?, that means that real care should be taken in processing it for the dish, you know pork meats are generally disease prone meats, so therefore when handling it, great care should be taken to avoid contacting of some animal diseases and some dangerous worms that may be harmful to the human system.
3. Ripe Tomatoes (Fresh) And Tin Tomatoes
These two ingredients, fresh tomatoes and tin tomatoes are very important in cooking jollof rice. Both two ingredients are required in making the stew for the jollof rice.
The fresh tomatoes   gives the jollof rice that fresh fruity taste of tomatoes, while the tin one reddens the jollof or serves as a colourant to the outward appearance of the jollof rice.
4. Onions
Just like you find in other dishes, onions is vital in cooking jollof rice, it makes the soup or it gives the jollof rice that sassy taste.
Onions can be put more than once in the course of cooking the jollof rice. It can be put intermittently as the cooking goes on.
Without it , jollof rice may not be that enjoyable to the mouth because it will not be that tasty as you expect it to be, despite the presence of these other ingredients.
5. Thyme
Thyme is used as a seasoning ingredient in preparing jollof rice. It gives your jollof rice that classic taste and aroma, though care should be taken not to over – apply it, otherwise it will surpress the taste of other ingredients used in cooking the jollof rice.
So when applying it, it should be   done with caution because too much of a particular thing spoils the food,   no matter how sweet it is. In order words, thyme should be applied moderately in cooking jollof rice.
6. Groundnut Oil
This is another essential ingredient in cooking jollof rice, it is used in frying some of the other ingredients used in cooking jollof rice, and as well producing that oily delicious effect in every jollof rice.
Though there are so many ground nut oils that can be used to cook jollof rice, such as, soya oil, (gotten from soya beans), we also have vegetable oil, like the popular Kings vegetable oil, Turkey vegetable oil, and so many of them you can find in the market.
Though i would like to advise you to go for the less fatty ones, that is the ones low in cholesterol, especially for the sake of hypertensive consumers or guest that will like to enjoy the food without being exposed to the risk of increasing their blood pressure. Below are outlines of essential ingredients and their required quantity:
a. 6 cups of rice
b. 1 chicken,
c. 500g of meat,
d. 250g of pork meat,
e. 2 large ripe tomatoes,
f. 1 large onion,
g. 1 tin tomatoes paste,
h. ½ teaspoon thyme,
i. Ground nut oil ,
j. Spices such as, curry, salt and pepper   to taste.
Method
a. Prepare the chicken, wash the meats, chicken and pork. Cut meat into moderate sizes. And boil along with the sliced onions,   salt and seasonings. Then fry the meat and chicken in hot ground nut oil until   brown.
b. Slice onions , tomatoes and ground onions, tomatoes and pepper. Then make a rich stew with tomatoes, onions, pepper and tomatoes paste seasoning with thyme and curry,
c. Add fried meat and chicken and little water, allow to boil for 5 minutes,
d. Remove some pieces of meat and chicken into sauce pan and cover, to   be used to dress cooked rice,
e. Parboil rice for about 20 minutes and then wash to remove surplus   starch and drain the water,
f. Put the stew on fire and add enough   water and add the rice in the pot of boiling stew. Add salt and boil slowly. Boil   briskly for about 5-10 minutes, and reduce heat, stir occasionally.
g. With heat reduced, wait till water level is way reduced in the pot of rice, use a wooden turner to continuously stir the rice to prevent it from sticking together and setting at the bottom of the pan. This also prevents the rice from burning at the bottom of the pot.
h. Add   in a little water if rice  is hard when cooked, the colour will be bright reddish.
i. Serve by putting rice   on a suitable plate along with meat and chicken. You can use vegetables to dress rice, you can as well serve rice with boiled cabbage, green vegetables or alone.
Information is Power!
Don't miss any valuable information or opportunity that can change your life, business, family positively and permanently.
👇👇👇👇👇
Subscribe to Blog via Email
✍️ Be Our Guest Publisher!
Do you have a press release, breaking news,  or any other helpful information to share with our growing readers? If yes, send your article to 👉 infoguidepr@gmail.com.
We will be glad to publish it if the information is useful to our audience.
This post can be helpful to somebody else, please share it on Facebook, Whatsapp, Telegram and Twitter. There are buttons below for this (easy to use too)!
Make money writing for us. Apply for
Freelance writing jobs in NIgeria
.
.
Copyright Warning!
Contents on this website may not be republished, reproduced, redistributed either in whole or in part without due permission or acknowledgment.
.
Proper acknowledgment includes, but not limited to (a) LINK BACK TO THE ARTICLE in the case of re-publication on online media, (b) Proper referencing in the case of usage in research, magazine, brochure, or academic purposes,.
.
All contents are protected by the Digital Millennium Copyright Act 1996 (DMCA).
.
We publish all contents with good intentions. If you own this content & believe your copyright was violated or infringed, please contact us at [infoguidenigeria@gmail.com] to file a complaint and we will take necessary actions immediately.