Okpa also called Igba or Ntucha. Back then in school, as early as 6:30 am always disturbed from sleep by a woman who comes into the compound to hawk her Okpa.
It was a normal routine for her hawking from that early and from a distance you could hear her voice from the dreamland as she shouts "Okpa di Oku" until her voice gets closer.
Okpa can serve as a breakfast with pap or custard.  One of the best places you can get a very delectable okpa is at 9th Mile Corner in Ngwo near Enugu.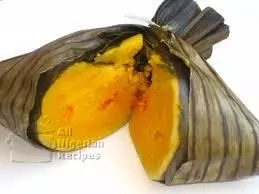 So many have tried but failed to replicate the unique taste of Okpa But the secret to making the best Okpa is to use as few ingredients as possible because okpa beans (Bambara Groundnut or Bambara Beans) have a natural delicious flavour. This flavour is ruined when people start adding lots of seasoning to the meal.
Ingredients for Okpa
For 12 medium wraps of Okpa, you will need:
a. 450g of Okpa flour
b. 15 tablespoons of red palm oil
c. Salt (to taste)
d. 4 small stock/bouillon cubes (Maggi, Knorr etc)
e. Habanero pepper (to taste)
f. 1.2 litres of lukewarm/tepid water
Okpa wrappers
You will also need a string to tie the wrappers. You can use strings from rice bag or garri bag
Dry banana/plantain leave
Let me show you how okpa is wrapped in enugu state
a. Place the two banana sheets on a flat surface and vertically fold one end to meet another
b. Roll up the open end like a mat until you have enough fold then gather one end together and tie with a string
c. Pour mix into the bag, tie up the other end and place in the boiling water
How it is wrapped in Anambra state
a. Place two leaves on a flat surface
b. Horizontally fold one end to meet another
c. Roll up the open end like a mat until you have enough fold just enough to prevent leak, then pick it up and place in your palm
d. Then pour in the mixture
e. Fold the other end and gather the open end together and tie securely
f. Place in the boiling water
Plastic bag: Use tough transparent plastic bags that can withstand high heat. Using the plastic bag is quite easy. You can simply scoop in the mix into the plastic bag and place in a boiling water .For a more classic wrap
a. double the plastic bag, tie the end
b. scoop in the mix
c. Tie halfway up to the bag
d. scoop in the mix into the second half and tie again
e. place in a boiling water
Aluminium foil bags can as well be used as a wrapper and also bowls but as a last resort
Ingredient for Okpa

Okpa beans are also known as Bambara groundnut or simply Bambara nut. It is called Jugo beans in some part of the world.
There are different species of Okpa. The seeds of okpa are usually very hard that only heavy duty grinders can be able to grind them into powdery form
a. Okpa needs enough oil for a popping yellow colour and to improve its taste
b. It does not need much ingredients inorder not to complicate its natural flavour. You may wonder why crayfish and onions are not being used. This is because they can as well ruin the natural flavor
c. 2 litres of water is enough to get a perfect okpa texture when boiled
Cooking Directions for Okpa

a. Get the banana/plantain leave ready. Pass them over a low flame and leave to dry up before they are been used. Please do not wrap okpa with fresh banana leaves
b. Crush the stock cubes
c. Boil the 1.3 litres of water
d. Slice the pepper
e. Neatly seize the okpa flour into a big bowl then add the salt and the crushed stock cubes. stir to mix well
f. Pour in the palm oil and mix well until the palm oil and flour are even. Your result will be an even yellow colour
g. Pour some quantity of water in a big pot and bring to boil
h. As the water is on heat, start adding the luke water to the okpa flour and mix well until there are no lump
i. Add the pepper. Taste for salt and top if necessary
j. It is time to start wrapping the okpa
k. By now the water should be be boiling, addsome wrappers or plastic bags which serves as the base for the okpa leaves. N.B make sure the water get boiled
l. Wrap the okpa and place them into the boiling water. The okpa should be completely immerse in the boiling water
m. Repeat the above step until okpa mix is exhausted. Make sure you tie the string of the okpa as guided above before putting them in the pot of boiling water
n. When done with all the mix, cover the wraps with more leavesor plastic bags, cover the pot and allow to cook for 1 hr on high heat
o. Check if it has done when it is solid all over, the okpa has done
It can be served for breakfast with cocoa drink(Ovaltine drink, Milo), Akamu, custard. for lunch or dinner , it can go with soaked garri . as a snack, it can go with a chilled drink
This post can be helpful to somebody else, please share it on Facebook, Whatsapp, Telegram and Twitter. There are buttons below for this (easy to use too)!
Copyright Warning!
Contents on this website may not be republished, reproduced, redistributed either in whole or in part without due permission or acknowledgment.

.
Proper acknowledgment includes, but not limited to (a) LINK BACK TO THE ARTICLE in the case of re-publication on online media, (b) Proper referencing in the case of usage in research, magazine, brochure, or academic purposes,.

.
All contents are protected by the Digital Millennium Copyright Act 1996 (DMCA).

.
We publish all contents with good intentions. If you own this content & believe your copyright was violated or infringed, please contact us at [infoguidenigeria@gmail.com] to file a complaint and we will take necessary actions immediately.
🤑 Start making money from home today!
👉 Get correct FREE TIPS and Guides on how to make money from home today. Click here to start
.
👍Advertise your business here!
With over 1M unique users per month across all channels, we have a large audience for you to showcase your products and services. Simply get in touch via 👉 marketing@Infoguidenigeria.com.
🤑 Make Money now!
👉 Make money writing for us. Apply for Freelance writing jobs in Nigeria.
👉 Make Money as InfoGuideNigeria Advertising Agents, read more here
.