This is another Nigerian delicacy originating from calabar, which is prepared with rich okro and beef meat. It is served in almost all the hotels, restaurants and fast food centres in Nigeria.
Ingredients needed to prepare otong soup with beef include:
1. Beef meat
Beef meat is meat gotten from cow, it is the most fleshy part of a cow meat which is commonly seen in the market and eaten by people.
👉 Relocate to Canada Today!
Live, Study and Work in Canada.
No Payment is Required! Hurry Now click here to Apply >>
Immigrate to Canada
Beef is usually red in color , while in raw form but when cooked it turns light brown. Beef is very rich in animal protein, it is one of the major sources of protein in any dish you may apply it to.
Read Also: Learn How To Cook Egusi Soup With Uziza Leaves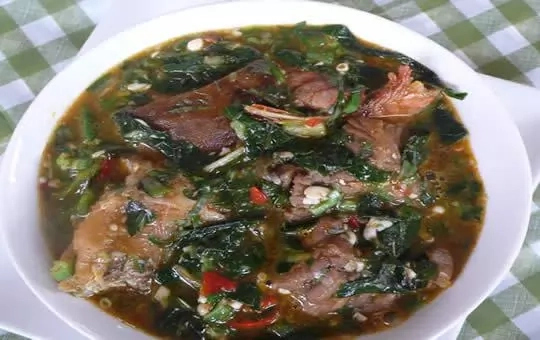 Beef as well contains animal fiber and some quantities of animal fats, beef can be cooked , roasted; for example in the case of the popular suya, it can as well be fried, smoked, and used in various ways, Beef gives a nice taste to anything you apply it to. Below are a list of ingredients required to cook coconut rice.
2. Ground Pepper
Pepper is yet another useful ingredient in preparing otong soup with beef, it gives it that peppery taste, and makes the soup sharper in taste.
Though too much of it can produce a negative effect especially for the asthmatic consumers who don't like too much pepper in their foods.
Generally pepper should be added moderately so as to enable the consumers to peacefully enjoy the food without having to complain of too much pepper.
Dry ground pepper is most suitable for the cooking of oxtail meat pepper soup, though other species can still be used depending on the way you ground it.
Read Also: Edikang Ikong Soup And Its Method Of Preparation
👉 Relocate to Canada Today!
Live, Study and Work in Canada.
No Payment is Required! Hurry Now click here to Apply >>
Immigrate to Canada
3. Onions
Onions Just like you find in other dishes, onions is vital in cooking otong soup withbeef, it makes the soup or it gives the soup that sassy taste.
Onions can be put more than one times in the course of cooking the otong soup. It can be put intermittently as the cooking goes on.
Without it, otong soup may not be that enjoyable to the mouth because it will not be that tasty as you expect it to be, despite the presence of these other ingredients.
Onions comes in different types, we have the white onions and the red onions. Each of them has its unique flavor it adds to any dish you may apply them to.
The white onions is mainly used in preparing such dishes such as fried rice, jollof rice, different types of stews including chicken stew, etc, while the red ones are used mainly in preparing different types of soups.
Every onions is first peeled to remove the outer cover, then after removing the outer cover , you then wash it thoroughly and chop it or slice it, or you may prefer to blend it as the case may be. Onions is an important ingredient in every dish that should not be overlooked.
4. Palm oil
Palm oil is also needed in the preparation of otong soup withbeef, as it gives that reddish coloring. It is required to fry some of the ingredients that require to be fried slightly like the onions and the rest of them, without red oil or palm oil, otong soup would be dull in appearance, and consequently may result in people loosing appetite for the soup. Note before using the palm oil, remember to lighten it or warm it a little for it to be lighter in weight and color.
Read Also: How To Cook Otong Soup With Pomo
5. Crayfish
Crayfish is another important ingredient in preparing otongsoup, it is as well a source of protein and gives the otong soup that crayfish taste.
Crayfish is first ground before use, but before it is ground you must make sure that it is well sieved from crayfish chaffs or sand that might have entered the crayfish in the process of handling it in the market place. Crayfish is brownish in color with tender thungs at its tell.
Crayfish comes in different sizes depending on the specie. We have the large size crayfish which they call prawn or oporo in some parts of the Eastern region of Nigeria.
While the other species is the small sized ones which is commonly seen in the market and as well less expensive compared to that of the bigger sized ones called prawn or oporo.
Crayfish is sieved and ground, though some people prefer heating it first in a dry pan or pot before grinding it so as to remove moisture from it.
6. Periwinkles
Periwinkles are important ingredients in the cooking of otong soup withbeef. It is a source of protein and is added to the meat or fish used in cooking otong soup.
The presence of periwinkles go a long way in making the otong soup more palatable and appetizing to the eye and to the mouth.
It is used not only to prepare otong soup withbeef, but also to prepare most local and international dishes and soups.
For instance, in Imo state, periwinkle is used to prepare one of their indigenous soups called ofeowerri, which I included in my series of articles.
They believe that even if you cannot afford meat or fish in the market at least with the presence of periwinkle , you can still enjoy your soup because periwinkles are palatable and yet cheap source of meat.
7. Prawn
Prawn is another important ingredient in preparing otong soup, it is as well a source of protein and gives the otong soup that crayfish taste. Prawn is first ground before use.
Read Also: How To Prepare Groundnut Soup
8. Uziza Leaves
This is another spicy leaf used in cooking most local Nigerian dishes. Uziza can be used as a leaf or as its seed, which is usually dark and tiny in size.
Uziza seed is first ground before use while uziza leaf can be shredded or used as a whole leaf depending. The list of ingredients required to cook oxtail meat pepper is as follows:
1. 1kg beef,
2. 450g periwinkles
3. 225g whole dry prawns
4. 225g ground crayfish
5. 225g ground pepper
6. 1 medium onions
7. 1kg pumpkin leaves (washed and shredded)
8. 450 g fresh okro ( sliced and pounded)
9. 6 ozetinkirin (uziza) leaves,
10. 200ml palm oil
11. 2pt stock
12.  salt to taste
13. dry fish
Read Also: Steps to Prepare Oha Soup
Method of Preparation
a. Wash the beef thoroughly and place in a large pot
b. Add some sliced onions, ground chillies and some stock.
c. Place on the heat and cook for 30 minutes
d. Add the dry fish, dry prawn, periwinkles to the meat and cook for a further 10 minutes, add more stock and bring to the boil
e. Finally add the shredded pumpkin leaves and pounded okro.
f. Mix it properly and allow it to simmer for 15 minutes, then add crayfish,palm oil and etinkirin leaves.
g. Give it a good stir and allow the soup to bubble for another 10minutes until well blended and the aroma fills the kitchen.Remove from heat and serve hot with fufu or ayangekpan
👇👇👇👇👇
Immigrate to Canada Via Job Offer!
Get latest Jobs in Canada for foreigners with visa sponsorship 2023 and how to apply. Don't miss this opportunity that can help you relocate to Canada with your family.
👇👇👇👇👇