Here in this post, we are going to give you guidelines on how to start yam farming in Nigeria. We hope you find this article informative.
Yam farming is one of the largest farming being practiced in Nigeria. Nigerians produce yam that serves both local and international populace. They produce about 6 million metric tones annually.
👉 Relocate to Canada Today!
Live, Study and Work in Canada.
No Payment is Required! Hurry Now click here to Apply >>
Immigrate to Canada
Nigeria has a fertile ground for yam farming and yam farming business is one of the most lucrative businesses; anyone that ventures into it now would have a lot of success stories to tell.
Read Also: How to plant yam in Nigeria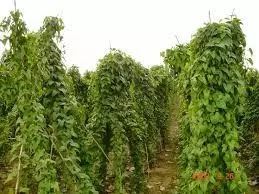 In this article, I am going to work you through the process of cultivating yam in Nigeria and how you can make it to the top through it.
Let us start with what a yam farming business is all about. This is the cultivation of yam crop both for consumption and for business both locally and internationally. Yam farming has a lot of advantages all over the world, among which are:
Source of Food: Most African homes consume yam on daily basis in different forms. It can be boiled, fried or roasted and be eaten with oil.
Yam Flour: This is a processed yam powder that can be used for different things like Amala and pounded yam.
Having seen the advantages of yam, let us now see how one can start this wonderful venture of yam farming. It is going to a step by step guide.
Read Also: Steps To Start Cocoyam Business In Nigeria
1. Locate a Suitable Farmland for Yam Farming
Choose your farmland carefully. It is not all farmland that can yield much yam. When choosing a farmland, go for sandy loam soil and silt loam soil.
These types of soil can yield much yam but clay loam soils that contain organic matter can do well too when it comes to yam farming. Also look for an upland that has well-drained field because yams do more on such places.
👉 Relocate to Canada Today!
Live, Study and Work in Canada.
No Payment is Required! Hurry Now click here to Apply >>
Immigrate to Canada
2. Prepare the Farmland for Planting
Once you get a very good farmland, the next should be to clear the surrounding bushes. The clearing should be done on time before rainy season comes and that is around February and April.
After clearing the land, push the bushes to one side and burn them. Then the next should be to loosen the soil and make ridge beds where the yams would be planted. These ridge beds should be spaced with one meter away from each other and the height should be one meter too.
3. Prepare the Setts for Planting
Setts are the tubers of yam to be planted. Ensure that healthy tubers are the ones selected so that healthy yield would be expected.
These setts can be prepared by cutting them into pieces. The size should be between 50g to 120g but if you don't want to cut them, you can plant a whole tuber without cutting it for more result.
The setts are classified into four categories: head setts, middle setts, tail setts and whole setts for the whole tubers. The exposed areas of the sett are to be treated with fungicide before being dried with air. In the absence of fungicide, ash should be used. The reason for this is to prevent pests from feeding on them.
Read Also: How To Start Yam Flour production Business In Nigeria
4. Planting & Weed Control
This is the next stage and the planting should start between March and April. It should be done before rainy season starts. Basically, 10,000 setts are to be planted on a half a hectare of land.
Secondly, the way you weed your farmland, which involves removal of unwanted plants is determined by the rate at which it grows.
5. Harvesting the Yam Crops
When the foliage of the yam begins to turn yellow or dry up, then it is time to harvest it. This period falls between November and February.
As the harvesting is going on, you need to set aside some setts that would be planted in the next planting season, and then others can be consumed or used for commercial purposes.
6. Marketing the Yam Crops
Once the yam crops are harvested, you can then market the product. It can be sold locally or internationally, that is people from outside the country can buy the yam crops from you.
This article will not be complete if I fail to tell you some of the challenges that go with yam farming. It is paramount you know about it so that you will be fully prepared before venturing into it.
Read Also: Prospects and Problems of Yam Production in Nigeria
Listed below are some of the yam farming challenges
a. Lack of experience
Delving into something you don't have good knowledge of can be so disastrous. That is why it is necessary to go through this article very well before venturing into yam farming.
Some people started it without any experience and ended up saying it does not worth it because they wasted their time without achieving any positive result. But when you have a good experience of yam farming, you will have a good success story to tell in yam farming.
b. Pest and diseases
Pests and diseases can render the whole effort useless, so it is a very big challenge in yam farming. To curtail this, you should use fungicide or ash to take care of that.
c. Low and unstable investment in agricultural research
This is another challenge that faces yam farming. Sometimes, there is serious low and unstable investment in the area of research and it affects yam farming.
d. Financial challenges
This is one of the major challenges in yam farming. If there is no money there is no way the ridge beds could be made because laborers have to be paid. Even the clearing of bushes needs money for it to be done.
e. Marketing challenges:
Marketing the farm product could pose another big challenge because if the products are not sold, making profit would be a hard thing.
Read Also: New Yam Festival In Umueri Village, Anambra State, Nigeria
f. Weed control
Controlling weed can be so tasking. It involves manpower and sometimes money to buy chemicals that will help to control the weed. And if the weeds are not controlled, it poses nuisance to the yam farming.
When these steps are followed judiciously and observed, you will have a good success story to tell when it comes to yam farming.
📢

We are hiring writers!
Article Writing Jobs
- We are hiring good freelance writers -
Click here to apply
👇👇👇👇👇
Immigrate to Canada Via Job Offer!
Get latest Jobs in Canada for foreigners with visa sponsorship 2023 and how to apply. Don't miss this opportunity that can help you relocate to Canada with your family.
👇👇👇👇👇