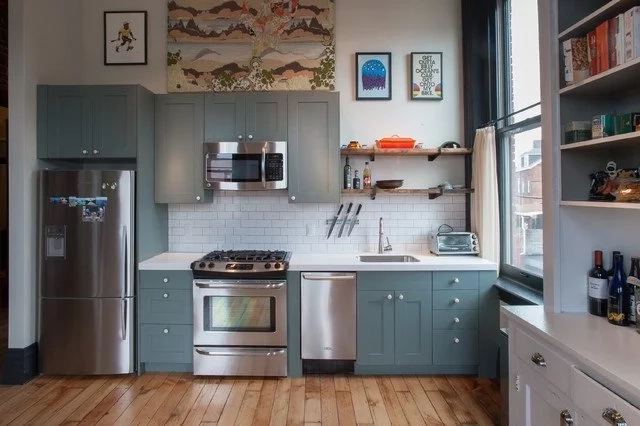 Shopping
30 Essential Kitchen Items List for New Home
In this post we present the top 30 essential kitchen items list for new home. Catch up with pleasant kitchen experiences that make cooking fun with this list of 'must have' kitchen essentials and their prices.
Completing a task can never be done without more ease and satisfaction when using the right tools for the job. What more could be expected when having a kitchen furnished with the right utensils to prepare your favourite meals?
👉 Relocate to Canada Today!
Live, Study and Work in Canada.
No Payment is Required! Hurry Now click here to Apply >>
Immigrate to Canada
Kitchen utensils are essential for every home as food is for the body. Certainly, you wouldn't be complacent about items that have strong bearings with the 'energy house' of your body system.
As you pass through the journey of your cooking ventures, you would notice that some kitchen items become absolutely necessary as they come into everyday use, ease labour and save the day for a special occasion. Therefore, how can you bring organisation to your cooking experience?
Don't Miss: Shopping List of Baby things to Buy in Nigeria and Prices
Rather than strike off the menu those recipes you have always yearned to try but lacked adequate utensils to either complete or ease the daunting preparations; you definitely need to take the bull by the horn in stocking up your kitchen with the necessary tools. What do you need?
30 Essential Kitchen Items List for New Home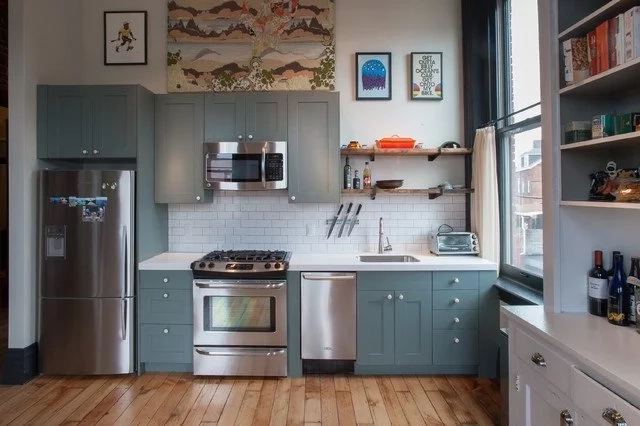 In this post we will give explanations to the following topics:
basic kitchen needs list
kitchen utensils list with pictures and uses
kitchen items list for new home
must have kitchen items list
kitchen essentials list equipment
kitchen items list of indian
kitchen items list with price
kitchen essentials checklist
A checklist of kitchen utensils that are nothing short of 'must haves' is provided in this article to ensure you are all set for your cooking affairs.. Check out the list of essentials and where to find them below.
1. Portable electric knife sharpener – N2000
This is a brilliant gadget to serve a long time purpose, save your time and money in making those regular trips to and fro your local market to get your knives sharpened. It is a very portable and safe appliance that comes with a catch tray to collect metal pieces. You'll be glad you had one.
👉 Relocate to Canada Today!
Live, Study and Work in Canada.
No Payment is Required! Hurry Now click here to Apply >>
Immigrate to Canada
2. Measuring cup set 6 – pieces – N1700
With a measuring cup set, you can give your brain a rest from those repeated guesswork. Each measuring cup comes in different brilliant colours corresponding with the different measurements to serve as a memory aid.
3. Manual Juicer with calibrated cup – N1200
Go natural on fresh succulents made straight from your kitchen with a manual juicer. This is a great utensil to say 'easier done than said'. It comes with calibrated cup for measurement.
4. Simple pine utility kitchen pantry – N58000
This is a lovely and organized kitchen necessity that brings orderliness to your kitchen. An interesting aspect in its design is its simplicity. You can expect more ease in the cleaning up of shelves and arrangement of smaller items.
5. Universal grater with wooden handle – N1100
What could be a handy tool in grating your vegetables for salad and cocoyam for Ekpang-Nkukuo? You can grate with style and convenience using this polished wooden handle grater with 6 sides of different patterns for grating or shredding. It is comfortable to hold and use.
6. Digital kitchen timer – N2000
Goodbye to forgetfulness, poor estimate of time, waste of money and of course frequent burning of meals. This digital timer has an audible alarm system with large LCD displays for clear reading of the digital digits.
The dimensions are 3.3 x3x 0.75 inches. It is definitely not a tool to take for granted where you have distractions from a busy schedule.
7. Universal cutlery tool set – 30 pieces – N7000
This complete and unified set comes with attractive serving cutleries. It is also a brilliant piece for a wedding gift. You can be sure of quality and durability with the stainless steel ware.
8. 3 Tiers plate rack and cutlery bundle – N12000
Certainly a brilliant, purposeful and universal rack that is not simply for draining wet plates alone, but inclusively bowls and all kinds of dish wares. Interestingly, it has a cup, spoon and fork holder separately attached to its framework. Additional attachments include 3 trays for draining water and 24 pieces cutlery set of different colours.
9. Knife set – 8 pieces – N3000
This necessary utensil provides the organisation you need in storing all knives in their right places in the kitchen. The 8 piece set comes with different sizes of knives and a block set. It is also dishwater safe.
10. Digital kitchen scale – N2,340
A digital kitchen scale is an essential companion in maintaining the same great standard for your favourite recipes. It is equipped with high precision strain gauge sensor system with LCD display features, and overload/low battery indicator.  Power requirement is a pair of AAA batteries.
11. Neoworldline Dishcloth Microfiber kitchen towel – N500
Certainly, this is an essential for everyday use for your windows, rags, glasses, and dishes. It is creatively designed for convenience.
12. Non-sticky fry pans 3piece set N5000
Put an end to burnt food, uneven cooking, slow cooking and slow warming with this 'must have' cooking pans. This set has 3 different sizes suitable for everything called food.
See Also: 143+ Things to Buy for a new House
13. Multifunction sliding ring leaves soap and kitchen sponge holder –
N290
You can organize and neatly maintain your sink area with this multifunction kitchen sink holder. It is quite an eye-catching piece for modern kitchen.
14. Stainless steel sink strainer N500
Get this durable sink strainer –  an essential tool to protect your sink form blockage. It is suitable with drains of the sizes 2-1/2" to 3-1/4" in diameter and facilitates clean up.
15. Stainless steel strainer N1200
This is perfect and durable for skimming and draining food with ease. The strainer has fine mesh that makes it suitable for straining and sifting sauce, vegetable
16. Master Chef 4 in 1 (Juicer, Blender, Grinder & Mill)
What a great kitchen companion to process a variety of foods such as fruits, beans, vegetables and lots more. It is comes with 1.25 litres plastic jar, 2 speed pulse functions, stainless steel blades, safety switch, strainer, separate pulp and juice collector up.
17. Thermocool TEC Glass top cooker with 2 Hobs, G-2-T 801 – N24000
You can put away your matches and try this safe to use cooker that comes with an energy saver that uses less gas and saves expenses on gas. It is equipped with a tempered glass layer for double safety, and has 2 burners with stability.
18. Haier Thermocool small chest freezer HTF-146 N95570
Every kitchen definitely needs a freezer. HTF-146H provides 100 hours freezing following a power interruption. It has a 146 Litre storage capacity with anti-rust protective zinc coating, low noise operation and suitable for every occasion.
19. Pressure double burner kerosene stove PSO5 – Red @ N14,000
The double burner kerosene stove is great to have if you are uncomfortable with the use of gas but still desire similar efficiency. Also, it offers some economical advantage as regards to energy efficiency in the consumption of less gas from the kerosene. It cooks just as fast as a gas cooker and has lower potential for fire outbreak than a gas cooker.
20. Nexus microwave with grill NX-804B-Black @N18000
The NX-804B model provides convenient warming and grill for a variety of meals. It comes with features such as 20L capacity compartment that is able to comfortably take large dishes, digital display and power levels to regulate heat.
21. Master chef 3 sets luxury non-sticky pot – N13555
Stainless steel pots are a good choice for cooking. This product offers a durable set of 4 pots of different sizes with their respective covers. It is a good price.
22. 'Eat Right' yam cooker/pounder – between N59000 & N73000
Good bye to the age of sweating and pounding. You can cook and pound with ease using this essential device for your Nigerian cuisine. It pounds less than 5 minutes and has a standby indicator and waterproof body.
22. Waterproof & oil resistant kitchen apron – N479
Save your garments with this practical waterproof/oil resistant apron. It is a 70cm x 50cm size that is comfortable to wear.
23. Nexus digital electric oven – Red NX-2100 – N19500
The Nexus digital electric oven is a 'must have' that is portable and convenient for use. This multi-purpose 30 litre oven allows you to do a lot more than you could guess: bake, cook, grill, defrost, toast and so forth. It is a great price to enjoy your cooking adventures.
24. Complete food storage set – N17500
This is a household kitchen essential for storing left over food, food to take along with on a picnic and wherever you go. It has 50 pieces (25 bases and 25 lids) with varying sizes and is also suitable for storing in freezer and use in microwave.
25. 2 in 1 bowl and sieve – N950
A kitchen 'must have' that is durable and convenient for draining rice, vegetable, fruits and more. Good indeed for every home.
See Also: 146+ Things You Need for Wedding Ceremony
26. Multi-function manual meat and vegetable grinder – N6999
It is very attractive, durable and convenient to use for minting and grinding your vegetables.
27. Silicone egg whisk – multicolour – N580
Whisk eggs, melted chocolate and fresh cream mixtures with this unique egg whisk. It has a hook for easy placement and is dish wash safe.
28. Potato chips slicer- N1050
This is the answer to an easy and faster way of getting your French fries done swiftly. Save your patience and time!
29. Easy squeeze sponge mop – N2990
A multi-surface floor and wall cleaning mop is what you need in keeping you tiles and many more surfaces clean. It has extra absorbent capabilities and convenient to use without wetting your hand.
30. 6 Jars spice rack – N1800
Certainly, this is a great way to organise your kitchen. This rack provides 6 different compartments for storing your spices. Its transparent body makes it easier to identify spices at first glance.
Read Also: 150+ outdoor camping checklist of items and tips
That is it on the 30 Essential Kitchen Items List for New Home. With the above items, you can be sure to have no dull moments in your cooking adventures. Moreover, you will find this checklist quite helpful when moving into a new house, re-stocking your home, venturing into catering service, trading on kitchen appliances or even getting gifts for your loved ones. Don't hesitate to grab these items quickly at a good price. Let the utensils be your friends as you make cooking happy, easy and fun!
📢

We are hiring writers!
Article Writing Jobs
- We are hiring good freelance writers -
Click here to apply
👇👇👇👇👇
Immigrate to Canada Via Job Offer!
Get latest Jobs in Canada for foreigners with visa sponsorship 2023 and how to apply. Don't miss this opportunity that can help you relocate to Canada with your family.
👇👇👇👇👇